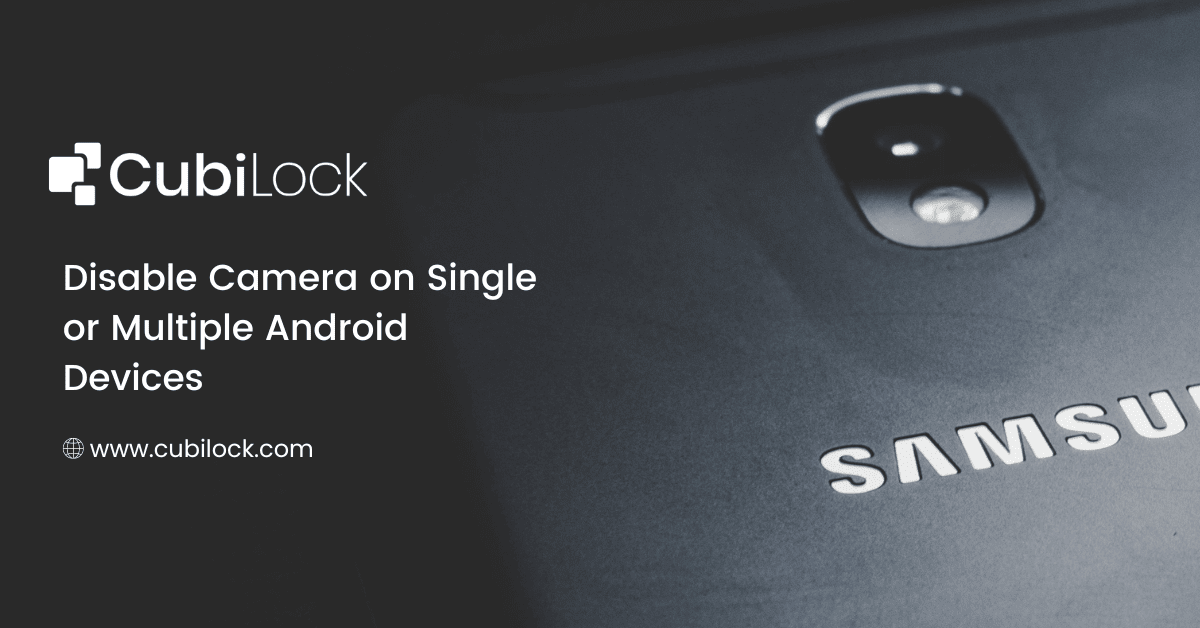 Cameras are one of the most sought-after features in personal devices. Consumers are always on the lookout for the latest technology and the highest megapixels. But it's a different story for most business organizations. In a business setting, most employees do not need a camera to fulfill their job roles. So then can't you simply leave your cameras accessible?
Having unmanaged devices with cameras in your office can prove to be like a ticking time bomb. There are a number of reasons why disabling the camera on corporate devices is necessary to tackle security and productivity concerns. First and foremost, while deploying smartphones, tablets or laptops may seem like a good idea, having cameras can pose a serious security risk. The camera can be used as a way to record sensitive data and information that could be used against your company as well as a way to record sensitive information of your employees or clients. Employees also use their cameras to take videos and photos that may be considered inappropriate. Access to cameras is completely restricted in high-tech companies to protect intellectual data and this practice is being picked up by small to large corporations as more and more data is being collected and stored in mobile devices.
Disabling cameras on your mobile devices helps to protect sensitive information from being leaked. If hackers were to gain access to the camera, they could potentially record sensitive conversations or document sensitive information. This could lead to a data breach, which could be catastrophic for the company.
Secondly, disabling the camera helps to prevent distractions in the workplace. If employees are able to use the camera, they may be tempted to use it for personal reasons, such as taking pictures or videos of themselves or others. Managers can exercise greater control over their fleet of devices by disabling the camera on corporate devices. Some employees, especially remote employees can easily take advantage of the camera in their devices for entertainment when they're not working. This can lead to decreased productivity as employees are not focused on their work. If you're worried about employees using their devices for personal reasons, it might be a good idea to disable the camera. This is a smart security measure because it limits the potential for people to use the camera to connect to other networks and steal information. When people use their devices for business-related tasks, they should only be accessing the information that is needed for the job.
Finally, it is important to disable the camera to protect the physical safety of employees. If the camera is left on, someone could potentially hack the devices or use them to spy on employees or even commit a crime, such as a burglary or assault. It also prevents your staff from being filmed without consent when they're trying to work. By disabling the camera, companies can help to ensure the safety of their employees.
Disable Camera on Multiple Android Devices With CubiLock
You can now use the device management tools of an MDM (Mobile Device Management) solution to disable the camera feature on your devices. With the help of Cubilock, you can remotely push the policy to disable the camera in all or selected devices right from the dashboard. You can create Device Profiles and Groups to push a different set of policies to each profile or group, according to the needs and requirements of the business. It automates these tasks to save time and resources for businesses that can be invested in much more productive endeavors. To disable the camera on multiple devices from the CubiLock console: 
From the CubiLock console,
Go to the menu. Navigate to Devices > Device Profiles.
Click on the three-dot menu next to the profile you want to update.
Tap on the Update Profile from the drop-down menu to open in edit mode.
Open Policies from the ribbon bar.
Under Global Restriction, toggle on the Disable Camera.
Click on Save and Confirm to save your changes.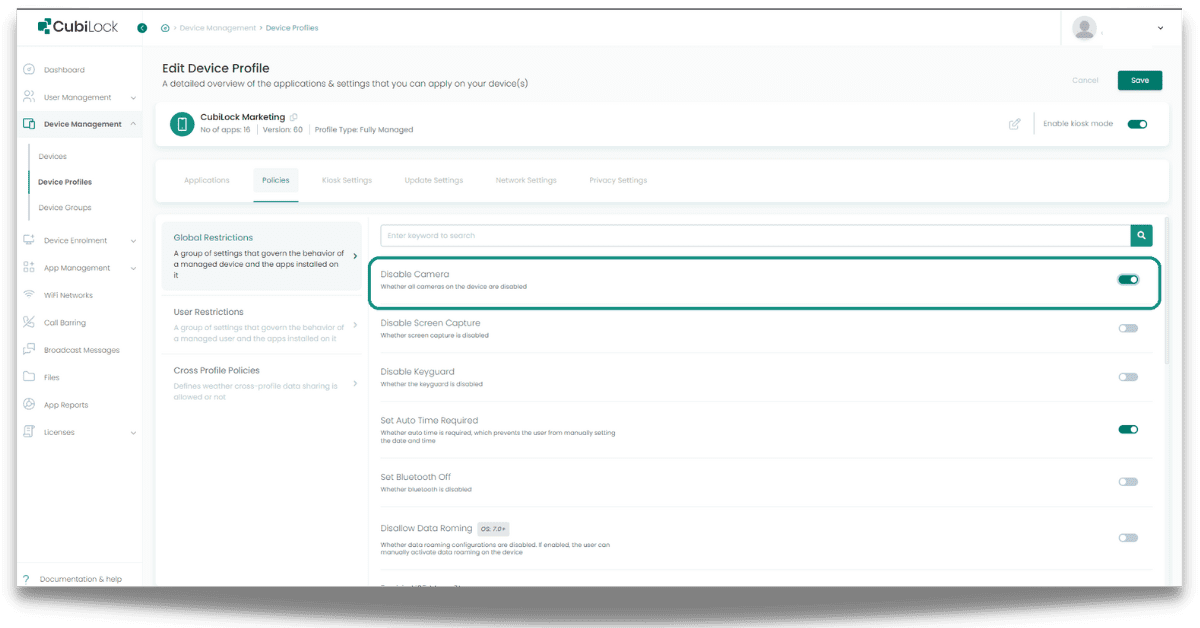 This way all cameras on the device will be disabled and restricted from access by the end user.
Mobile devices of this day and age are featured packed and loaded with functionalities. They are built to cater to a wide variety of needs and demands of consumers. But not all features can be helpful to achieve your business goals. Employees use company-issued devices for dedicated purposes. It should help improve the operational efficiency and productivity of a business instead of hindering it. And while there are many advantages to having a camera on a corporate device, there are also security and productivity risks that come along with it. Using a robust MDM solution like CubiLock can help companies navigate their mobility endeavors seamlessly and mitigate the risks that come with digitalization to keep your data and devices safe.
Disabling the camera on corporate devices can be the right step in that direction to help companies create a regulated and secured workplace environment for employees. If you want more security policies like this, CubiLock is feature-packed with robust policies for the unique security needs of your business.
Apart from being a true sushi enthusiast, Sadichha (Aka SSH) is a content writer and blogger at CubiLock. She is passionate to enchant everything boring and nitty gritty about technology through her writings for her readers to enjoy and learn from at the same time. When she is not at her desk crafting content, you can catch her occupied with her cat.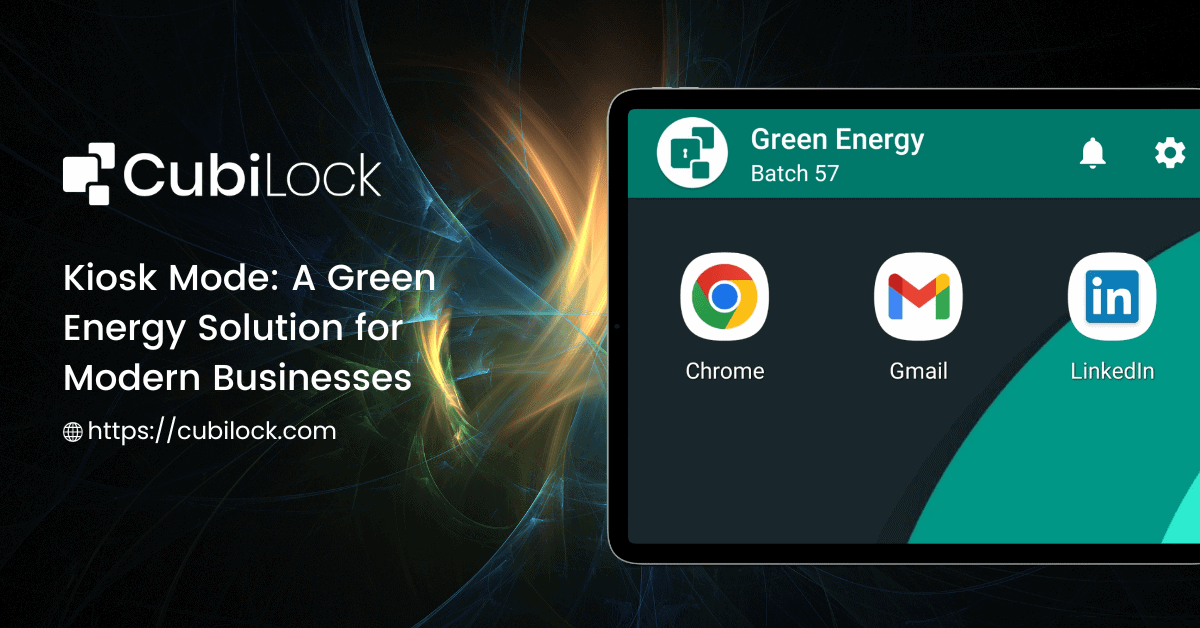 Kiosk mode brings several benefits for businesses, however, many businesses…