Future of Mobility for Small and Large Enterprises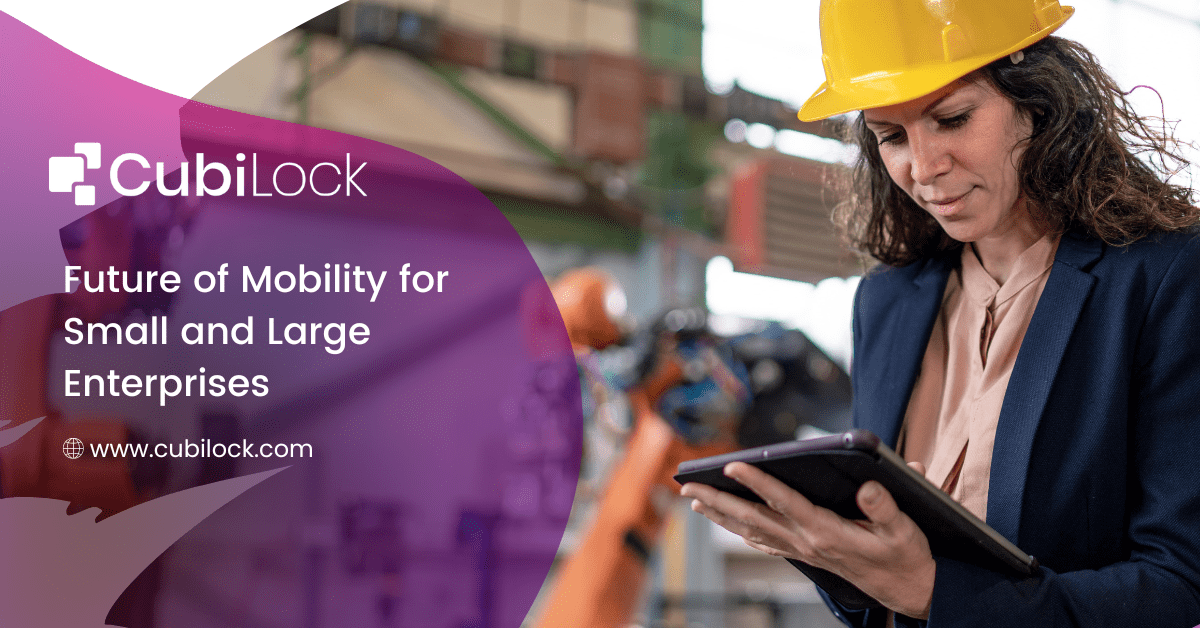 The paradigm of mobility for a business is no longer the same. The progress and changes in the field of enterprise mobility have been astounding after the global pandemic and any business failing to keep up with the pace has been in a tough spot ever since. With mobile devices becoming central for maximizing productivity and profits, businesses have been feeling the urgency to adopt mobility and implement new systems to stay relevant and competitive today.
Let's gain a deeper understanding of the emerging trends in mobility that are paving the way for the future of mobility for small and large enterprises.
The Internet of Things (IoT)
The internet of things (IoT) refers to the interconnection of physical objects that are embedded with electronics, software, sensors, and network connectivity that enable these objects to collect and exchange data. It is the network of physical objects and their virtual representations on the Internet. These objects are embedded in our environment, as well as in everyday objects like cars, watches, and clothes.
Some examples are Smart thermostats in warehouses which can be controlled through your phone or laptop; smartwatches that can detect locations and share files instantly; smart health trackers and devices in medical centers which can collect data from patients; smart vehicles that can detect when there's an issue with the vehicle and notify you before it becomes a problem; smart lighting which can detect when someone has entered or left the room. As connected wearable devices in businesses increase, employees are quickly updated regarding work and even receive updates in real-time.
IoT devices are able to collect data from the environment and within themselves through sensors. They then transmit this data to a centralized system for processing. This can be done via wired or wireless connections to other mobile devices or systems.
According to the most recent data, there are roughly 7.74 billion connected IoT devices today. The current number of IoT devices (7 billion) may appear to be staggering. However, thanks to 5G and other technologies, this figure is expected to more than triple to 25.44 billion total IoT devices by 2030.1
The 5G Network
5G is the next generation of mobile network technology. It promises to be 10-100 times faster than 4G, and it will have the capacity to serve millions of devices simultaneously.
5G is a future-oriented wireless communication standard that can provide speeds of up to 10 gigabits per second. The increased speed means that 5G is going to be a game changer for many industries, and it's going to have a major impact on businesses across the board. It will offer better connection and speed along with minimal energy consumption.
It will enable businesses to take advantage of new immersive technologies such as Virtual Reality (VR) and Augmented Reality (AR), which are already making waves in the consumer market. This next generation of cellular networks will come with a much higher bandwidth than 4G and LTE. It will also offer significantly lower latency rates, which is crucial for businesses that want to use a network with super-fast internet and maximum device connection capacity.
BYOD
BYOD (Bring Your Own Device) is one of the most popular trends that has been growing at lightspeed. In the post-pandemic world, BYOD has been embraced by a number of organizations, small or large to improve productivity, reduce inefficiencies and save resources. This trend has enabled companies to give more flexibility and freedom to their employees while cutting tech expenses for the company itself.
However, at the same time, it has increased the complexity of managing and securing data. But the Bring Your Own Device trend is not going anywhere soon. It is changing the way we work, communicate, consume content and share information. Organizations should be prepared for this change and make sure they have a strategy in place to deal with this new reality.
EMM Solution: A Mobile-first strategy
Nowadays, it is hard to imagine a workplace without mobile devices. But this growth and wide acceptance of mobility have been hindered by management and security issues. Although the benefits that these technological advancements bring are obvious and businesses all around are trying to harness these changes— not all of them have completely figured out how best to integrate them into their business processes.
It is still early days for enterprise mobility to take over businesses, and organizations are still struggling to define and achieve their mobility goals. Most enterprises need to overcome issues with budget and governance, a lack of mobile skills, and the lack of a clear mobility strategy. Their mobile approach needs to be in sync with their business goals.
Enterprise Mobility Management (EMM) is a solution framework focused on managing mobile applications, data, and devices. It is the foundation over which these technological trends and advancements are built. Trying to implement these trends into your business without having a proper EMM solution in place is not just a bad idea but an expensive one at that. It is essential to consider a mobility solution for your business, as this ultimately determines how your applications, devices, and data are capitalized on and used.
Enterprise Mobility Management Solution (EMM) has provided an opportunity to consolidate the mobility needs of an organization, while also ensuring security in a digital workspace. EMM is an umbrella solution that allows businesses to manage and control how their devices and the data within are accessed, managed, utilized, and distributed. EMM also allows IT to remotely control and manage the entire mobile environment of a business.
CubiLock EMM solution is a must to keep up with the changes and trends that are on the horizon. It is a simple yet powerful EMM solution that can be scalable according to your business growth and needs. It facilitates a wide array of features to enroll, manage, secure, and control your fleet of mobile devices and take charge of your mobility drive without any need for additional IT supervision and assistance.
There is no doubt that these emerging trends may be intimidating for businesses that have not made significant changes to their business processes and models. Fortunately, CubiLock can assist businesses in their mobility endeavors and help you effortlessly keep up with all of the aforementioned trends.
Apart from being a true sushi enthusiast, Sadichha (Aka SSH) is a content writer and blogger at CubiLock. She is passionate to enchant everything boring and nitty gritty about technology through her writings for her readers to enjoy and learn from at the same time. When she is not at her desk crafting content, you can catch her occupied with her cat.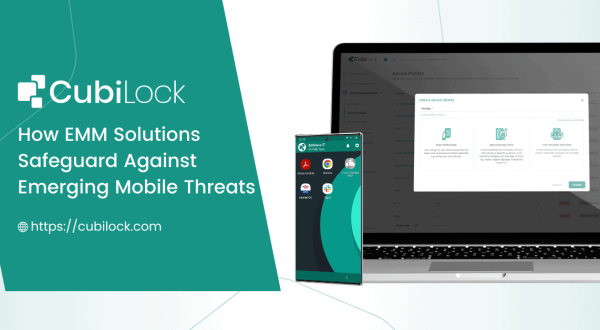 Explore how Enterprise Mobility Management solutions act as defenders against…