MDM Migration Made Easy With CubiLock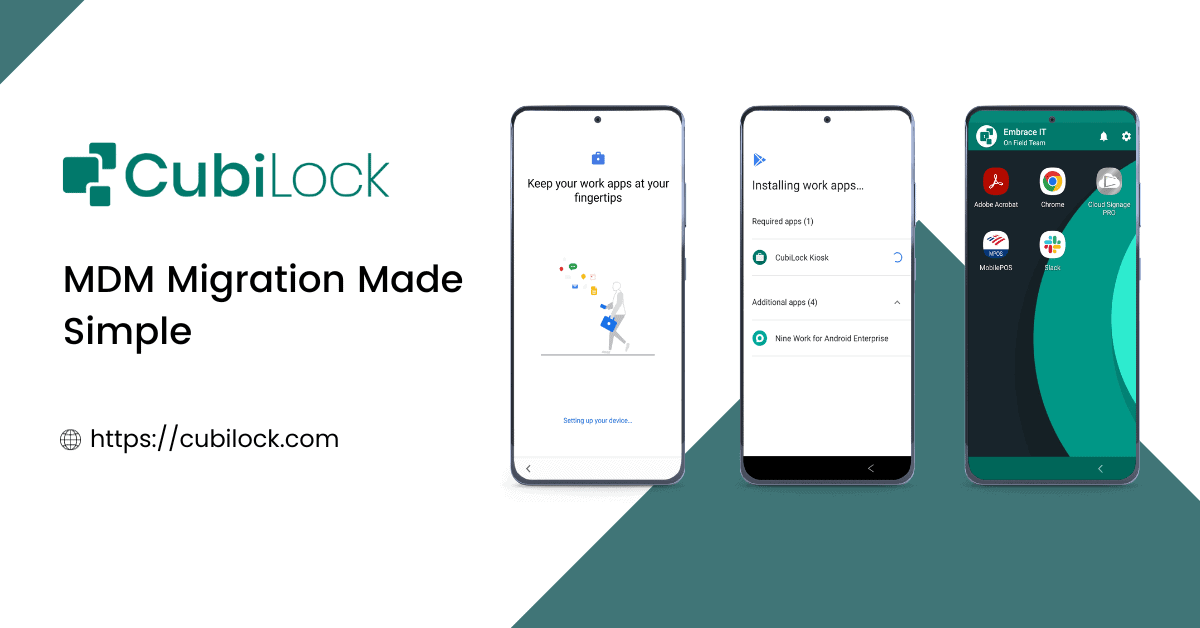 Businesses always strive to make their organizations more effective and efficient. Apart from choosing the right technology, organizations can take recourse to the right mobility management solution for this purpose. When you're managing mobile devices for the enterprise, you need to have a solution that is flexible and can be adapted by users according to their needs. The first step in migrating managed devices between MDMs is to understand what type of device management solution works best for your business. There are different types of managed device management solutions available on the market that specialize in different needs. Know more about MDM migration in this blog.
Your business needs may have already outgrown your existing MDM. Migrating the managed devices between MDMs can seem like a daunting task but it shouldn't be. In this guide, we'll walk you through the steps you need to take before migrating managed devices between MDMs with CubiLock
A Detailed Checklist For A Successful MDM Migration In One Go
Phase 1: Pre-Migration
If you're planning to move your managed devices between MDMs, you'll want to do a little research beforehand. While there are a lot of factors to consider when migrating MDM, there are a few basic questions that can help you make an informed decision.
How many devices will you be migrating using MDM?
What kind of management requirements do the devices have?
What kind of support do you want for your managed devices?
How much does it cost? And how long will it take?
Is there a free trial available for your new MDM solution? If so, what's the timeframe for testing?
Assess Your Needs
First of all, the admin should conduct a detailed requirement analysis of their business. This will help them determine the most important features to include in the new MDM migration solution.
You also need to decide whether you want a cloud-based or on-premises solution for your migration. Cloud-based solutions allow users to access their data from anywhere they want through the Internet while on-premises solutions require the installation of software on each device so that users can access it from anywhere they want.
Run A Trial Test
After analyzing those requirements, they'll be able to move forward with testing the new MDM with a few devices before conducting a mass migration. Most of the MDM solutions provide free trials during which you can test out the features and support before making a decision on which one fits your needs best.
Create A Detailed Plan
Once you have decided on the type of MDM migration solution that suits your needs best, it's time for the planning phase. In this phase, you should know how many devices and users will be migrating at once and how long it will take for them all to finish migrating over to their new environment. You can create an achievable and practical timeline for the entire process.
Prepare For Migration
Lastly, you can unenroll the devices from the current MDM solution and back up the data stored to prepare for the factory reset of all devices.
Phase 2: MDM Migration with CubiLock
Migration to CubiLock is a simple process with a shallow learning curve. It's a nice and quick process that can be grasped easily in no time. In this phase of MDM migration, CubiLock takes over and automates most of the tasks for a streamlined migration process with minimal roadblocks or time consumption. You can follow these steps to ensure that your devices are transferred successfully:
Sign Up With CubiLock
Sign Up and create an account on the CubiLock portal. During this time, leverage the trial period to test out the mechanics and functionalities of the solution. You can get familiar with the features and learn about the pricing plans and the subsequent features that come along with each plan.
Assign Roles
If there are multiple administrators for your organization, create an IT team of administrators/ technicians and assign proper roles to them.
Bulk Enroll
Enroll all your fleet of devices and set up the new CubiLock MDM within minutes. Before enrolling the devices, the MDM settings such as email and device profile can be configured. CubiLock offers :
QR Code
NFC
EMM Token
Sign-in URL
DPC Identifier
Configure Business Policies
Managed devices can now be configured with the required device settings, app settings, WiFi, and security policies. CubiLock includes a list of 50+ policies that allow you to configure Bluetooth, Status Bar, Settings, Camera, etc.
Import users and devices:
Users and devices must be transferred from the old MDM to the CubiLock portal. You can create and manage multiple device profiles and user groups under one platform.
Phase 3: Post MDM Migration
So now that you've just upgraded your device, there are a couple of things you can look out to be an overall successful MDM migration process.
Inventory Checks
First of all, you need to make sure that your devices are properly enrolled in their new MDM. This means comparing the initial inventory with the exported users to check if all the devices have been enrolled properly.
Restore Backups
With CubiLock, you'll be able to restore all your backups for the devices to be instantly put into use. You can also restore backups at any point in time during MDM migration.
Regular Check-Ins
Once all of that is done, it's time to move those devices to work. To make sure that your devices are functioning as they should and that the are checking in with the MDM server, it is equally crucial to do frequent checks and maintenance on the workings of the devices after migration.
Why CubiLock for Mobile Device Management Migration?
Improve Security: Upgrade to CubiLock MDM solution to improve mobile security. CubiLock offers seamless migration to minimize data loss. It also integrates with other business tools for better data sharing and reporting.
Data Migration: Provides the features that facilitate the transfer of data, applications, and settings from the old MDM solution to the new one. We take care to minimize any potential data loss during MDM migration and ensure a seamless transition to your new MDM solution.
Better Integration: Our services offer a range of benefits, including enhanced integration with other business systems and tools. This can greatly improve data sharing, reporting, and overall business processes.
Compatibility: CubiLock is compatible with any MDM solution you are migrating from. CubiLock is built to support a wide range of devices and operating systems that your organization uses. This includes mobile devices such as smartphones and tablets, as well as the operating systems that run on these devices.
Ease of Use: It offers a user-friendly interface and straightforward migration process which can save time and reduce the risk of errors during the MDM migration. Ensures that you can efficiently transition from the old MDM solution to the new one.
Streamlined Management: Our device management processes are designed to be streamlined, making it easier for IT administrators to manage numerous devices efficiently. CubiLock has robust security measures to protect your data during MDM migration.
Customer Support: CubiLock provides 24/7 customer support to IT admins. This means that if you encounter any issues or have questions during the migration process, you can reach out to their support team for assistance. Timely and knowledgeable support can be invaluable in resolving issues quickly.
Leverage Effortless Mobile Device Management Migration
For managing mobile devices, there are many alternatives to MDM solutions that are available today. There is no need to accept an MDM that falls short of your needs. Both businesses and the enterprise mobility management sector change over time. You need an MDM solution that can keep up with these changes and CubiLock is an all-encompassing Enterprise Mobility Management (EMM) solution that provides you with all your MDM needs and so much more. CubiLock provides you with the right resources and help to migrate across MDMs. With well-thought-out planning and the help of our team of experts, the relocation process can be smooth for your end-users to get accustomed to in no time.

Apart from being a true sushi enthusiast, Sadichha (Aka SSH) is a content writer and blogger at CubiLock. She is passionate to enchant everything boring and nitty gritty about technology through her writings for her readers to enjoy and learn from at the same time. When she is not at her desk crafting content, you can catch her occupied with her cat.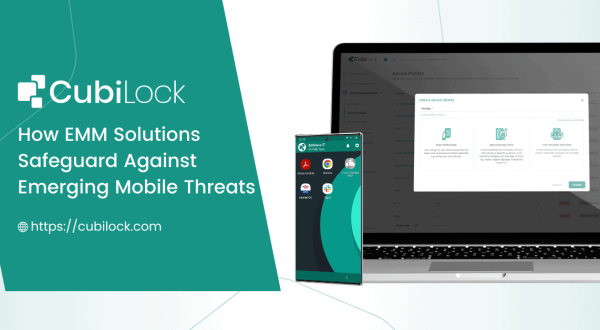 Explore how Enterprise Mobility Management solutions act as defenders against…