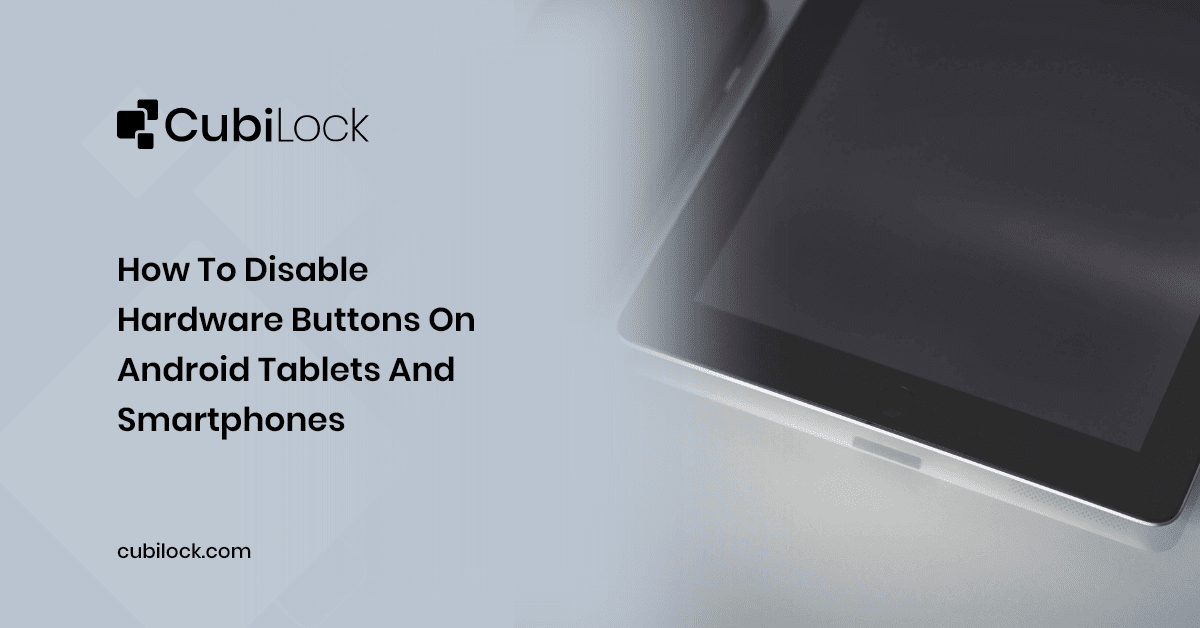 The kiosk lockdown mechanism is one of the most ideal trajectories to acquiring efficient mobility control and security. Disable hardware buttons on Andriod tablets and smartphones is an additional security feature that eliminates the risks of misusing hardware keys and buttons to get out of kiosk lockdown mode.
The corporate-owned devices that are enrolled with Android Kiosk Mode are enforced with strict security policies and disable power button in android that bans unsafe applications and websites and push only work-related apps. This streamlines the workflow, increases employee productivity, and ensures the devices are operated in a controlled and secured environment. However, the possibility of end-users breaking lockdown is persistent with the use of a combination of hardware keys on the devices. Certain combinations of physical keys such as disable power button or the volume button can reboot or reconfigure devices at the will of end-users.
Customer-facing kiosks are highly susceptible to intentional or accidental misuse of hardware keys to exploit the device. Pressing these buttons can interrupt the workflow, disrupt the intended purpose of the device, turn it off or remove configurations. The device will be vulnerable to manipulation, misuse, or modifications once it exits the management software enrolled on the device. Locked devices, self-service kiosks, and digital signages need to be secured from authorizing access, taking screenshots, rebooting the device, modifying the device settings, or exiting device management completely.
In order to protect devices from security compromises, it is incredibly beneficial to disable hardware buttons on tablets and smartphones.
CubiLock EMM solution disable power button on Android tablets and smartphones with minimal effort. It gives multi-layer security protection with Andriod kiosk lockdown with the lockdown of physical keys.
Disable Hardware Buttons on Android Tablets and Smartphones With CubiLock:
Easily disable volume buttons by enrolling your Android devices OR login into the CubiLock portal.
Navigate to Device Management > Select the device profile you wish to disable the volume button.
Click on Edit. Edit is available on the extreme right corner of your screen.
Go to Policies > User Restrictions.
From there, enable Disallow adjust volume.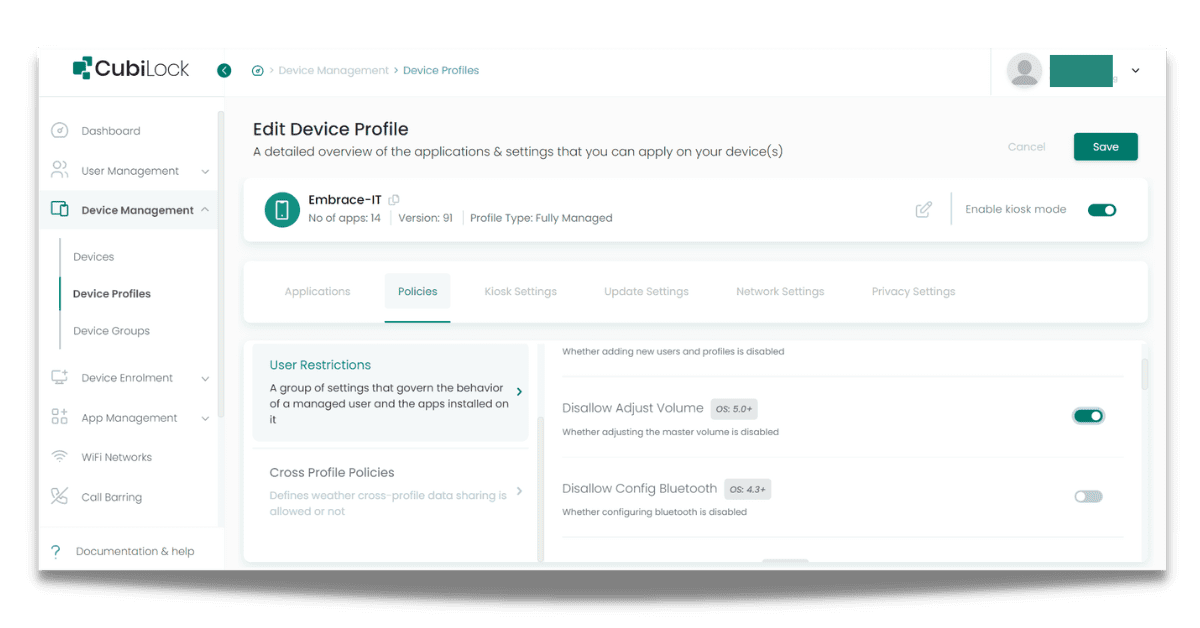 Disallow adjusting the volume: Turning off this option disable hardware button and restricts users from adjusting the volume button to their will. The admin can control and set a standard volume from the CubiLock console. This policy registers a default volume for the said device and restricts users from tampering with the device buttons. It shows the volume indicator but makes no changes to the volume from the hardware button itself, hence disable hardware button completely.
Now under the same profile or any profile, click on Kiosk settings as shown below.
Go to Kiosk Settings > Kiosk Customizations.
Click on Power Button Actions > Power Button Blocked.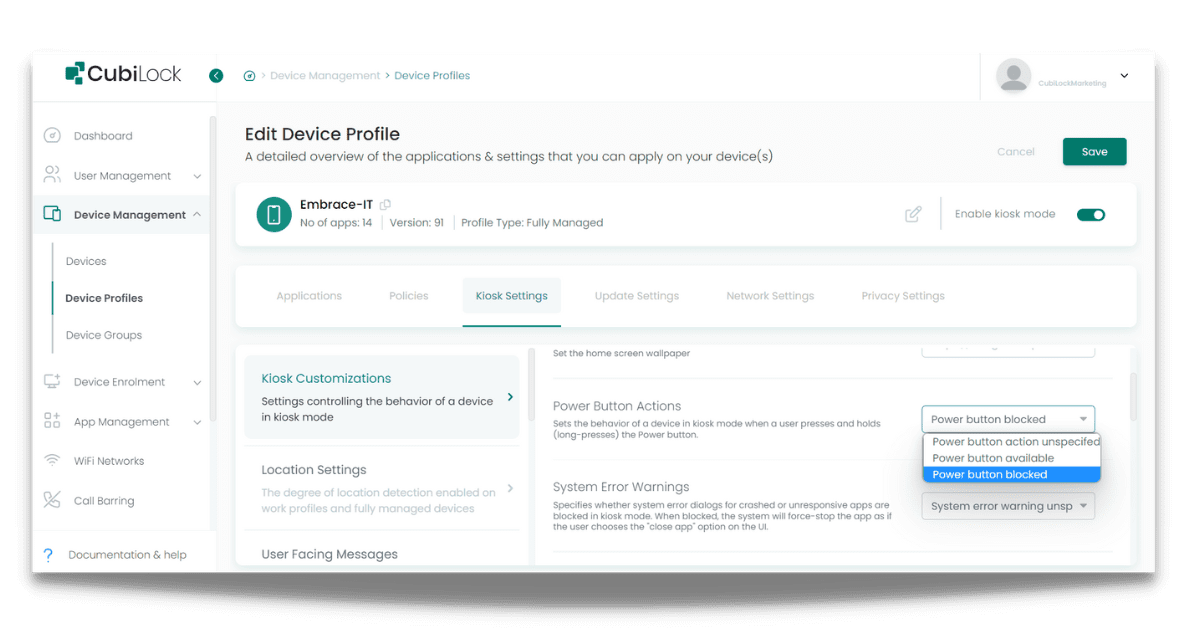 Block power button: selecting this option disable power button on android devices. It restricts anyone from manually rebooting the device with a click on the power button. The IT admin requires to turn off the device through the CubiLock console or remove the restrictions in order to power off the devices through the hardware buttons. It will also clear any passcodes or PIN saved on the device.
Also read: Mobile kiosk lockdown Solution for Android devices
In A Nutshell,
Mobile device management software like CubiLock ensures that the devices enrolled for enhanced work management and productivity is used for their intended purpose. CubiLock offers a dynamic set of features that is scalable to the particular needs of your business. Disabling physical buttons such as disable power button and the volume buttons is a crucial asset to the Android kiosk lockdown mechanism available on the managed devices. It saves the business from jeopardizing valuable data and information stored in these devices that the business cannot afford to lose. Controlling the autonomy of end-users is far more secure than relying on their behavior or word of mouth. Security policies are of no use if at the end of the day users can hack their way into the device with a few clicks of buttons. Therefore, businesses need to give thought to small details that will later save them from bigger issues.

Apart from being a true sushi enthusiast, Sadichha (Aka SSH) is a content writer and blogger at CubiLock. She is passionate to enchant everything boring and nitty gritty about technology through her writings for her readers to enjoy and learn from at the same time. When she is not at her desk crafting content, you can catch her occupied with her cat.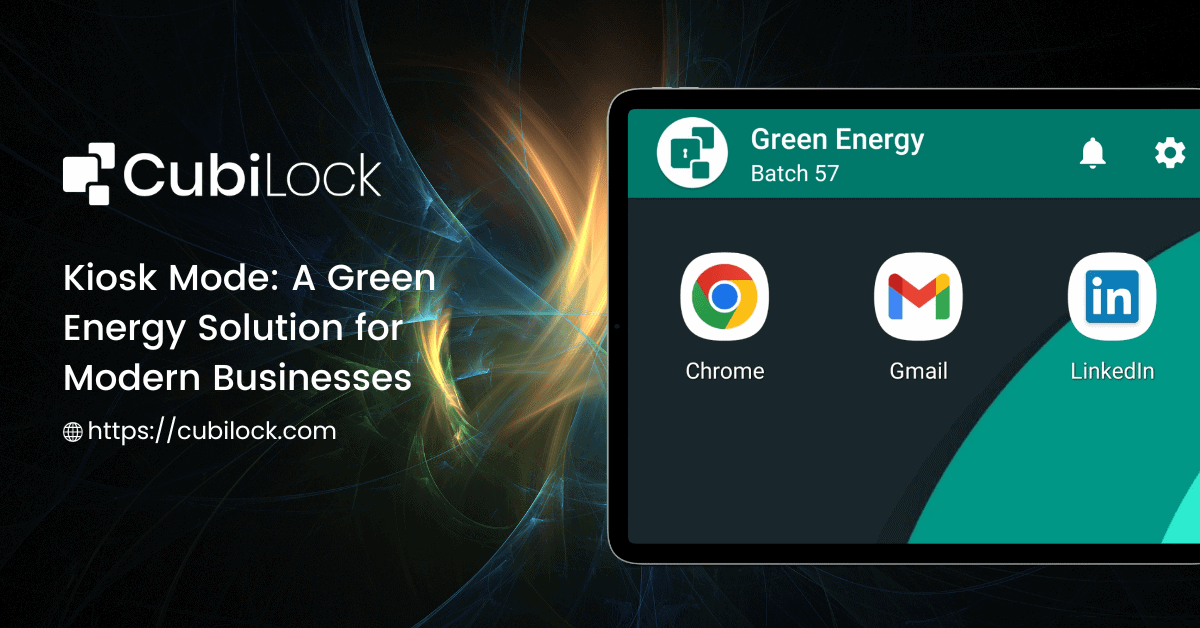 Kiosk mode brings several benefits for businesses, however, many businesses…