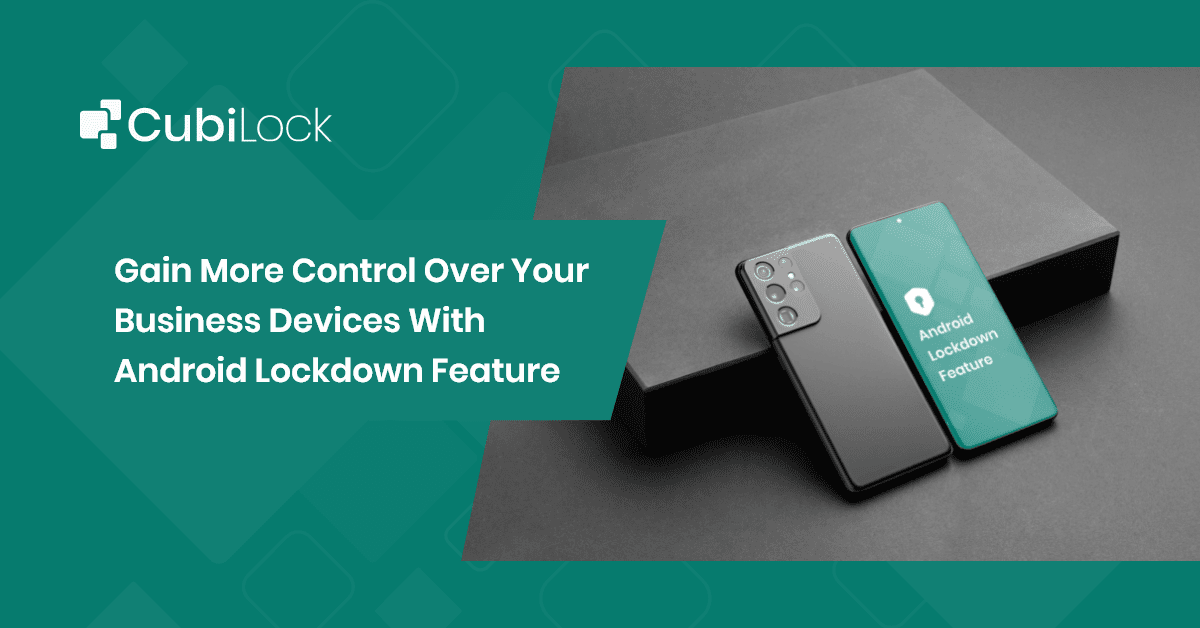 Our world today is stationed in the digital era. Technological reforms are taking over every industry known to mankind. This has led to the steep rise in the use of mobile devices, predominantly Android devices to drive business operations. The set of capabilities, features, and functionalities in mobile devices are evolving to fit every need of the end-user. From CEOs to clerks to security guards, mobile devices are involved in everybody's daily operations in one way or the other. After the global pandemic, the necessity for mobility and digital workplace is not limited to specific job profiles that work on-field, rather remote work culture is at an all-time high and a must in any workplace. Companies today are equally engaged in device-led operations for employees in conventional offices with the expectation of increasing employee engagement, overall productivity, and growth.
So the question that arises is how do businesses manage and gain control over their fleet of devices that are deployed for specific work purposes?
The simplest answer to your device management and lockdown woes would be CubiLock Enterprise Mobility Management solution and in this article, we shall discuss why.
Businesses are progressively acknowledging the profits of integrating Android kiosk mode in their corporate-owned devices as well as employee-owned devices. You don't want the end-users whether your customers or your employees to be able to navigate and access anything on the device and misuse the facilities intended for work purposes. By putting your tablets and smartphones in kiosk mode, users are authorized to use only specific applications or websites and cannot exploit the devices, either at one's will or unknowingly. IT teams cannot afford to spend hours tracking and managing the devices manually. Hence, your business needs a reliable MDM solution like CubiLock that offers a robust Android lockdown feature that methodically tackles mobility issues in a smooth and hassle-free manner.
Mobile Kiosk Lockdown Solution – Enable Kiosk Mode On Android Devices
CubiLock offers the latest kiosk technology feature that provides an Andriod device lockdown mechanism for unattended mobile devices that solves the issues of productivity, flexibility, visibility, and control that businesses face when deploying these devices for work purposes. CubiLock Android lockdown mechanism manages employee-facing or customer-facing devices such as smartphones, laptops, and tablets that run on Android operating systems and offers :
Single App Mode: The Android single app mode allows you to lock an Android tablets to one application or website for instance self-service kiosks that have a particular app running that all times. It auto-launches the same whenever the devices reboot and restricts end-users from navigating all other actions.
Multi App Mode: The multi-app mode allows end-users to access a pre-determined set of apps, without modifying the rest of the device software and hardware settings.
Steps to Enable Kiosk Mode on Android Devices With CubiLock
Sign in to your CubiLock Portal.
Create/edit device profile.
Toggle to enforce lockdown mode as shown in the screenshot below.
You can even select the type of installation for each application.
Apply settings on all devices enrolled in the profile.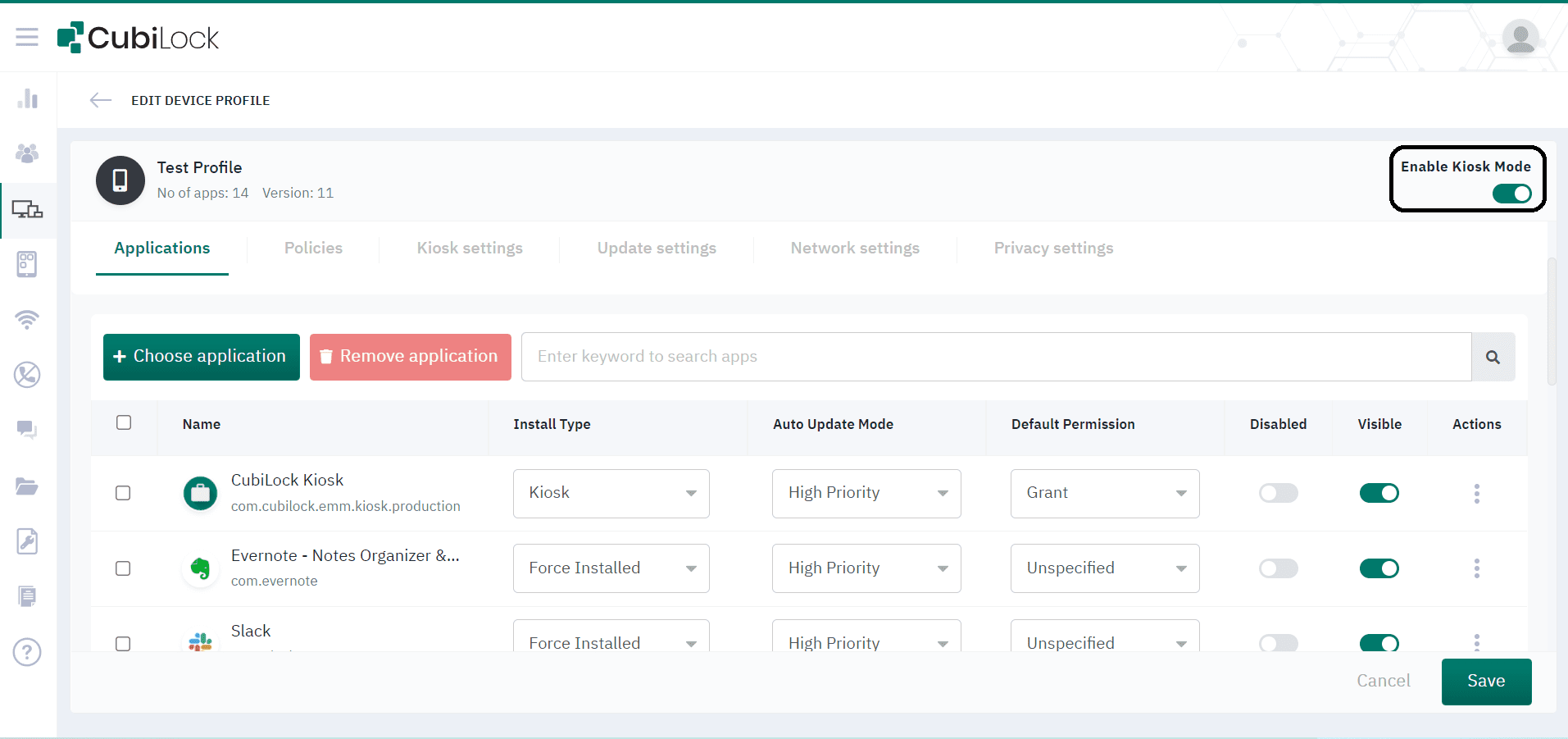 Benefits of Android Tablets Kiosk Mode
Maximize Productive Hours
CubiLock allows your IT admins to whitelist or blacklist apps, websites, and domains according to the primary needs of the business. The whitelisting/blacklisting feature which is controlled from the CubiLock dashboard gives IT admins the flexibility to curate devices according to the job profile and requirements of the particular employee. It prevents distractions and removes any scope of loss of productive hours during work which would otherwise be wasted surfing the web, consuming unwanted videos, games, and other entertainment avenues. Restriction of unwanted apps and websites offers a streamlined device interface for employees to improve their work performance and productivity. Moreover, it remotely controls, monitors, and tracks the operations of the devices for maximum efficiency. It enables in-house business applications and websites curated for your specific business which improves device usability.
Secure Corporate Data and Device
Prevention of data breach and cyber threats are getting complicated day by day and traditional anti-virus software are failing to keep data safety intact. Without protective lockdown mechanisms for your Android mobile phones and tablets, they are continuously endangered. Also, third-party apps and internet downloads can be unsafe for professional devices as viruses can be present in them that will harm valuable data and information of the business and cause colossal financial loss for the company. CubiLock kiosk mode comes with enhanced security technology that helps your business to lockdown and safeguards crucial data and information on the system. It gets to the root of the problem which typically is exposure to network vulnerabilities, malignant viruses, and hackers through unsafe apps and websites. This can be completely avoided with limited device settings and access control, password protection, and encryption of apps and websites.
CubiLock kiosk mode significantly reduces mobile data costs as employees are limited to usage of the device for work purposes only. A large chunk of data consumption that adds up from applications and internet browsing is saved when devices are centrally controlled and restrictions are skilfully implemented. The lethal combination of data over usage and unproductive workers will increase the costs of day-to-day operations of the business which could otherwise be invested in valuable projects and overall growth of the business.
CubiLock extends its services from the single app kiosk mode feature to the multi-app kiosk mode feature that allows uploading of multiple apps and restrictions of others simultaneously. Other additional features include:
Bulk enrollment of devices with QRcode/URL based, IMEI based, and zero-touch enrollment.
Management and configuration of apps and policies from the cloud.
Real-time location tracking of all devices.
Lockdown device peripherals (Wi-Fi, Bluetooth, Camera, Screen Orientation, Airplane mode, Audio, GPS, etc.)
Custom corporate logo and wallpaper branding on all devices.
The advantages of going digital and mobile in the workplace are often overshadowed by the liability of having mobile phones and tablets as distractive mediums in workplaces. It gives away unsupervised autonomy to employees which can hijack their performance and production capabilities in the workplace. The fundamental reason for enabling Android tablets in kiosk mode is to be vigilant about these possible drawbacks and use an effective mobile device management solution such as CubiLock to tackle these predispositions. If you are serious about gaining more control over your business devices, kiosk mode for android is the ideal solution for you.

Apart from being a true sushi enthusiast, Sadichha (Aka SSH) is a content writer and blogger at CubiLock. She is passionate to enchant everything boring and nitty gritty about technology through her writings for her readers to enjoy and learn from at the same time. When she is not at her desk crafting content, you can catch her occupied with her cat.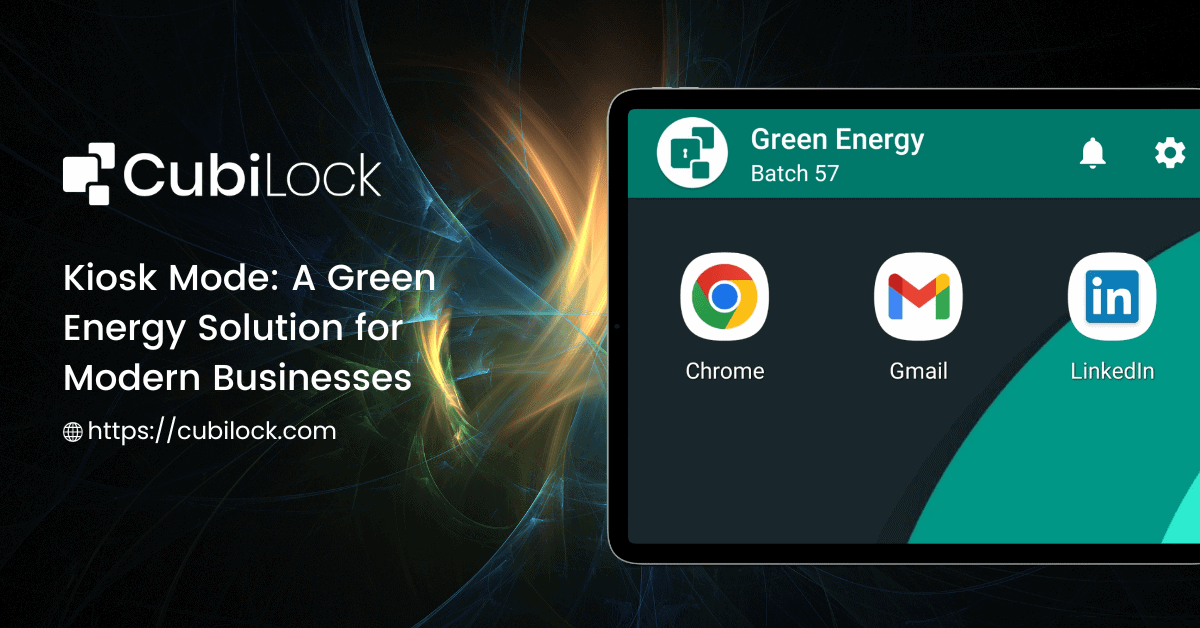 Kiosk mode brings several benefits for businesses, however, many businesses…