Zero-touch Enrollment: How to Get it Started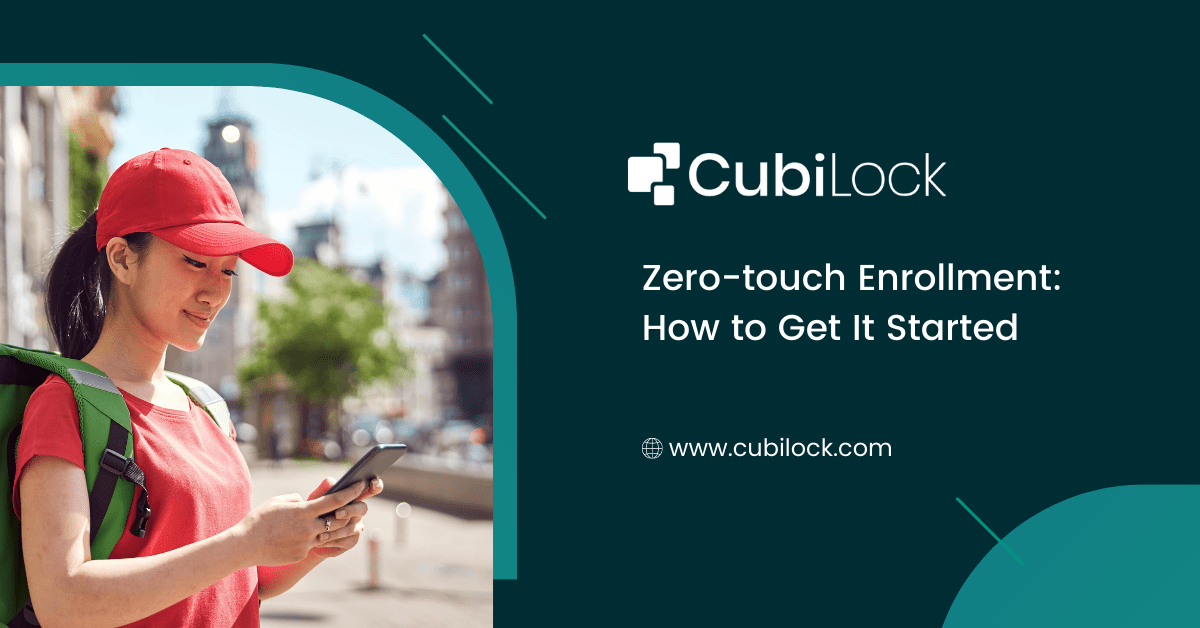 Google's Android Zero-Touch Enrollment (ZTE) or Zero Touch Provisioning (ZTP) is a straightforward device enrollment approach designed to simplify the process of enrolling multiple Android devices for organizations. With ZTE, devices are automatically enrolled in a Mobile Device Management (MDM) system without requiring any manual input from the user. This makes the deployment process more efficient, as devices can be set up with pre-configured policies and apps, and can be managed remotely from a centralized console. Zero-touch enrollment is a secure and scalable method of device provisioning that can help organizations save time and reduce costs associated with device management. Your mobile devices come preloaded with enforced management that can be easily configured over the air, straight out of the box.
A Few of the Advantages That Zero-Touch Enrollment Provides:
One-time setup: With Android ZTE, you only need to set up your device once. After that, mandatory Mobile Device Management (MDM) takes over, making it easy to deploy and manage a large number of devices across your organization.
Large-scale enterprise device rollout: Whether you need to deploy devices to a handful of employees or thousands of them, this makes the process simple and efficient.
Mandatory MDM management: ZTE enables MDM management to be mandatory. This ensures that all devices are properly secured and managed, reducing the risk of data breaches and other security issues.
Easy enrollment process: Resellers can add devices to the portal, making the enrollment process quick. This saves time and effort and ensures that all devices are enrolled properly.
Automatic app and profile setup: Administrators can set up devices with the necessary apps and profiles, which get applied automatically on device activation. This makes it easy to customize devices and ensures that employees have access to the tools they need to get their work done.
Here's how it works:
When you turn on your Android device for the first time, it will automatically check if it has been assigned an enterprise configuration. If it has, the device will initiate the fully managed device provisioning method and download the correct device policy controller app. This app will then take care of completing the setup of the managed device, making it a breeze to get your devices up and running with minimal effort.
Prerequisites:
To take advantage of zero-touch enrollment, you'll need a device that runs Android Pie (9.0) or later, purchased from a reseller partner. If you don't have that, don't worry – a compatible device that runs Android Oreo (8.0), or a Pixel phone that runs Android Nougat (7.0), also purchased from a reseller partner, will do the trick.
In addition, you'll need a zero-touch account established by a zero-touch reseller partner and an enterprise mobility management (EMM) or mobile device management (MDM) solution that supports fully managed devices. But once you have all of these pieces in place, you'll be well on your way to managing your devices with ease and efficiency.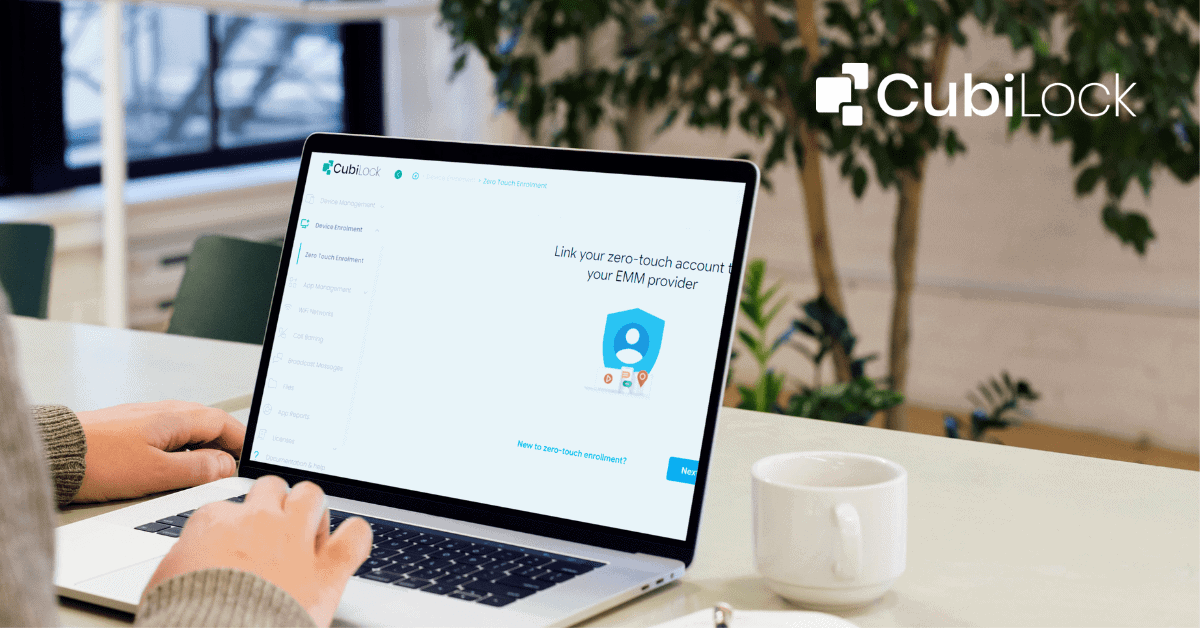 How To enroll your devices with CubiLock Android Zero-Touch enrollment:
From the CubiLock console,
Go to the menu. Navigate to Device Enrollment > Zero-touch Enrollment.
To link your zero-touch account to your EMM provider, click on the Next button.
You will then be re-directed to a Google sign-in page, where you will need to provide your Zero-touch account credentials. (Steps mentioned below to create Zero-touch Enrollment account).
You can select the accounts containing the devices to be handled.
The account data will be displayed after pressing the Link button.
Provide your company's support information on the next page so that employees can contact you if there are any problems during setup.
If the integration is successful, you will be able to access the Zero-touch gateway from the console.
Now that the zero-touch setup is complete, you can proceed to enroll devices.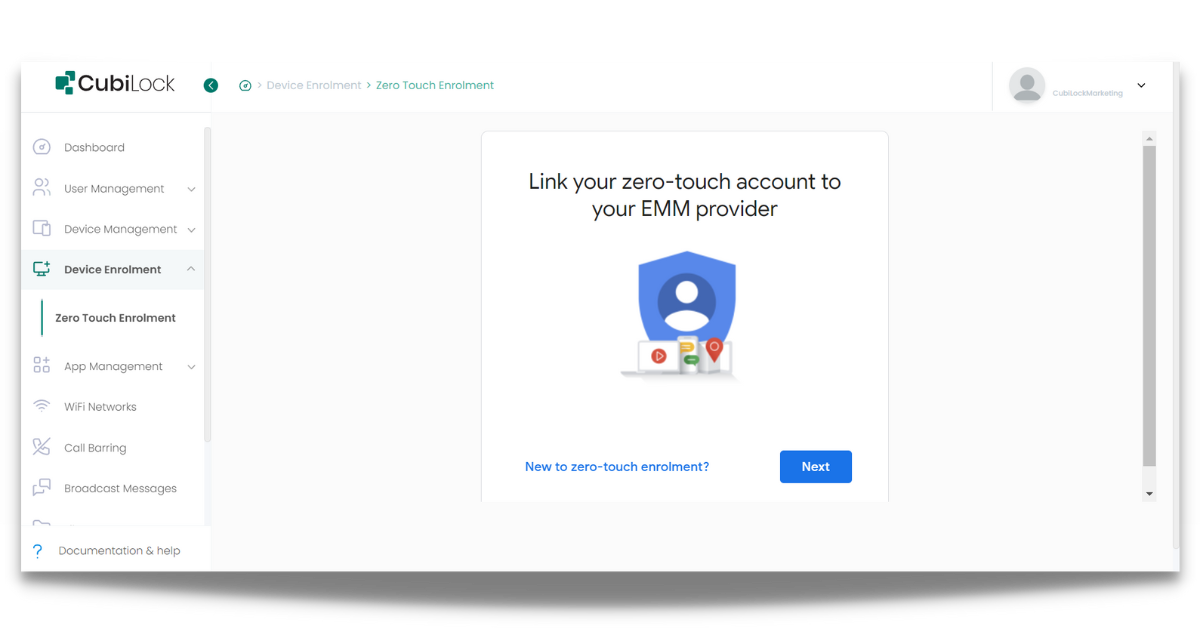 How to Set Up Zero-touch Enrollment Account?
Now you are ready to set up your Android Zero-Touch Enrollment account. How? Don't worry, we've got you covered.
Step 1: To create a Zero Touch Enrollment account, you'll need your corporate Google account. Once you have a Google account for your enterprise, you can contact your reseller to get the Zero Touch portal account.
Step 2: Contact your authorized reseller to get the Zero-touch portal account.
OR
Simply schedule a demo with us and have it all set up for you – Zero-touch Enrollment with CubiLock
Let's face it, manual device setup can be a real headache for IT teams. But with CubiLock Android Zero-Touch Enrollment, IT teams can kick back and relax while the automation takes care of the hard work. No more manually setting up each device one by one. CubiLock helps IT teams to enroll hundreds or even thousands of devices at once, saving time and resources that can be used for other important tasks. In a nutshell, CubiLock Android Zero-Touch Enrollment can make IT teams happier and more productive, save organizations money, and make employees more efficient. So why waste time with manual setup when you can sit back and let Zero-Touch Enrollment do the heavy lifting? So don't wait – let us help you get started today!
CubiLock enables large-scale Android deployments securely and with ease.
Say goodbye to cumbersome setup processes and hello to the future of device management with zero-touch enrollment!
This method of enrollment is the easiest way to deploy an Android MDM solution for your fleet of devices as it is fully set up without requiring any user interaction, making it an effortless out-of-the-box solution.

Device Security Analyst, loves testing devices that are used for dedicated purposes.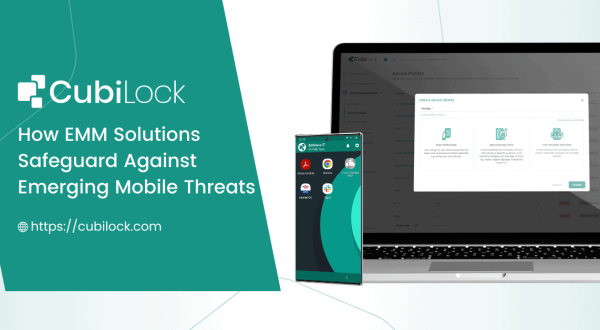 Explore how Enterprise Mobility Management solutions act as defenders against…