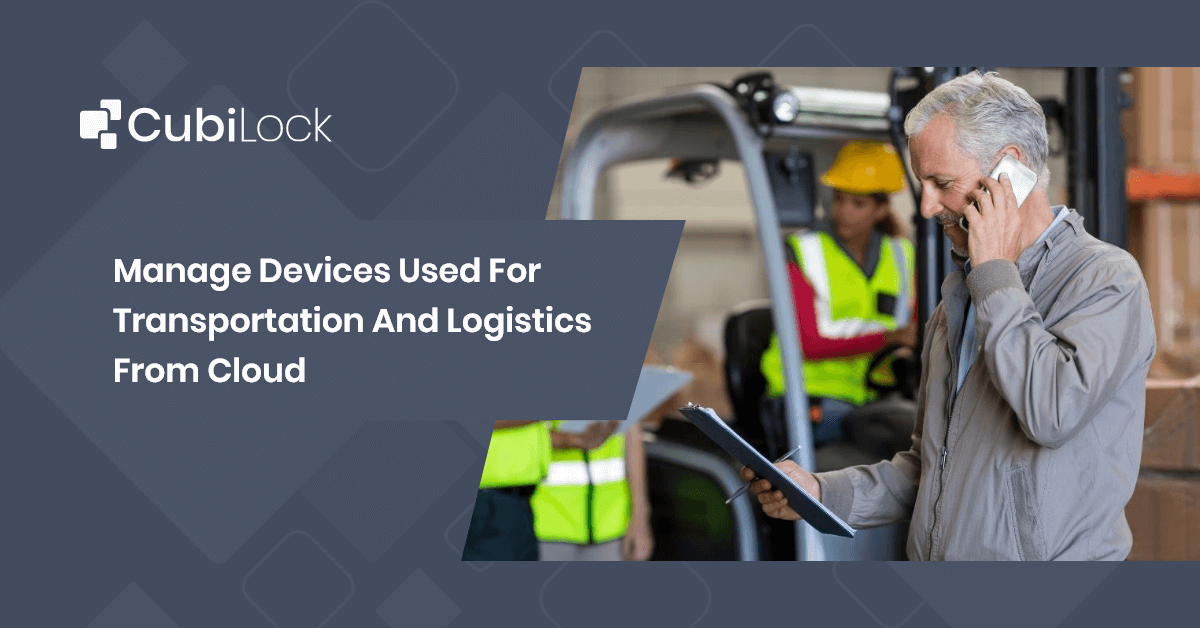 In 2020, the global logistics market was worth almost 8.6 trillion U.S. dollars. The global rail freight traffic alone is expected to reach just under 12 trillion ton-kilometers by 2025. The rise of import and export of goods around the world reflects developments in international trade, globalization, and advances in technology. Today, the transportation and logistics (T&L) industry to become a crucial backbone of global economies and the majority of the credit goes to the integration of mobile devices in this industry that has catapulted this industry towards advancement. The shipment of goods and services is a complex process, which requires coordination and open communication among all the parties involved. It is the management of the flow of goods, services, and information at the right time, the right quantity, and the right place in the most cost-effective and efficient way. 
The T&L industry has been rescued by mobile devices during the Covid-19 pandemic by procuring,  transporting, shipping, and delivering the products and services continuously in an efficient manner. It has also increased the number of mobile devices such as smartphones, laptops, tablets, and IoT (Internet of Things) deployed by these businesses to connect to the entire supply chain. However, this mobility and digitalization wave can only positively impact and benefit the T&L businesses if they can manage and secure the devices that they have heavily relied on. With an increasing number of devices that operate out on land, air, and water rather than the comfort of a conventional office, it is paramount for the transportation and logistics business to invest in a powerful and scalable Mobile Device Management (MDM) solution to warrant efficient and secured information exchange while responsibly using the mobile devices. 
CubiLock is a flexible and easy Android MDM solution designed to help you protect and manage all your organization's devices; whether personally-owned or corporate-issued through a single console. Every transport and logistics business can benefit from CubiLock, no matter the size to leverage mobile devices and applications that assist organizations in achieving operational efficiency. The rich set of features offered by CubiLock assists businesses in every aspect of procuring goods, storage of goods, packaging system, keeping track of freight, last-mile delivery processes, and overall better customer service. Moreover, CubiLock is an MDM software that runs on a cloud-based model that offers quick enrollment, management, and configuration of devices over the air without additional infrastructure or hardware required like its on-premise models. The prominent benefits of managing mobile devices from CubiLock's cloud-based interface are:
Improved customer experience 
CubiLock helps businesses manage and secure confidential customer information about the client, from the name, address, email, phone number to bank details that need to be shared with the drivers, delivery executives, and customer service executives. There is a customer assurance required where this data of the client is protected by the business while providing data access to the delivery personnel. Moreover, CubiLock makes it easy to keep track of thousands of mobile devices, ensuring that couriers are never late for their deliveries, connecting customers with carriers, and updating their shipments. This develops the client's trust in the company, paving a shortcut to improved customer experience and loyalty towards the business which ultimately contributes to the brand and its returns on investment.
Insightful analytics and reports
While working with various devices across different departments and platforms, CubiLock collects a huge amount of data and information that provide device visibility and employee performance assessments in real-time. This analytical knowledge assists admins and managers in planning inbound and outbound product movements, fleet capacity, and better shipment routes. It helps businesses comprehend the cost, improve their operations, refine their relationship with suppliers, contractors, receivers and identify the setbacks effectively. 
This small tool is a greatly effective methodology for businesses looking to maximize their employee and device capabilities with historical data. 
Streamlined work and productivity boost
CubiLock uses the latest technology to turn your mobile devices into kiosk mode that is flexible according to the unique needs and policies of your particular business. With Andriod kiosk mode, the devices are limited to the list of whitelisted applications and websites while restricting access to the rest. When the applications are locked down this way it is imperative for the employees to carry out their job without constant surveillance from the manager. This setup is far more effective for effortless focus and productivity of all workers as well as distribution of application to the employees according to their job profile needs. 
The kiosk mode feature has a single app mode and a multi-app mode option that allows businesses to lock down their devices with apps and websites that are strictly work-related. Drivers and workers with little technical knowledge do not have to expend their time on sophisticated device functionalities and features as app management, device settings, OS updates, installation, and maintenance are solely handled, controlled, and configured through CubiLock's centralized dashboard.
CubiLock pushes apps, updates, notifications, shares files, and documents and troubleshoots malfunctioning devices over the air saving the business the time, effort, and resources required to deal with it manually. It not only simplifies device management strategy but helps to streamline work and reduce unnecessary distractions to improve productivity for a business. 
Another facet that strikes a chord when integrating device-led operations in the transport and logistics business is device security and protection. CubiLock offers robust and agile data security and protection with zero-trust security that leverages Android Enterprise's full security stack. CubiLock's multi-layer platform security architecture, from the hardware layer to the application layer ensures that devices enrolled with the software vigilantly protect the business from the astronomical financial loss caused by data loss, breach, or theft. It offers geo-tracking of the fleet, passcode policy, encryptions, kiosk mode, remote wipe-out, etc that safeguards the data and information carried in corporate-owned as well as personal devices. Being in constant contact with the front-line and on-field workers erases any sort of communication gap that can disrupt the chain of reporting which is crucial in the logistics business. It also safeguards the devices from unsafe browsing and accessing unwanted applications and websites, ensuring malignant hackers, viruses, cybersecurity threats are tackled with minimum effort from end-users and IT teams. 
The dynamic and flexible features of the CubiLock EMM solution can contribute to nearly every part of the shipment process. It facilitates greater transparency and visibility which keeps track of a huge amount of freight with ease. CubiLock enterprise mobility management solution is a must to obtain consistency, effective communication, and security alongside, business growth and advancement. 

Apart from being a true sushi enthusiast, Sadichha (Aka SSH) is a content writer and blogger at CubiLock. She is passionate to enchant everything boring and nitty gritty about technology through her writings for her readers to enjoy and learn from at the same time. When she is not at her desk crafting content, you can catch her occupied with her cat.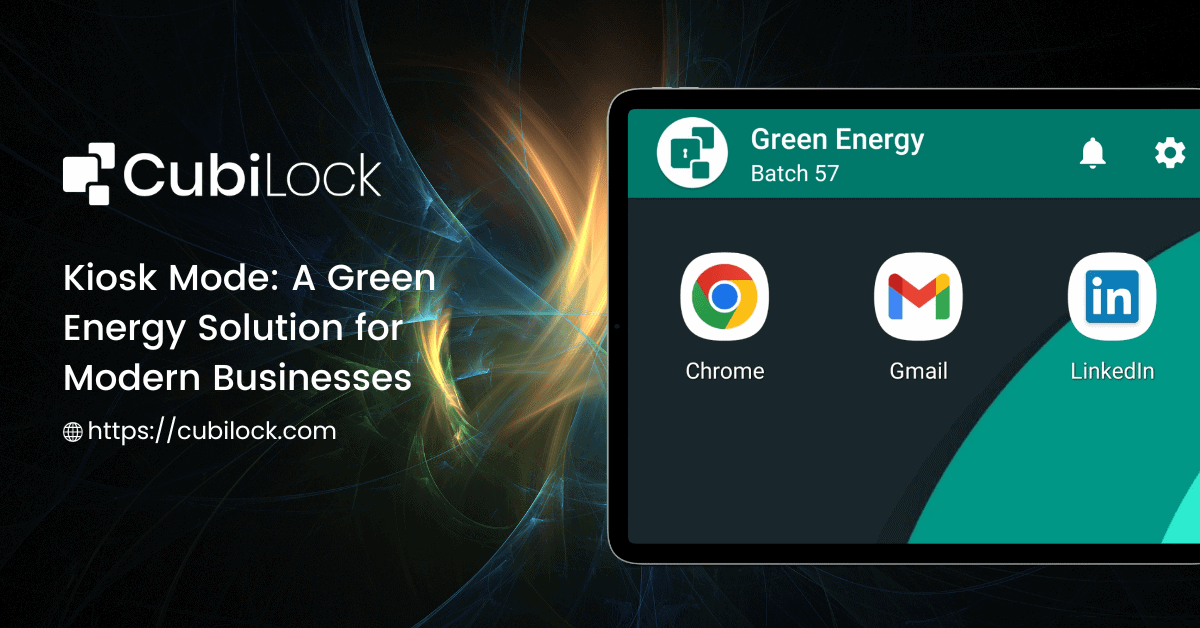 Kiosk mode brings several benefits for businesses, however, many businesses…