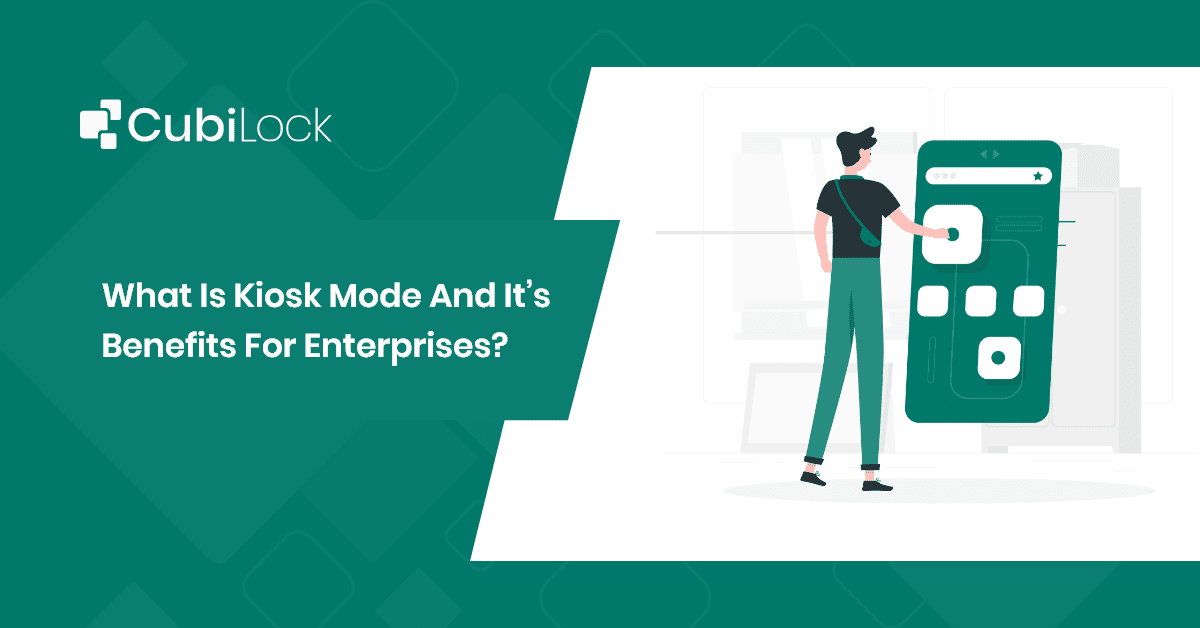 The contemporary business landscape is a competition-driven place. Today every business is focused on leveraging technological assets such as smartphones, tablets, and laptops to improve their operational efficiency and reshape their corporate goals by turning them into highly profitable and productive businesses. No enterprise; small-scale or large scale has remained untouched by this digital transformation. In this scenario, probably the most effective way to push this productivity and sales drive is to deploy android kiosk mode on these mobile devices. So what is kiosk mode? Configuring mobile devices into kiosk mode to help productivity endeavors is critical to driving the expected development and growth of the business.
What Is Kiosk Mode?
Traditionally, kiosks were stand-alone stations or wall-mount devices used by customers for self-serviceable tasks such as paying bills, filling out applications, providing information, displaying digital promotions, showcasing catalogs, etc. It refines digital devices into purpose-specific gadgets limited to a particular task without any interventions. Android kiosk mode thus is a mode that fundamentally protects systems or devices from misuse of provided features intentionally or unintentionally and limits end-users to specific, predetermined activities so that the devices can be used for a specific function, communication, action, or task. In the modern digital era, kiosk mode is a more functional and flexible tool that provides a lockdown mechanism for mobile devices that enables you to lockdown android tablets to just one or several apps. This system allows you to set your mobile devices to a dedicated purpose while restricting all other accessibility.
With more and more organizations heavily implementing the use of mobile devices, integrating kiosk mode has become indispensable for a business. The distractions that come along with a fully accessible mobile device in a workplace are undeniable. It hinders operational efficiency and deviates employees' engagement from their work. As a result, the overall performance and productivity in the workplace take a direct hit. Moreover, the devices are subjected to multiple malicious applications and websites which pose a threat to the sensitive corporate data and information that are present in these devices when control and supervision are absent. Also, businesses need to understand that cybersecurity threats and risks are only getting increasingly complex and sophisticated with time. Without reliable kiosk lockdown supervision, all the valuable business data and information is in jeopardy. In this way, enabling devices in kiosk mode has become a prerequisite for device-led businesses to protect their mobile devices from hackers, viruses, unwanted misuse, and unauthorized access.
The CubiLock kiosk software is a powerful and scalable kiosk mode that transforms the hectic and cumbersome task of deploying kiosk mode in each and every corporate-owned device manually. The simplified trajectory to enable kiosk mode in the CubiLock software configures mobile devices into an interactive kiosk running business-specific apps and websites. It remotely monitors, manages, and controls all corporate-owned smartphones & tablets over the cloud by locking them down in kiosk mode. It allows a single interface to manage kiosks effectively in all mobile devices connected to the corporate network to optimize performance and secure them against misuse and unauthorized access.
Also read: How to disable hardware button on Android devices
Enable Kiosk Mode On Multiple Android Devices
Sign in to your CubiLock Portal.
Create/edit device profile.
Toggle to enforce lockdown mode as shown in the screenshot below.
You can even select the type of installation for each application.
Apply settings on all devices enrolled in the profile.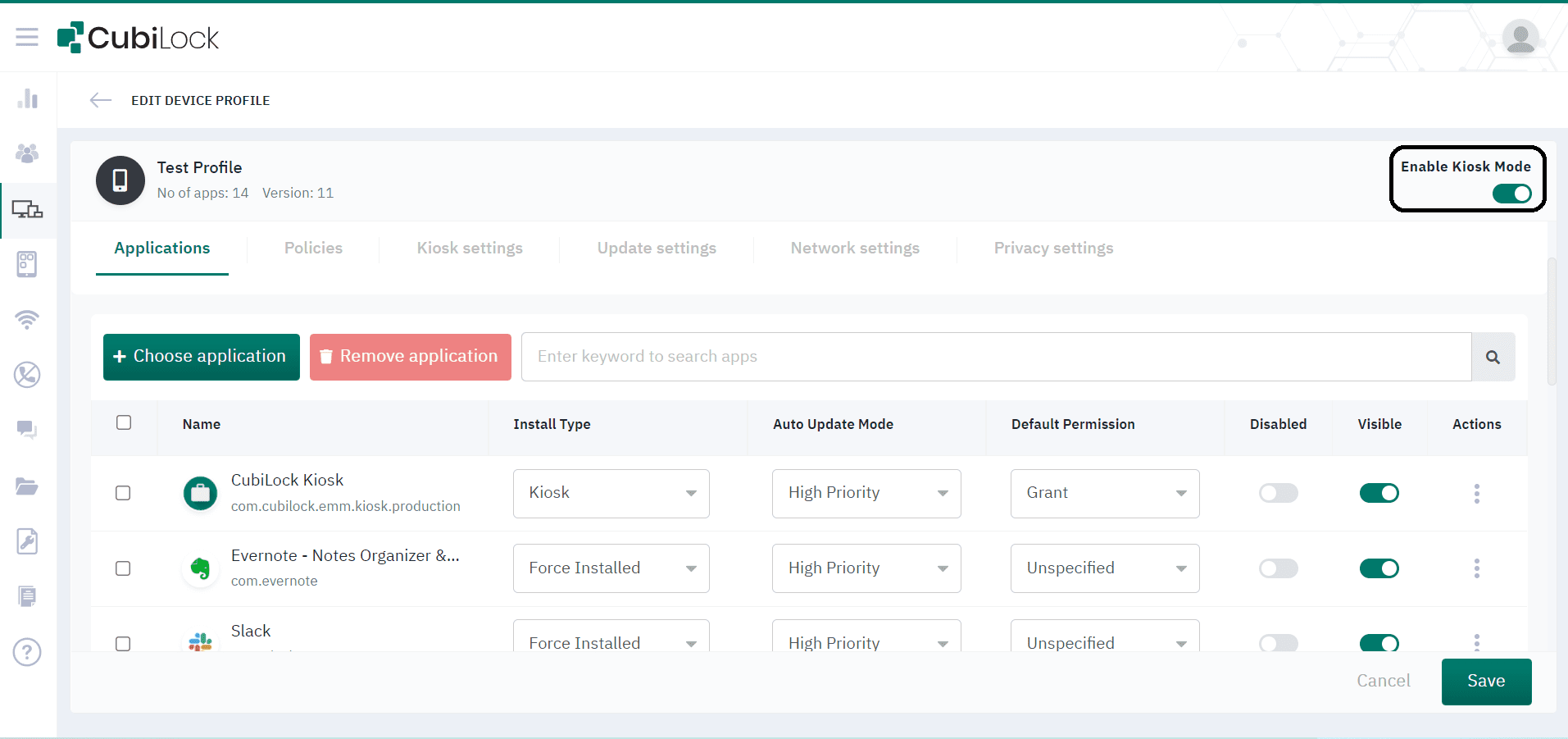 Also read: How to Enable Android Single App Mode?
Benefits Of Kiosk Mode
It provides customizable and flexible features of single app kiosk mode and multi-app kiosk mode that allow uploading of multiple apps and functions, unlike built-in mobile kiosks that allow only a single app kiosk mode in which the device auto launches to the selected app or website every time it reboots.
The Android kiosk can be seamlessly tailored to strictly enable work-purpose-related applications and websites that support specific business operations. It offers custom settings to the devices to allow end-user flexibility in configuring basic settings such as Wi-Fi, brightness, volume control, etc. This ultimately contributes to improved device usability throughout the lifecycle of the device.
It boosts the productivity of employees by streamlining their work processes and also improves the performance levels of devices as the probability of misuse declines with the lockdown mechanisms of kiosk mode. It prevents distractions and removes any scope of loss of productive hours during work.
It blacklist or whitelist websites and domains according to the primary needs of the business. This is crucial for remotely working employees to not be swayed by distractive mediums in the device.
It averts the corporate network from compromising its data and cyber security protocols. The crucial data and information residing on the system are exposed to malignant hackers and complex viruses that fuel data breaches and cyber threats by securing the devices with password authentications, restricting unnecessary access to apps and websites, filtering URLs, incoming and outgoing calls, SMS, E-mails, etc.
It allows peripheral device restrictions and device setting modifications according to the business's needs and policies. It creates custom toolbars and menus for limited navigation in browsers such as Chrome, Firefox, etc.
It uses a single interface and hassle-free dashboard that allows IT admins to remotely control, monitor, and track the operations of the devices for maximum efficiency. It helps in the instant troubleshooting of devices in case of technical issues with minimum downtime and stress faced by the end-user.
It mainly cuts additional costs of data, Wi-Fi, device maintenance and management, resources and saves the business from the extra effort, time, and investments that can now be directed towards more profitable pursuits.
Also Read: Enable kiosk mode on Android devices
With the support of the CubiLock kiosk mode, organizations can leverage the full capacity of deploying digital devices in the workplace. The stakes are high for businesses to transform their operations into digital platforms with the onset of remote working environments in every sector of the business. For a smooth transition, CubiLock offers businesses a seamless and flexible kiosk software that saves their time, money, resources and renders optimal user experience for their employees and customers the same. The kiosk functionality and security when tapped is impactful to building a robust security system that shields all corporate-owned devices from the perils of digital advancement. Hence, thanks to the easy-to-use nature of CubiLock, organizations, both large and small, can easily customize their Android mobile devices safely.

Apart from being a true sushi enthusiast, Sadichha (Aka SSH) is a content writer and blogger at CubiLock. She is passionate to enchant everything boring and nitty gritty about technology through her writings for her readers to enjoy and learn from at the same time. When she is not at her desk crafting content, you can catch her occupied with her cat.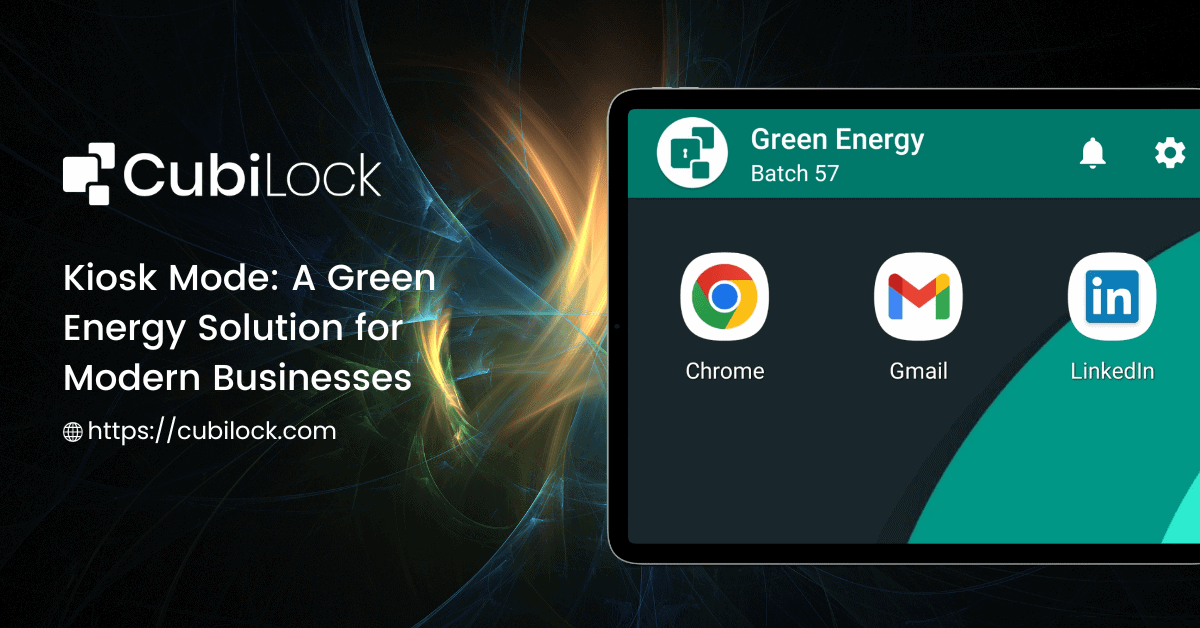 Kiosk mode brings several benefits for businesses, however, many businesses…