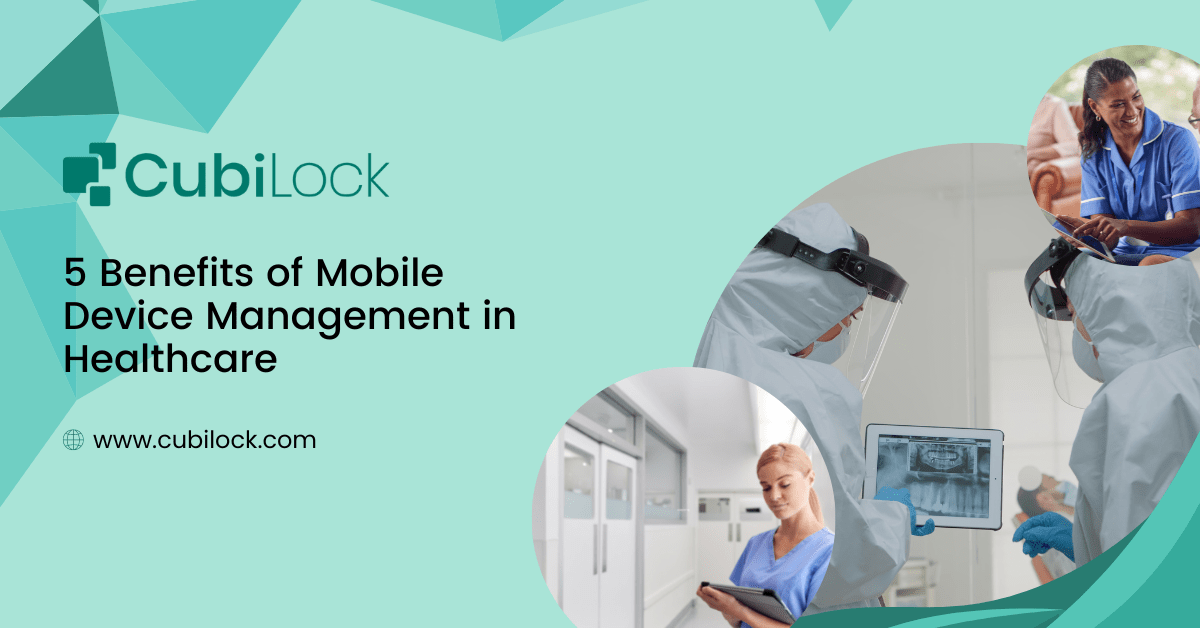 The health industry has seen a big shift to mobile technology in the last decade. We are witnessing the industry have decidedly noticeable growth with paperless digital mobility at its forefront. The utilization of mobile devices has played a vital role in the ever-increasing efficiency of healthcare providers. From doctors to nurses to lab technicians, everyone in healthcare uses mobile devices and tablets to follow treatments and admittance protocols, keep patient details, schedule appointments, send reports, track patient progress, and also advise patients on the go. This way, MDM for healthcare practitioners is able to provide quicker services and also need not be physically present at their clinic or hospital to reach their patients, and run time-sensitive tests and diagnoses. Patients can manage their own personal medical tasks from home too via their smartphone apps or tablets and connect to their doctors around the clock from anywhere in the world. Remote healthcare has then essentially brought facilities closer and more available for the public.
It is also important to note that the this sector is one of the most regulated industries out there. It has the biggest requirements when it comes to information security and privacy which needs to be strictly followed. If you have a patient in your clinic or hospital, you have to follow HIPAA and HITECH regulations. In this scenario, the need for Mobile Device Management (MDM) software has been greater than ever for ensuring the security and privacy of protected healthcare and the confidentiality, integrity, and availability of health information technology.
What makes Mobile Device Management so great of an investment for Healthcare you ask? Here are 5 reasons that will definitely make you see the blindspots in your mobility strategies without a good healthcare management software.
Benefits of Mobile Device Management for Healthcare
Streamlined Operations and Patient Care
Healthcare practitioners can find solid functionality in enhancing their day-to-day operations in managed devices. The main benefits of MDM for healthcare revolve around having access to all kinds of data and knowledge that helps caregivers and doctors guide, advise and treat their patients more effectively. This can include instant notifications about patient records, their medical history, prescriptions or what dosage a person has last taken, and so on. In addition, medical professionals also rely heavily on their mdm healthcare solution deployment in order to maintain a holistic view of all relevant treatment details. Organized digital treatment records with quick doctor responses result in faster diagnosis, better communication, and overall improved treatment quality.
Healthcare MDM can power existing mobile devices into android kiosk mode that automate check-in/check-out processes, provide medical information or help, integrate online billing systems, and much more. It significantly upgrades the patient experience where the tedious paperwork is eliminated, waiting time is reduced and prescriptions and lab test results are digital.
Remote Device Management and Control
MDM for healthcare industry enlivens the ability of IT admins to proactively select, deploy and manage enterprise apps and content on employee-owned devices that are being used in hospitals by physicians. This greatly benefits the physicians' capability to expediently provide critical patient care services as they have easy access to these apps from which they can get first-hand insight into decision making. These apps are installed, updated, and maintained remotely from a unified console which helps them identify issues beforehand and troubleshoot managed devices from the cloud. This reduces interruptions and system downtime which are common while working with unmanaged mobile devices in healthcare. It maintains device health, gives healthcare professionals full control over their devices, and eliminates technical interruptions.
Also read: Checklist for IT admins to manage enterprise devices securely
Mobile Device Security
Mobile devices with sensitive health data are highly susceptible to a number of threats in their unprotected states. An MDM healthcare package has a lot of security settings that work in several ways to protect your data. It will allow you to access critical health data and patients' personal information but it only opens the door for authorized hands. It protects information through policies and processes like passcode authentication, encryption, and Factory Reset Protection (FRP) and enables IT admins to remotely wipe or lock devices, not just for personal reasons, but when the device falls into undesired hands ( such as during device misplacement or theft). On top of all this, with an MDM for healthcare, businesses can separate their personal-use profiles from their work profiles so you ensure personal privacy at work, meaning your mobile device's performance won't suffer, even if you bring your own mobile device to work. 
Compliance
According to the Research2Guidance report, 80% of physicians use smartphones and medical apps and the number is only growing1. The biggest challenge for the healthcare industry has been to ensure compliance with IT security regulations. With a well-thought-out mobile device management in healthcare, private practices, clinics, hospitals, and other systems alike are finding it easier to implement and also follow the stringent rules of HIPAA and HITECH ACT, alleviating the risk of data leakage and hefty fines. Device management solution ensures that critical data stored on mobile devices in healthcare are secured at all times, even in cases where the device gets lost or stolen. 
Cost Effectiveness
When it comes to managing devices, MDM allows organizations to choose the BYOD route, letting workers bring their own tablets, computers, and smartphones to work. You can clean up your IT budgets since you don't have to spring for devices that belong to the employees. The best part is that you also tend to enjoy fewer security concerns since company information will be stored on employees' devices that are secured with an MDM healthcare solutions.
Devices enrolled under an MDM for healthcare are less likely to be misused by workers during work hours. It saves data costs and improves the productivity and efficiency of caregivers, which all eventually adds up to saving costs for the organization.
Healthcare MDM in the medical industry has proved to reel in great benefits for the medical practitioners as well as the seekers. The bottom line is that today's companies – be they hospitals, clinics, or pharmacies – need solutions that give them control over all of this new technology in order to ensure optimal efficiency as well as security from potential security breaches. Here at CubiLock, our mobile device management in healthcare is dedicated to helping healthcare institutions develop a plan to put a robust suite of Android MDM in place. CubiLock solution helps offer better analytics, connectivity, data exchange, payment processes, record-keeping systems, and compliance through unified security policies. Improve your patient's hospital experience and regain control over all your mobile devices with CubiLock today!

Apart from being a true sushi enthusiast, Sadichha (Aka SSH) is a content writer and blogger at CubiLock. She is passionate to enchant everything boring and nitty gritty about technology through her writings for her readers to enjoy and learn from at the same time. When she is not at her desk crafting content, you can catch her occupied with her cat.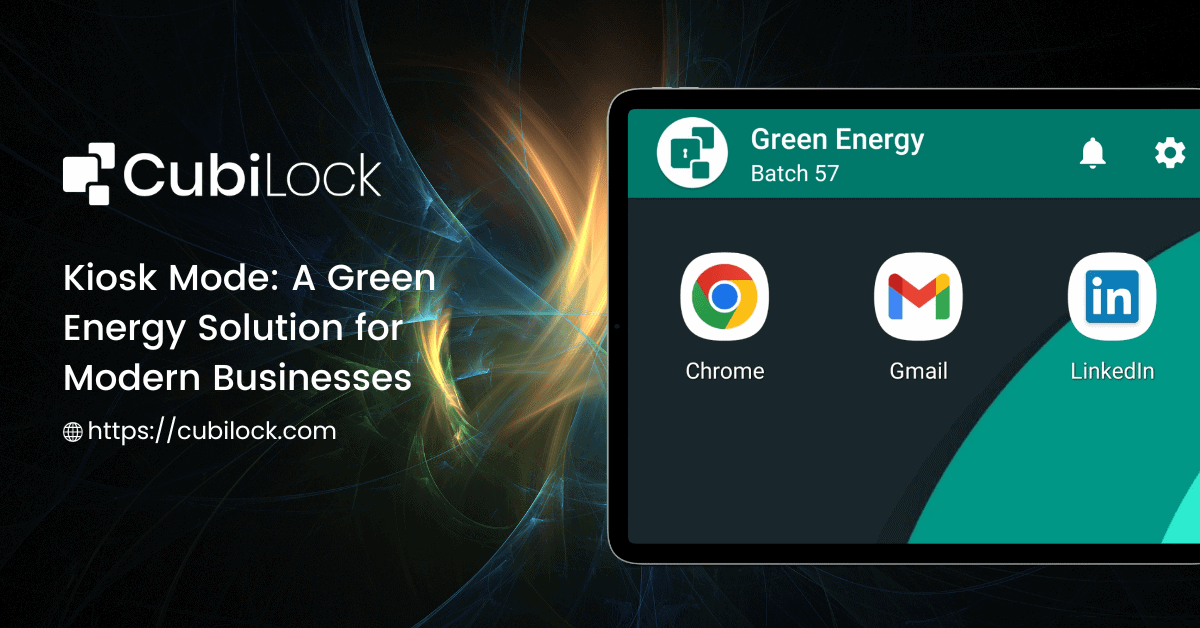 Kiosk mode brings several benefits for businesses, however, many businesses…