Android Work Profile is a device management gem that empowers businesses to use employees' personal devices for work and strike a delicate balance between personal data and corporate data. Essentially, it is a feature that allows users to separate work-related apps and data from personal apps and data on their personal devices. It does so by creating a separate space on the device that is managed by an organization's IT department, while the user retains control over their personal space.
With a Work Profile, users can utilize their personal devices for work without fear of compromising their personal data, and they can keep work-related apps and data separate from their personal ones. This feature is particularly useful for businesses that allow employees to bring their own devices to work (BYOD) or for those who need to access work-related data while on the go. Ultimately, it protects confidential corporate data and information that reside on your employee's devices.
4 Key Reasons Why An Android Work Profile Is Necessary For Businesses
Increased Data Privacy and Security
Android Work Profile provides a secure container on the device that isolates work-related apps and data from personal ones. This ensures that sensitive company information remains protected even if the user's device is lost or stolen. You can also configure security policies and ensure compliance with business regulations on your employee's personal devices. This way, businesses can easily check all security requirement boxes and avoid compromising on data privacy even when devices are not used as fully managed or dedicated devices. On the other hand, employees can easily switch between personal and work-related apps without worrying about security or privacy breaches.
BYOD Policies
With Android Work Profile, companies can implement Bring Your Own Device (BYOD) policies, allowing employees to use their personal devices for corporate use. This helps reduce the cost of purchasing and maintaining company-owned devices, while also giving employees the flexibility to work from their preferred devices.
In addition to the cost savings, BYOD policies enabled by Android Work Profile are particularly valuable in today's work landscape, where hybrid and remote work is becoming increasingly popular. Companies that implement BYOD policies using Android Work Profile can facilitate seamless integration of these business strategies, enabling employees to work from anywhere, at any time, and from their own devices.
Improved Productivity
Android Work Profile streamlines the work experience for employees by allowing them to seamlessly use their personal devices for work-related tasks without the hassle of juggling between personal and professional apps. This translates into heightened productivity, as employees can effortlessly access work-related information even while on the move, without having to lug around a separate work device.
Moreover, Android Work Profile offers the added advantage of simplifying onboarding processes for new employees. IT departments can easily manage and configure apps and policies on new devices, enabling them to hit the ground running from day one.
On the flip side, when an employee exits the organization, Android Work Profile allows for the effortless deletion of all corporate data from the device, without any additional hassle. This ensures that the company's sensitive information is promptly and securely removed from the device, maintaining the confidentiality and privacy of the company's data.
Centralized Management
Android Work Profile offers a flexible solution for businesses, as it can be easily managed by IT departments using Enterprise Mobility Management solutions like CubiLock. With this feature, companies can easily enforce security policies, silently distribute work apps, regulate data usage, update operating systems, monitor peripheral connections, and erase data remotely in the event of lost or stolen devices. Managing a fleet of devices requires minimal IT assistance, as devices can be enrolled in mere minutes through the Zero Touch Enrollment feature. Additionally, real-time troubleshooting of any device malfunctions or issues can be done remotely, which helps save time and resources.
Set Up Android Work Profile With CubiLock
When a Work Profile is created on an Android device, it creates a separate container that houses work-related apps and data. The device will contain two profiles: a work profile and a personal profile to create this separation. This is known as containerization. The work-related apps are pushed from the CubiLock console over the air and can only be accessed from within the Work Profile. Additionally, work-related data is encrypted and secured, making it inaccessible to other apps on the device.
For that, you first need an Android device that is running on Android 6.0 or above. To begin the configuration, admins must register their CubiLock EMM with Google through Android EMM Registration. This creates a Managed Google Play Account on each EMM-enabled device.
Implement Android Work Profile with CubiLock:
Navigate to Device Management > Device Profiles.
Click on "Create New Profile".
From the pop-up box, Enter the policy name and Select Work Profile Mode.
Now, you can send URLs to the enrolled devices and configure the policy from the QR Code to implement Android Work Profile.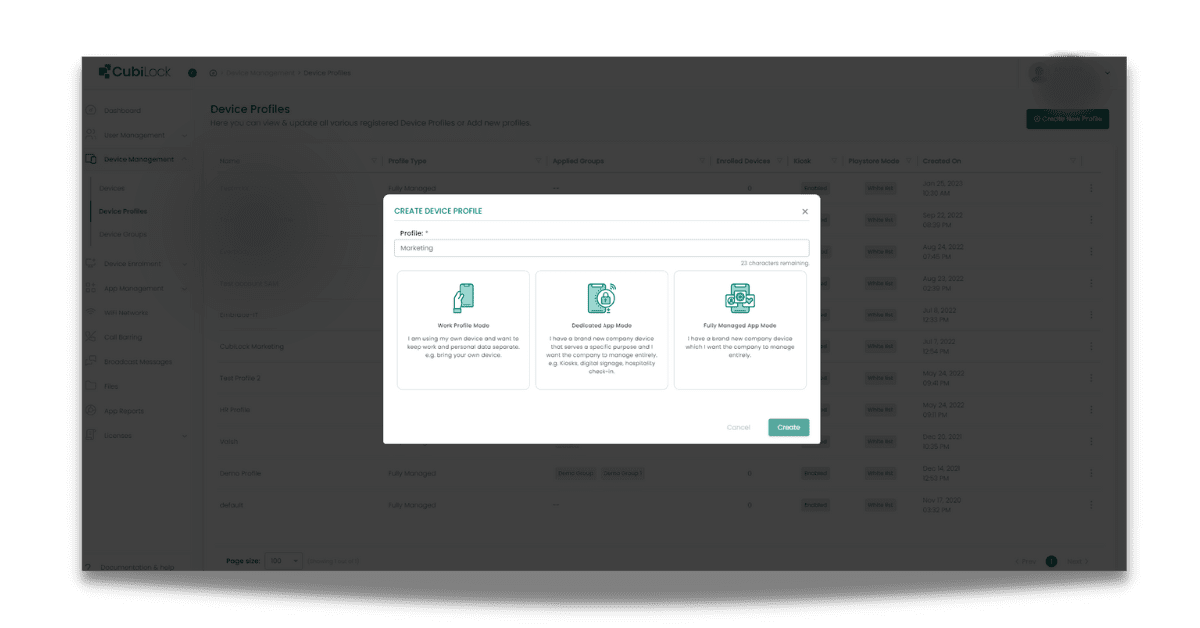 After the EMM registration is complete, you can begin to create work profiles using the MDM solution. These work profiles can be created by IT admins according to the specific needs of your business. Once the profiles are created, apps, device settings, restrictions, and security policies can be configured on each profile as per their own needs.
Bottom Line
CubiLock offers Android Work Profile and device management solutions for innovative businesses looking to stay ahead of the curve in a constantly evolving digital landscape.
It enables users to revel in the benefits of comprehensive segregation of personal and professional apps and data, heightened security for work-related information, improved user privacy, and increased flexibility for companies seeking to implement BYOD policies. With our Android Work Profile, users can have their cake and eat it too, by striking a harmonious balance between work and personal life while ensuring the security of both. So, whether you're a small business or a large corporation, CubiLock can power your Android Work Profile and BYOD policies and take your organization to the next level.

Apart from being a true sushi enthusiast, Sadichha (Aka SSH) is a content writer and blogger at CubiLock. She is passionate to enchant everything boring and nitty gritty about technology through her writings for her readers to enjoy and learn from at the same time. When she is not at her desk crafting content, you can catch her occupied with her cat.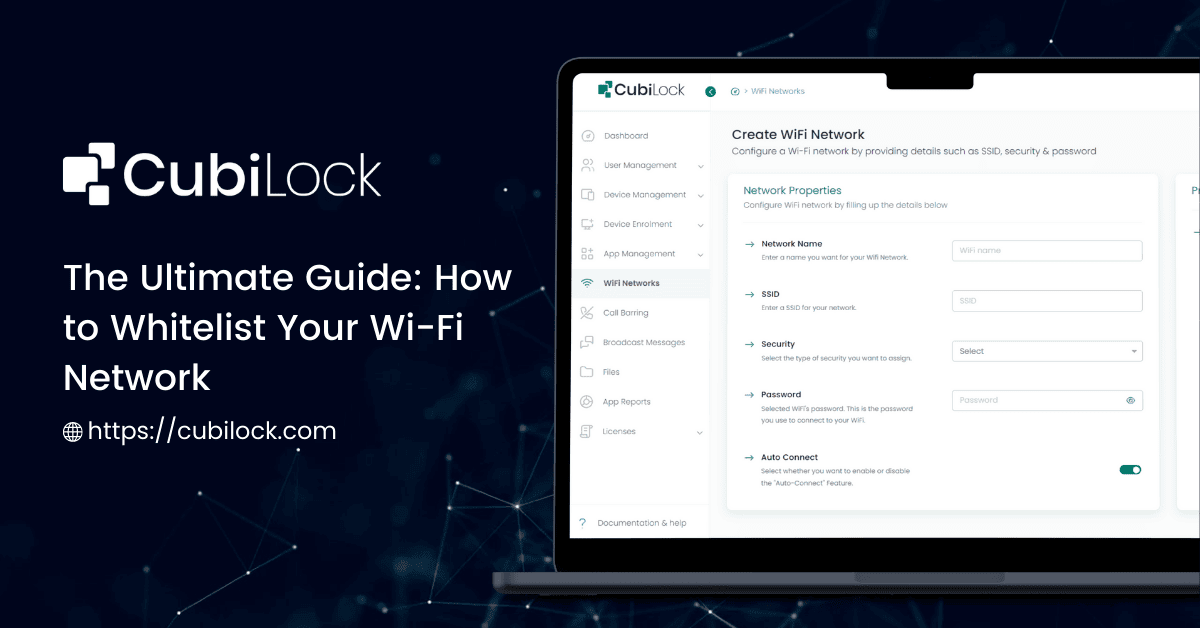 Whitelist wifi right when you set up devices. With CubiLock's…