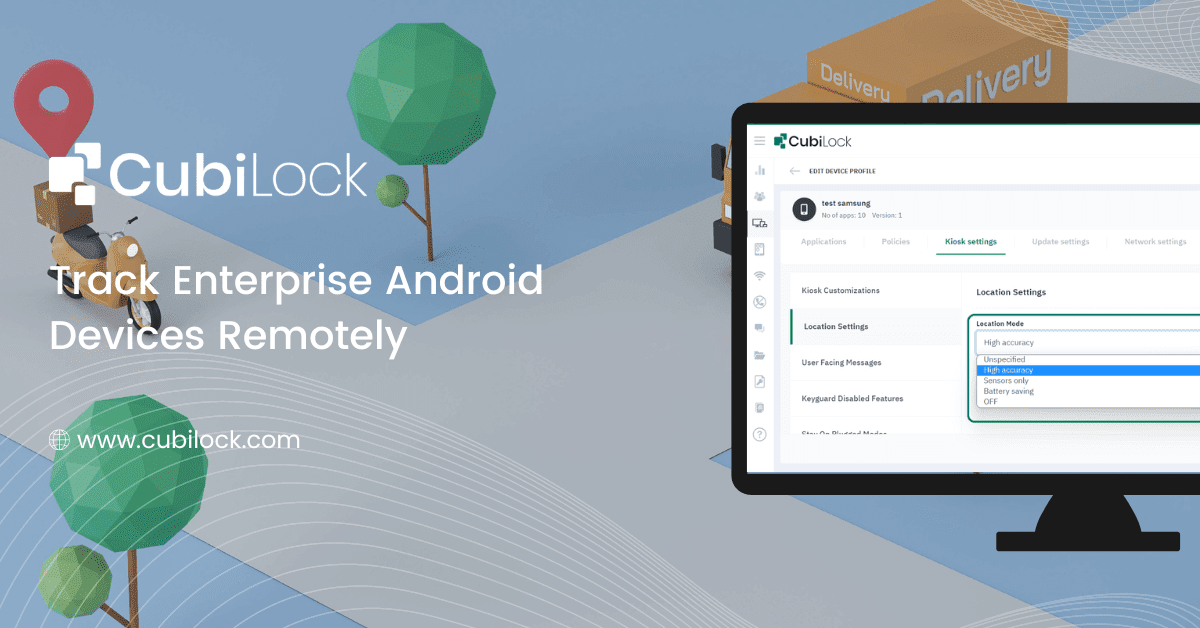 Note: This article is dedicated to mobile devices utilized for business use and not personal use.
With the influx of mobile technology, millions of workers are carrying their own mobile devices into the office, in the last decade. Consequently, among the various mobile device security risks, device theft and data loss top the list.
According to a recent report, 70 million smartphones are lost each year, with just 7% recovered; out of which 52 percent of devices are stolen from the workplace on an annual basis.1
According to the Kensington research, the cost of the loss is significantly larger than the cost of the device itself, due to lost productivity, intellectual property loss, data breaches, and legal expenditures. The average loss for a single laptop, including downtime, support, and management time, surpasses $49,000. This type of loss could be catastrophic for SMBs.2
In today's world, it's becoming increasingly important for companies to invest in mobile device management (MDM) solutions to protect their expensive digital assets. With MDM, companies can remotely manage mobile devices and implement company policies, as well as track the location of devices in real time if they're lost or stolen. This provides huge peace of mind for businesses and helps them avoid costly losses.
A sophisticated MDM can not only activate geo-tracking settings to locate a lost or stolen laptop or smartphone instantly but also remotely wipe all data and information on the device before it is misused or sold off.
Likewise, many types of enterprises require the flexibility to track their employees' whereabouts and movements. For example, if you run a courier or cab service, you need to know how long it will be until your staff can complete the delivery; if you run a hotel that has a big landscape, it is impossible to keep track of all devices at all times manually. With an MDM solution, however, you are able to track these devices that are dispersed all over the place under a single interface.
Track Android Devices with CubiLock
CubiLock MDM solution includes digital map integration, real-time updates, multi-device location tracking, configurable tracking, and geofencing support can help you avoid being one of the victims of device theft. This quick guide provides an overview of what the CubiLock mobile device management (MDM) solution encompasses to keep track of your Android mobile devices:
Geo-fence Technology
Geo-fencing is a location-based service that sets a virtual geographic limit or border that may be used to track and screen mobile device activities in specified locations, sending warnings to IT administrators when the mobile devices enter or depart that specific fenced region. Such warnings are pre-programmed and can be triggered by instant messaging, alarms, or message pop-ups. It can not only track device location but also vehicles and then remotely activates or disables device functions such as locking and changing passwords if the device leaves the organization's premises.
With device thefts and data losses at an all-time high, organizations must be proactive in terms of security to protect business-critical data and consumer information. CubiLock geo-fencing enables IT administrators to act quickly in case these events materialize, in order to help retrieve or remotely wipe away data stored in lost or stolen devices. It offers:
Security of corporate data and devices.
Real-time location of devices, alerting the IT admins when a device leaves a predetermined area.
Insights into employee performance and productivity.
Streamlined workflow for front-end workers during procurement, delivery, shipment, etc making operations quicker, reducing downtime, and maximizing efficiency.
Clock in and out data of employees.
How to Get the Exact Location of Managed Devices with CubiLock
Sign up and enroll your Android devices OR login to the CubiLock portal.
Navigate to Devices > Device Profiles in the left-hand corner.
Select any device profile you wish to work with.
Click on Edit. The Edit button is available on the extreme right corner of your screen.
Next, go to Kiosk Settings and Scroll down to Location Settings.
Select location mode for the profile.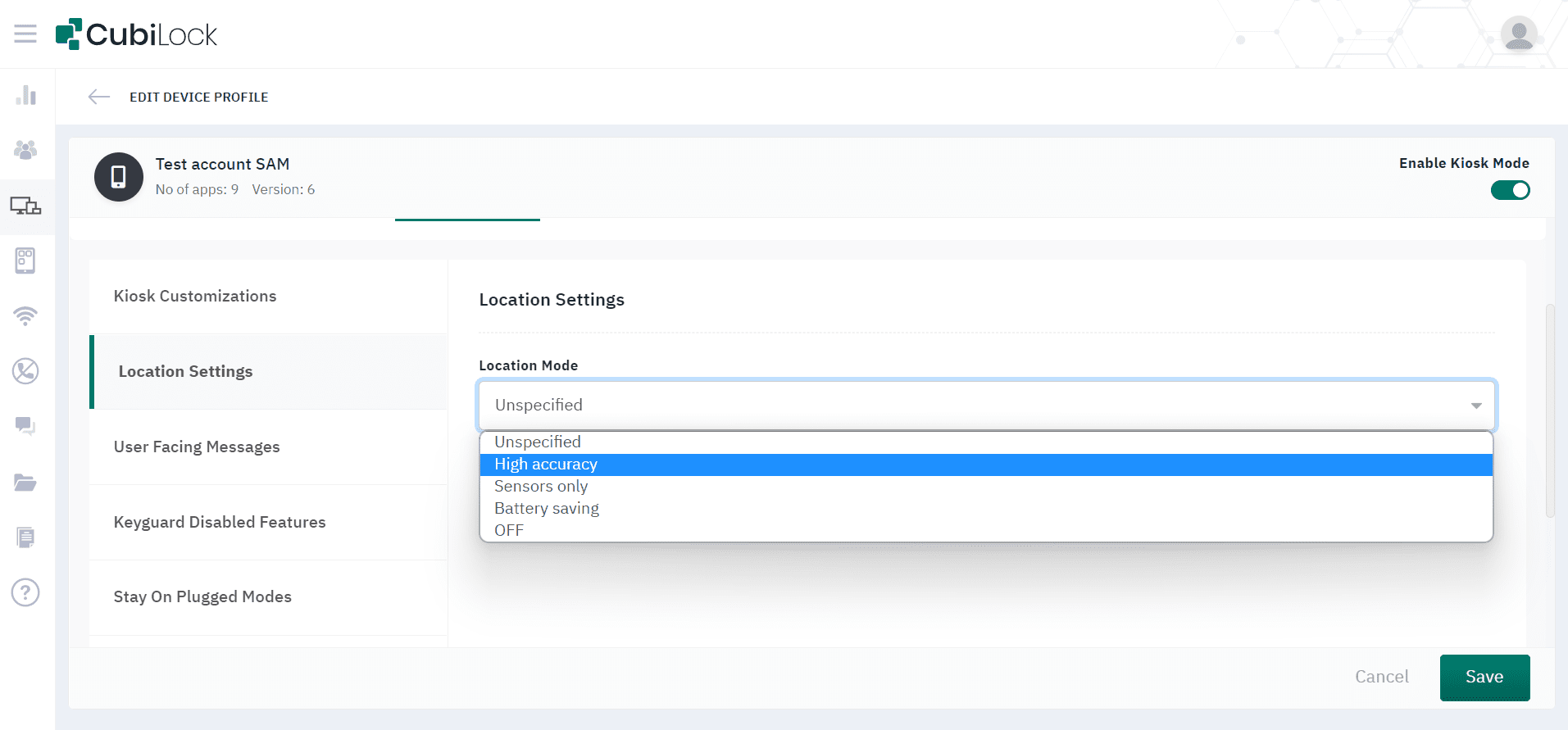 Kiosk Lockdown Mode
Kiosk mode is an app lockdown mode that allows users to access only one, single-use configuration per device. For example, you might use kiosk lockdown mode to lock down a single device or an entire fleet of devices and then push just particular apps, websites, and device settings to be operative.
CubiLock Android kiosk mode is a sophisticated security feature that enables IT administrators to access selected work-related apps and websites while rigorously preventing end users from accessing undesired apps and URLs on their mobile devices. It eliminates distractions and the possibility of losing productive hours at work that might otherwise be spent surfing the web, consuming social media, streaming films, playing games, and other forms of entertainment. When device tracking is automated this way, security risks and data breaches also significantly reduce, helping boost productivity and save costs. It offers:
Single-app kiosk mode and multi-app kiosk mode allow devices to strictly stick to one single app or a set of multiple apps.
URL filtering or website whitelisting/blacklisting.
Peripheral control by blocking access to hardware buttons, WiFi, Bluetooth, etc.
Remote management of device usage and visibility.
Security Policies Configuration
CubiLock enables IT managers to put rigorous security controls on mobile devices that hold massive amounts of critical data and information on a regular basis. It enforces:
Factory Reset Protection (FRP).
Puts passcode and encryption on all corporate devices.
Tests app updates to identify issues before rolling it out to all departments.
Erase data from lost or retired devices remotely. Wipe enterprise data on employee-owned devices selectively.
Remotely track and uninstall troublesome apps from the cloud.
Remotely diagnose and troubleshoot malfunctioning devices.
Keeping tabs on all the devices you have running in your organization can be a challenge. There are many ways to go about it, but a great way is to utilize the CubiLock MDM solution that provides robust device management features like the Android kiosk mode, geo-fence technology, remote troubleshooting, and so on. With this knowledge, we know that you can easily keep track of all of your android devices utilized for business.

Apart from being a true sushi enthusiast, Sadichha (Aka SSH) is a content writer and blogger at CubiLock. She is passionate to enchant everything boring and nitty gritty about technology through her writings for her readers to enjoy and learn from at the same time. When she is not at her desk crafting content, you can catch her occupied with her cat.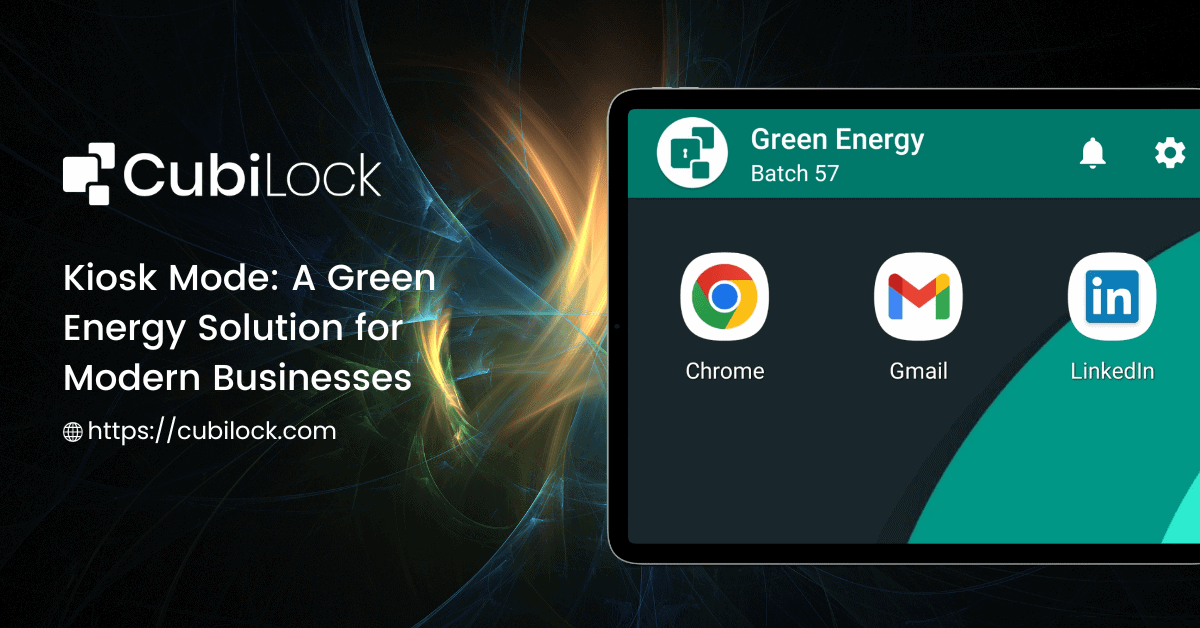 Kiosk mode brings several benefits for businesses, however, many businesses…