Text messaging has become the most responsive and effective means of communication in our personal lives. Now our workplaces are catching up on the ease and quickness of messaging not only for outreach and marketing purposes but also as an internal channel of communication.
Texting is a time and resource-preserving option for your internal communications toolbox for employees. You can reach your staff via text messages no matter where they are or what they are doing, which can help you get around the problems associated with time-consuming communication like physical meetings and shaky communication channels like email.
It is a great way for organizations to get in touch with their employees, especially for campaigns and projects that need constant updates and a stream of communication. A typical one-on-one text messaging system is not effective in a work environment where multiple people, teams, and departments are likely to be involved. Regular one-on-one messaging can get confusing with constantly active chats and messages flooding in from different employees. With companies leaning into remote work culture and BYOD (Bring Your Own Device) trends, communication and connectivity have become more important than ever.
How then do you break through the clatter?
Your simple answer is broadcast messaging.
What is a Broadcast message?
Simultaneously sending a large number of recipients announcements and messages at once is known as broadcast texting. Like joining a mailing list to get emails, the main prerequisite for broadcast messaging is that the recipient must choose to receive the messages. Broadcast Message is a feature that can be utilized by businesses and organizations to communicate with a larger group of people at the same time. The recipient's list can be curated from your contact list, and they'll receive the message as a typical instant message. What makes a broadcast message different from a regular text or chat room message is that recipients can't reply to it. Once the message has been sent, it will be recorded in the chat history.
Key Benefits of Broadcast Messaging
To begin with, you may be certain that your message will be delivered to all necessary parties more promptly and more successfully than through emails, chats, meetings, or phone conversations.
Secondly, recipients are typically unable to respond to a broadcast message eliminating any time loss or ambiguity caused when they have to reply to all messages.
Next, in an emergency, you may use a broadcast message to inform your team of the situation and any precautions or actions that are required within seconds.
Furthermore, you can push company news, not to be missed updates, reminders, announcements, birthdays, meetings, information, and much more on employee devices.
Lastly, sending a broadcast message will spare you from having to make repeated phone calls to different people or from having to write emails and then sort through unavoidable responses that weren't required.
You must have faced the hassle of dealing with multiple active emails and chatrooms flooding your mobile devices before. One discussion never sticks to a topic, even a simple announcement can turn into a chain of reactions and comment prompts from the entire office with no escape in sight.
In this scenario, CubiLock Mobile Device Management (MDM) solution offers you an easy way to broadcast your messages from the cloud. It enables you to update your team(s) at once without any pointless feedback or comments. Along with that, by concentrating on a small group of people, you may prevent distracting other team members with irrelevant news or information.
CubiLock provides a simple and user-friendly dashboard interface, through which messages can be sent to a specific device or a group of devices. IT admins can create device profiles for separate teams or projects and send messages to that particular group only. This flexibility is helpful in managing and organizing information and pushing it to employees' mobile devices as required.
How To Use CubiLock Broadcast Messaging?
Sign up and enroll your Android devices OR login to the CubiLock portal.
From the left-hand corner, find and select Broadcast Messages.
Click on Broadcast to write a new message.
From the Pop-Up window, fill in the contents of your message.
Enable 'Broadcast To All" to send the message to all enrolled devices OR select specific Device Groups or Device Profiles.
To send out personal messages, you can select a single device from Devices.
Lastly, Click on Broadcast to instantly send out the message.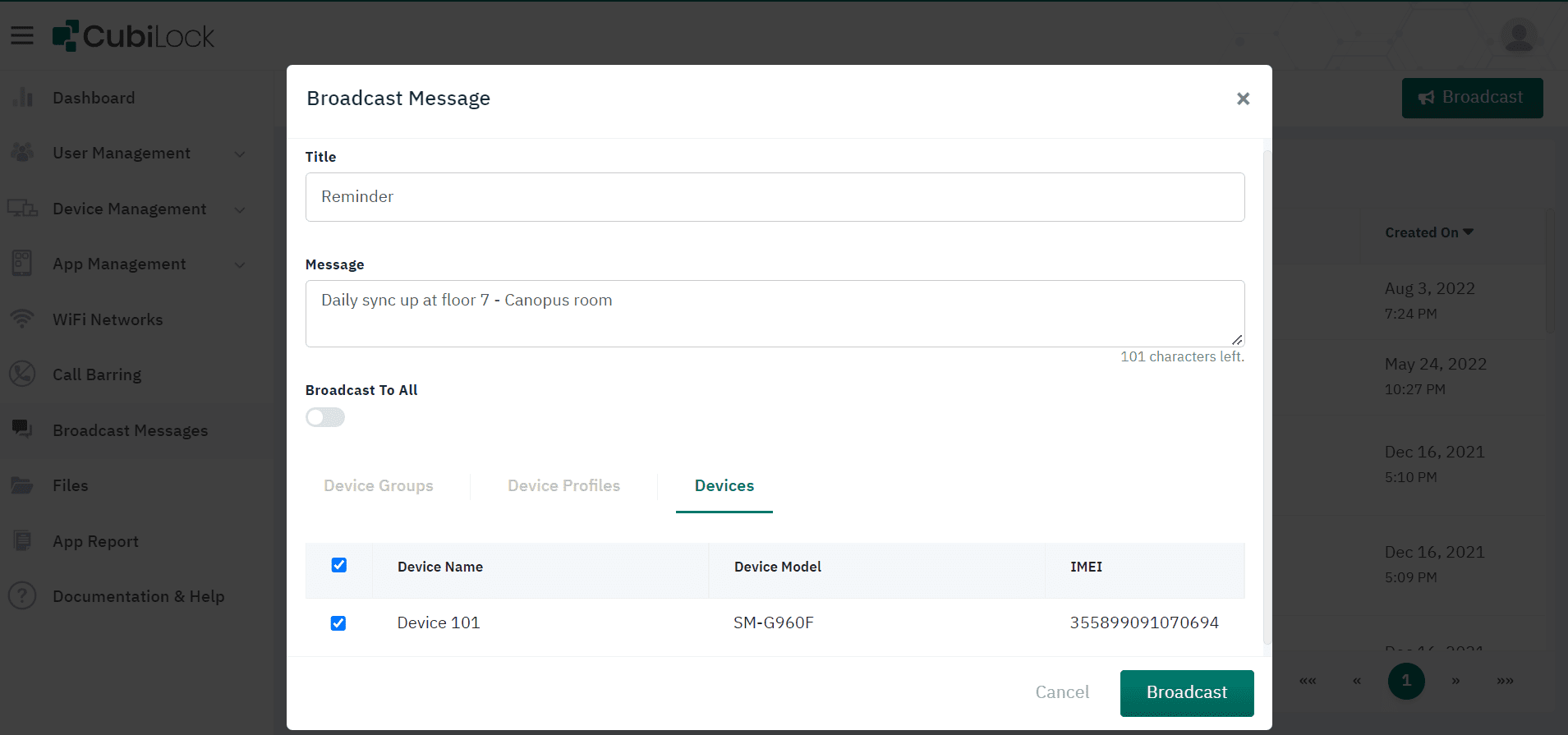 In this way, you can push messages to multiple devices and device profiles or select a single device as the recipient.
Organizations can use a combination of both traditional and more progressive communication methods in their strategy to fully connect with their workforce. Broadcast messaging has a number of significant benefits when attempting to contact your busy and maybe a remote employee
CubiLock is a quick, convenient, and affordable MDM solution – perfect for managers and teams that need to reach out to large groups of people. Stop wasting your time and efforts composing emails and replying to messages, rather utilize the smart options available today to cut through hundreds of information being exchanged at the workplace daily with CubiLock's broadcast messaging feature.
It allows you to broadcast messages to single or multiple devices and comes with a suite of device management features, making it easier than ever. So why wait? Get started with CubiLock's Broadcast Texting today!
Also read How to enable Android single app mode on your devices

Apart from being a true sushi enthusiast, Sadichha (Aka SSH) is a content writer and blogger at CubiLock. She is passionate to enchant everything boring and nitty gritty about technology through her writings for her readers to enjoy and learn from at the same time. When she is not at her desk crafting content, you can catch her occupied with her cat.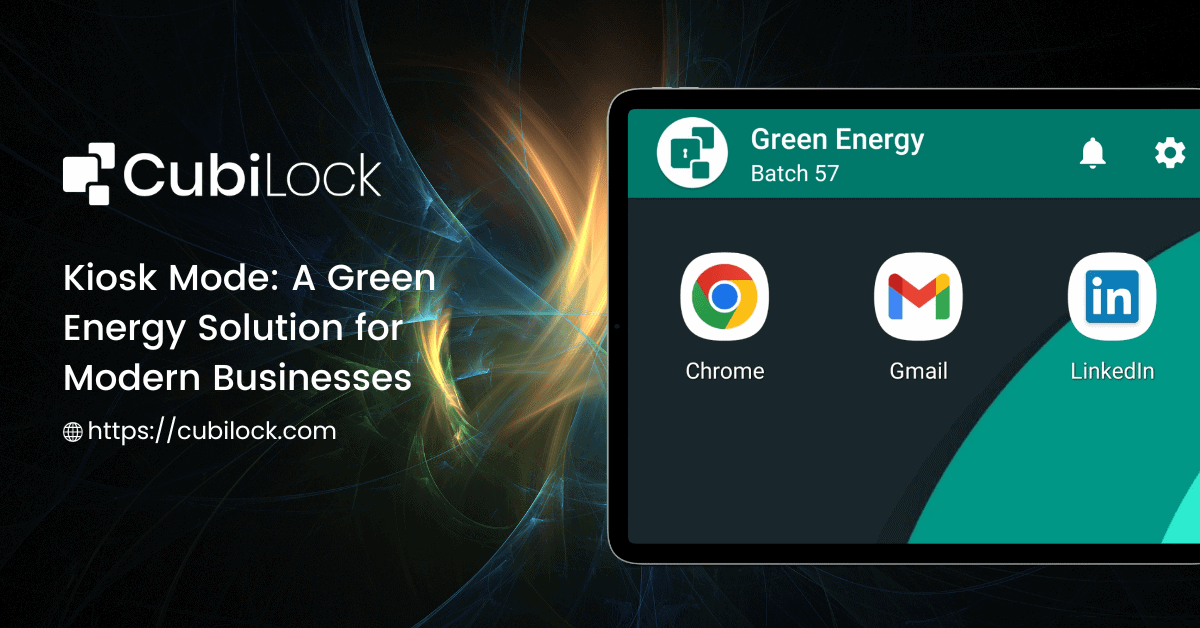 Kiosk mode brings several benefits for businesses, however, many businesses…