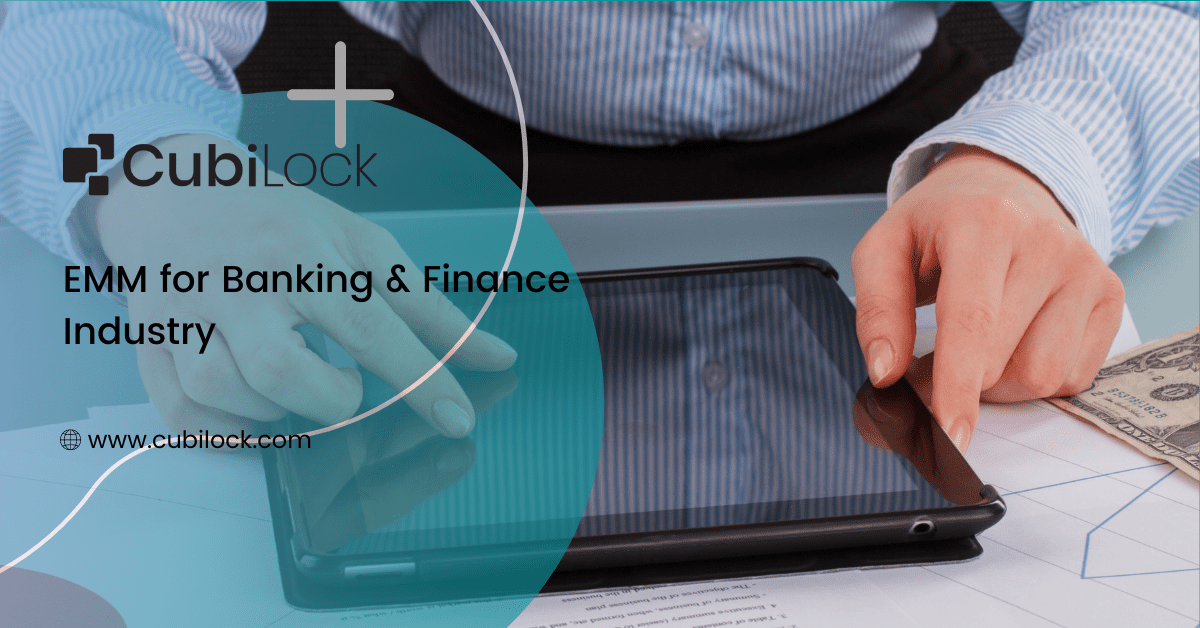 With the growing trend of digitalization within industry verticals, large organizations are generally adopting mobile devices for their operational needs. The banking and finance industry has adapted to this digital revolution by mobilizing its workforce. Banks, Financial Services, and Insurance companies have moved from traditional desktop systems to mobile-first applications using smartphones, laptops, and tablets. They are looking at solutions that can help improve the customer experience and reduce costs and risks by solving complex issues faced by financial institutions while maintaining compliance with government regulations.
The banking and finance industry needs security for its mission-critical tasks and activities. Enterprise mobility management (EMM) is a powerful engine for delivering secure access, visibility, and communication across your fleet of mobile devices. It converts the unmanaged and unsecured mobile endpoints to secure and compliant work devices which significantly gives an edge over its competition in this high-tech sector. CubiLock is one such Android enterprise mobility management solution developed to manage, secure, monitor, and control mobile devices, whether it is personally owned or company issued. The key features of CubiLock that can be particularly beneficial for the BFSI sector to maximize profits and revenue are discussed below.
Use Of CubiLock EMM For BFSI Vertical:
Paperless Operations
Banks and financial institutions have been eager to reduce the amount of paperwork that consumes their time and effort. With the adaptation of digitalization, they are making it a priority to meet this requirement in an attempt to reduce the hassle of years and years of papers, physical documents, and files.
As such, mobile services have been gaining momentum at the detriment of paper-based management, mainly because computers provide users with all sorts of conveniences and make processes operate faster. Although convenient, technology can sometimes create problems that require immediate attention.
CubiLock EMM solution allows IT admins considerable control over their apps used across mobile devices – whether these are new apps or existing ones that need updating. It helps them push innovative in-house applications through a unified console that ensures internal compliance is maintained. CubiLock EMM can test the updated apps on a specific set of devices before new apps are rolled out to all other devices. It remotely uploads new apps, deletes outdated apps, and checks for devices that have not received updates for any reason.
Kiosk Lockdown Mode
CubiLock EMM can convert Android mobile devices into dedicated kiosks with their robust Android kiosk mode mechanism. This can be a smart move for banks looking to automate tedious banking processes and save on resources. Using existing mobile devices such as tablets and smartphones as kiosks can facilitate faster processing, increase the volume of applications and completion rates, eliminate long waiting queues, and redirect the productivity of bank employees on other demanding tasks. It also protects these devices from unauthorized and unwanted application access that can expose the devices to various security risks.
CubiLock kiosk mode helps IT admins enable specific work-related applications while blocking the rest. This technology feature tackles the issues of productivity, security, visibility, and control that banks and financial institutions encounter when using these unattended mobile devices. It provides:
Single App Mode: With the single app mode, users can bind an Android device to a single website or application, such as self-service kiosks that always have a specific app open. Every time the devices reboot, it automatically launches the same application and prevents end users from performing any other operations.
Multi-App Mode: In the multi-app mode, users can access a selected number of apps and restrict all other unwanted application access while strictly enabling corporate apps.

Remote Device Troubleshooting
Mobile devices always risk encountering technical issues and malfunctions, but system downtime isn't something banks can afford. The IT specialists would likely not be available for field personnel and it is not practical to keep a big IT team on stand-by whenever device issues show up in daily operations. In this scenario, CubiLock EMM ensures that IT specialists are accessible to diagnose and debug the devices remotely from a centralized dashboard.
This helps significantly reduce device downtime and streamline workflow for employees to provide uninterrupted quality services.
Data and Device Security
Mobile device security is one of the most crucial aspects of any bank or other financial organization. Regulatory compliance, coordination with law enforcement, autonomy, and security are some of the most important requirements of privacy for BFSI firms. Mobile devices can carry sensitive customer financial, account, and identification data on them; this data must be protected at all costs. If a mobile device is stolen or lost it could cause irreversible damage to a company's reputation.
CubiLock EMM solution prevents malware, viruses, and cybersecurity threats and helps gives companies remote control to ensure users comply with policies. It protects clients' data and their identities at all costs and in case the worst happens the solution can prevent information leakage or loss through remote device wipeout or locking in case of a breach. This not only increases the overall security of the customer data but also protects the mobile devices themselves.
Geofence Technology
Businesses can enhance their revenues by geofencing technology to track on-field employees and agents. CubiLock enables an alert system where the devices instantly send alerts or notifications to the IT team when the mobile devices leave a certain virtually marked geographical area. This reduces the chances of device theft and misplacement.
Combining geofencing with EMM enhances their ability to communicate with their agents and merchants and boosts the organization's productivity.
Bank and financial institutions have fully embraced mobile devices and services, with some of them planning to move away from desktops completely. The usage of enterprise mobility management (EMM) is increasing across all enterprise verticals. CubiLock Android device management has been power packed with the above-mentioned features and much more for banks looking to put their best foot forward.
We are excited to see organizations adopting a mobile business strategy to achieve their business objectives. The key to a successful mobile strategy is to plan and implement it with the right way device management tools like CubiLock. We hope you found this article useful.

Apart from being a true sushi enthusiast, Sadichha (Aka SSH) is a content writer and blogger at CubiLock. She is passionate to enchant everything boring and nitty gritty about technology through her writings for her readers to enjoy and learn from at the same time. When she is not at her desk crafting content, you can catch her occupied with her cat.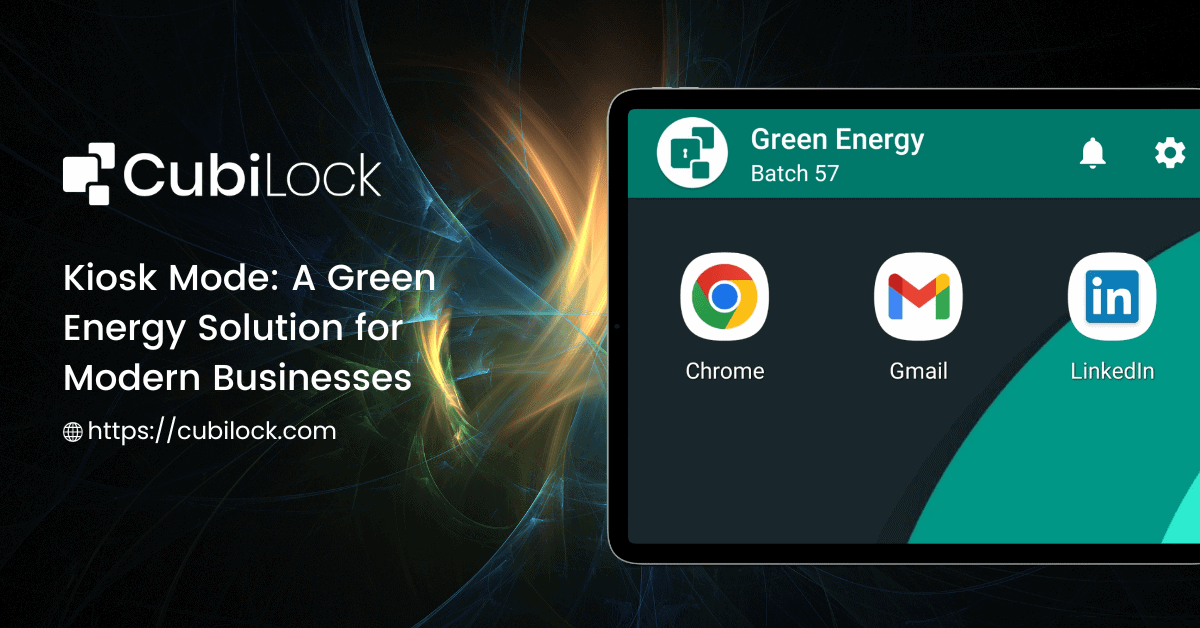 Kiosk mode brings several benefits for businesses, however, many businesses…