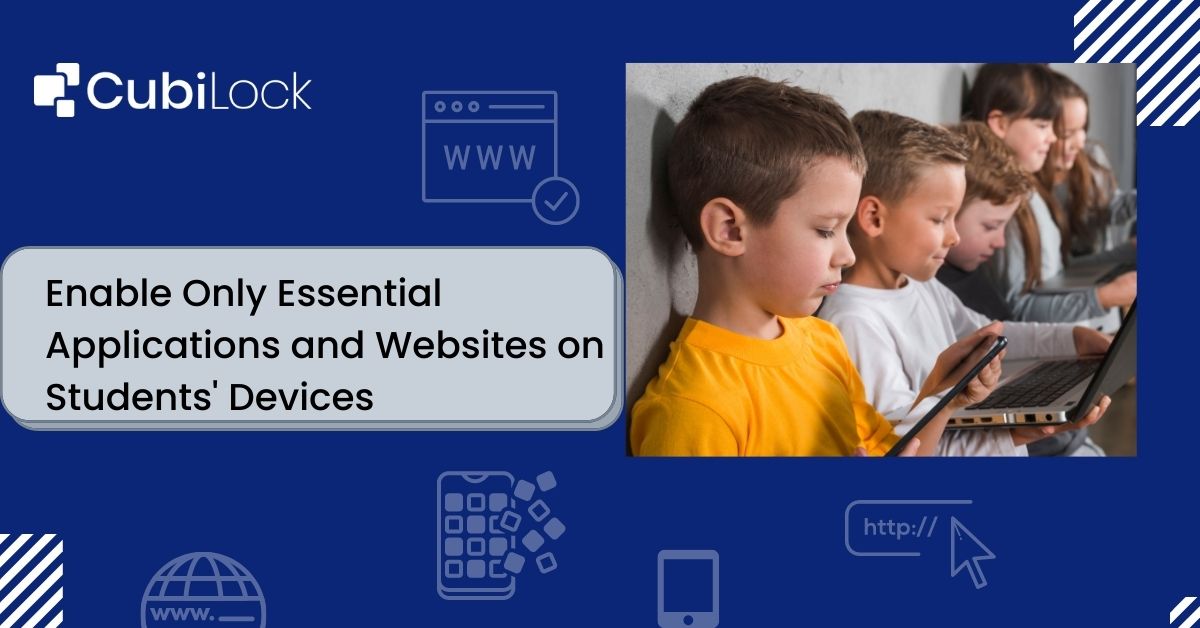 Smart devices are taking over the education industry at a lightning speed. The global pandemic crisis halted our world and pushed us into the four walls of our homes. We saw these unprecedented times unfold drastic changes in each and every industry. The education industry took a major hit as the classrooms turned quiet and the whiteboards and textbooks collected dust. This is where the mobility revolution barged in almost overnight in the education sector. From preschools to postgrads, every school and university globally adopted digitalization to overcome the limitations of traditional mediums of learning.
Mobile devices such as smartphones and tablets unlocked new opportunities for the way learning took place. It helped students, teachers, and guardians alike to improve on their roles and contribute to bringing overall academic progress and success. The new generation is well-adjusted to technology and is more responsive to digital mediums of learning. Mobile learning has empowered interactive and fun learning as opposed to rigorous and rigid classroom learning.
However, there are many schools and universities still hesitant to deploy mobile devices mainly because schools and colleges are intimidated to carry the responsibility of managing and controlling mobile devices on large scale. Mobile devices can:
Distract students from the learning material with easy access to the internet, social networking sites, entertainment apps, videos/games streaming, messaging and calling, and other device functionalities.
Pose various security issues and threats.
Expose learners to unwanted and explicit content prevalent on the web.
Increase the risk of device theft on school premises or outside which can hinder academic performance.
Increase the task of IT teams to manage, maintain and troubleshoot devices.
Interrupt learning with online video-call raids, hacking, and cyber-bullying.
For this reason, the use of Mobile Device Management (MDM) solutions is increasing in the education industry to provide secure and sustainable mobile learning. CubiLock is a device management solution that oversees all mobile devices deployed by schools to enable digital learning in a controlled environment. Moreover, the mobile devices can be enrolled straight out of the box from a centralized console with Android zero-touch enrollment. This simplifies the deployment and setup process of mobile devices as students joining and leaving the institution is always a constant. The multi-faceted features of CubiLock ensure device management throughout its lifecycle, providing mobility opportunities to schools of all sizes and types.
So, how exactly does the CubiLock support remote learning and empower students with the opportunities of modern technologies?
Application and Website Management on Students' Devices
Mobile devices are open to a plethora of apps and websites but not all apps and websites are beneficial for the purpose of education. Most of them pose as distractions that interrupt the learning process and hamper the academic performance of students. There is an ever-present worry among teachers and guardians if the students can stay focused on their academics when the devices are unsupervised and unmanaged. Students waste their productive hours accessing unnecessary and unsafe apps and websites which is directly reflected in their academic reports. This is the focal challenge of bringing mobile devices into the classrooms.
This issue can be largely avoided with the right device management solution that locks the devices to strictly essential apps and websites. CubiLock pushes educational apps and websites to students' devices and blocks unwanted apps and websites from the cloud. The devices can remotely configure policies of the school and institutions, ensuring all apps and websites that support the curriculum are enabled on the device. This way, teachers need not excessively stress about the ongoing attention-deficit issue in classrooms. Students can streamline their work, learning materials, assignments, and presentation with simplified, interactive, and intuitive apps and websites which offer audio, visual, and written options of learning curated for the individual needs of students.
Likewise, different levels of education require different applications and websites. Manually installing apps is next to impossible which further emphasizes the requirement of an MDM for schools as a necessity rather than an option. CubiLock Device Management Solution remotely schedules the installation, updates, and maintenance of apps according to the academic needs of different levels of education.
Steps to enable only essential applications on students' devices:
Sign up and enroll your Andriod devices OR login to the CubiLock portal
Navigate to App Management > Select applications from Play Store
Publish applications on device profiles
Get the applications installed on devices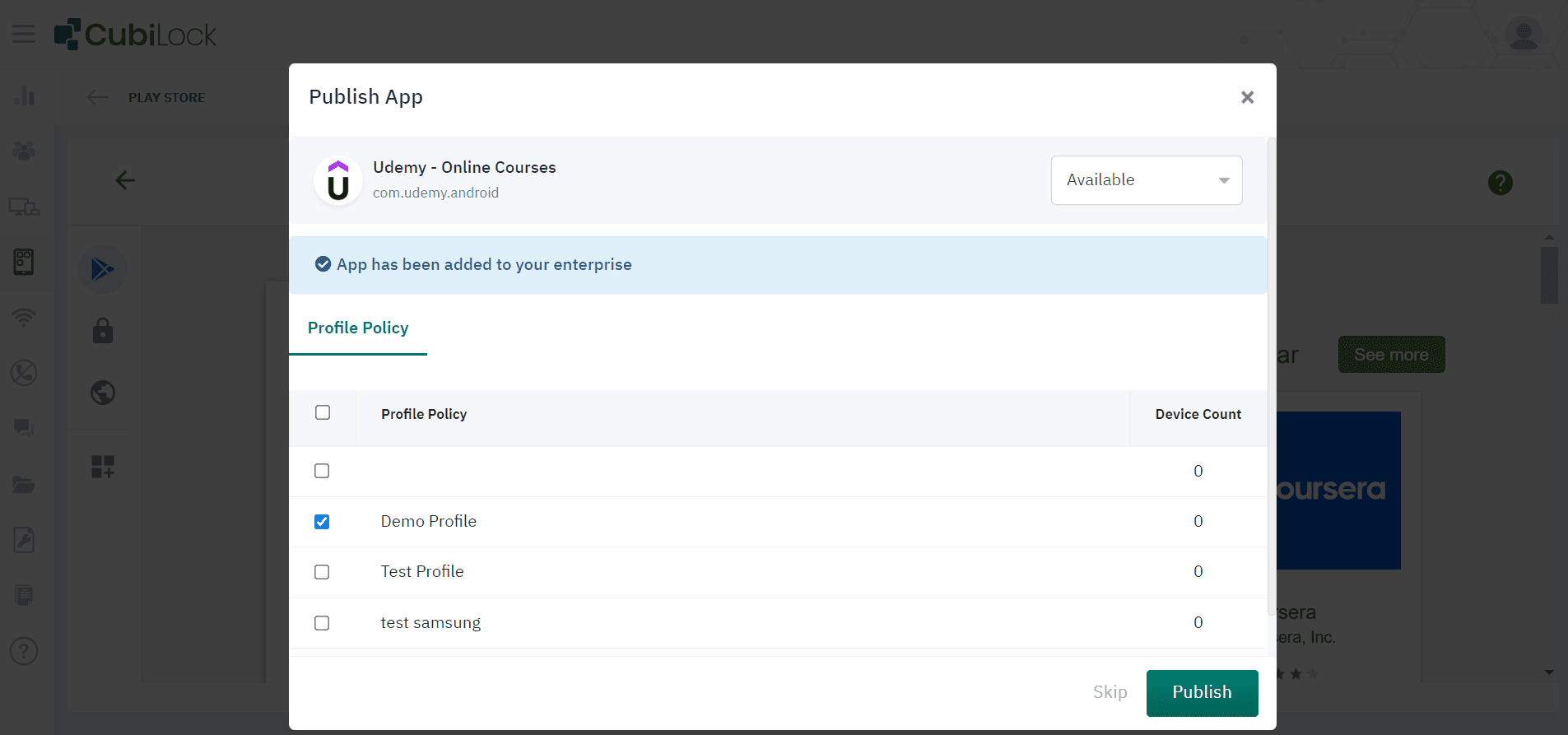 Steps to manage websites (whitelist or blacklist webpages):
Sign in to your CubiLock Portal
Head over to the PlayStore Apps page, under Application Management
Select Public Apps from iframe
Search for the Chrome application and select it
Approve the app from its listing by clicking on the Select button
Click on Add button to load the app into Enterprise Apps
In the Applications tab of your Profile, click on Configurations next to the Chrome app
You can Whitelist and even Blacklist websites by adding URLs in this format: ["blacklist1.com","blacklist2.org","anothersite.net"]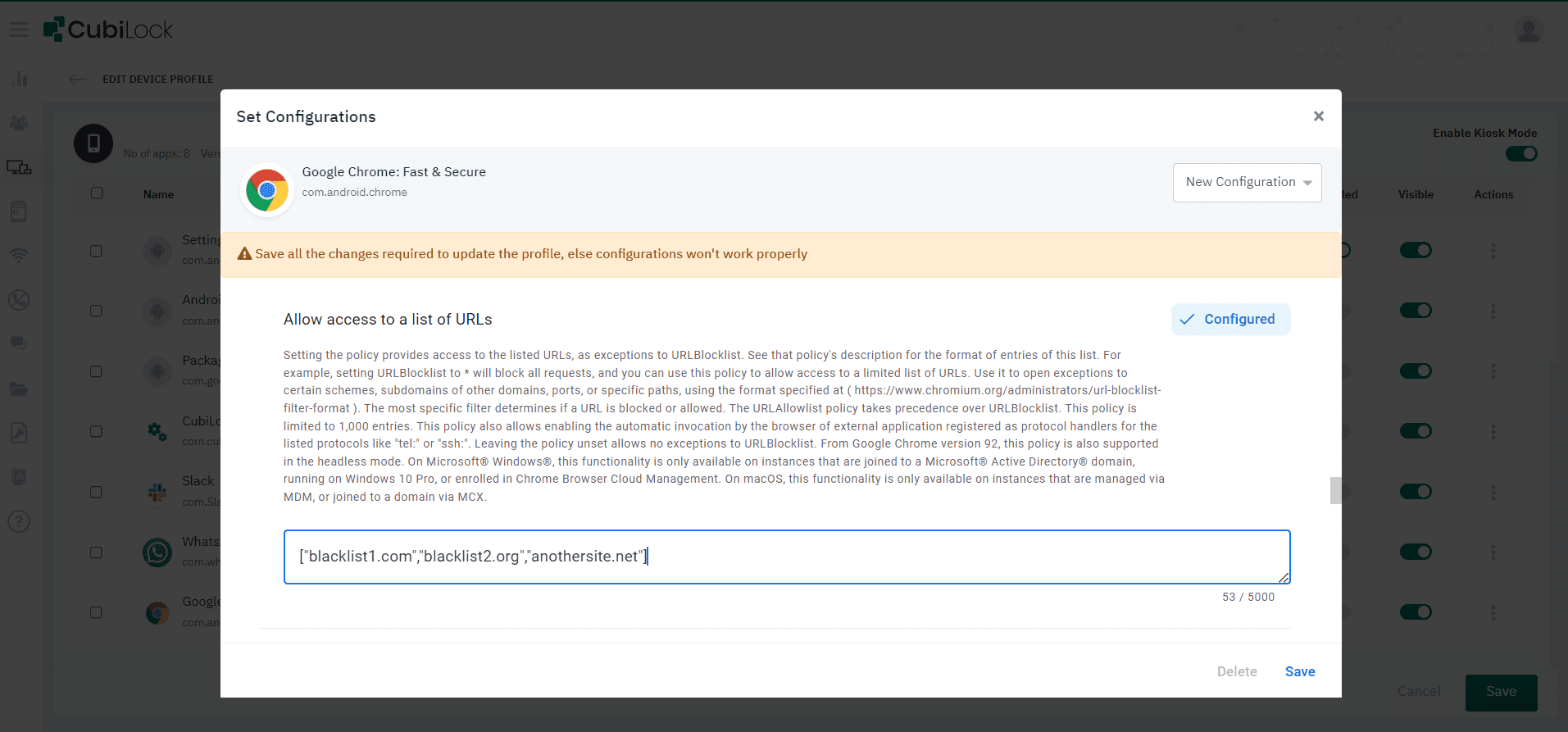 That is not all,
Device Security And Seamless Communication
Strictly enabling essential apps and websites in student devices protects the device from malignant hackers, viruses, malware, and online classroom raids. It also discourages poor internet habits, phishing, and device exposure to potential network vulnerabilities with limited access and authorization. Most of these cybersecurity risks and threats are present in apps and websites which can hijack your academic resources, assignments, and progress. Deploying traditional firewall solutions and anti-virus software is no longer effective for sophisticated viruses and hackers. Teachers and students need secured communication and resource-sharing platforms for collaborative teamwork and a seamless learning environment which is facilitated by the agile features of CubiLock.
CubiLock locks mobile devices into kiosk mode with added security features such as:
Password Authentication
Email and Messages Encryption
Factory Reset Protection (FRP)
Remote Device Wipe Out
Geofence for location tracking
Remote Troubleshooting
For essential apps and websites to run uninterrupted, the device needs to be maintained continuously. IT admins are constantly needed on-demand as system malfunctions can show up anytime and not all teachers and students have technology fluency. With CubiLock, devices can be diagnosed and debugged remotely which minimizes device downtime and ensures that digital learning is not affected. Teachers and students can be supported in real-time about their issues with the device which reduces the stress of using mobile devices for learning.
Final Words
In a nutshell, the CubiLock EMM solution is a pre-requite for educational institutions which can help your school in its mobility endeavors. It saves time, money, and resources for schools, making teaching easier for educators and learning effective for students. Lock down your student's devices by enabling academic apps and websites and restricting the rest with CubiLock EMM from a centralized console. Leverage CubiLock for android device management and focused learning today.

Apart from being a true sushi enthusiast, Sadichha (Aka SSH) is a content writer and blogger at CubiLock. She is passionate to enchant everything boring and nitty gritty about technology through her writings for her readers to enjoy and learn from at the same time. When she is not at her desk crafting content, you can catch her occupied with her cat.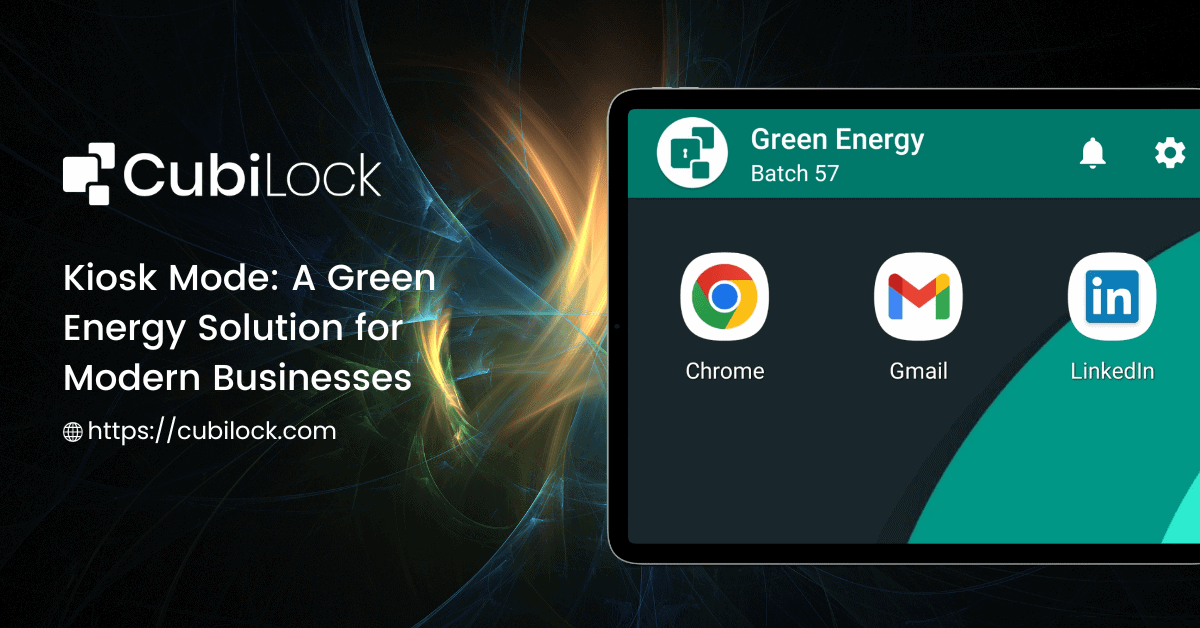 Kiosk mode brings several benefits for businesses, however, many businesses…