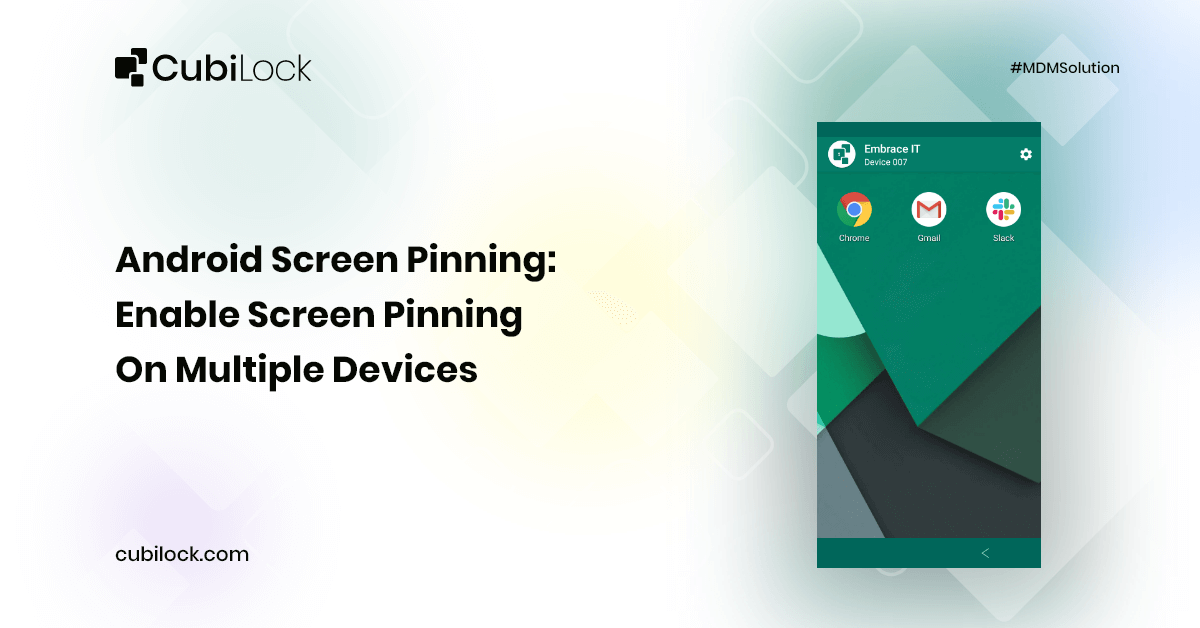 Screen pinning is an app pinning feature on Android devices which was introduced by Google for version Lollipop 5.0 onwards. Android Screen Pinning or App Pinning feature enables users to lock down their devices and only show a specific app by restricting access to all other device features and functionalities. The device can be turned into a single application mode where end-users are automatically restricted from navigating other apps, websites, and device settings.
The mobile device can pin an app by directly going into the settings on the phone and clicking on the screen pinning toggle where users can specify a PIN, password, or pattern which will undo screen pinning. If the user wants to access other device functions and disable the screen pinning mode, they can easily do so by using the hardware buttons on the device and pressing the back and overview buttons at the same time. After the user enters the correct set of PINs, patterns, or passwords, the app will have been unpinned and the device switches back to the standard interface.
The feature was initially introduced by Google as an added option to manage your personal devices better. The main limitation of in-built screen pinning is that it can be disabled easily with the use of hardware buttons and is not 100% reliable for business use. There are no restrictions when it comes to access to other apps through the pinned app and it is only available for version Lollipop and above. It also requires device setup after every reboot which is strenuous to apply for multiple devices in a workplace. However, today the screen pinning feature is being adopted widely for business use, instantly converting mobile devices into a kiosk. This has surged the demand for mobile device management solutions to make the screen-pinning feature effective for work use as well.
Android app pinning has become a growing necessity for businesses deploying multiple devices and especially for those working from remote locations. Manually screen pinning devices not only consume valuable work hours that could be put into productive use but also has limited use for businesses that have different device requirements for different job functions. It is imperative to choose the right mobile device management (MDM) solution that offers dynamic screen pinning features for businesses to use mobile devices in a controlled environment.
Role of MDM – Android Screen Pinning
CubiLock is a scalable mobile device management solution that provides an alternative for businesses that want to leverage the Android screen pinning feature and facilitates two types of screen pinning:
In this mode, devices can pin a single app or website that auto-launches every time the device reboots. It locks the device in one app and restricts access to other features and functionalities.
In this mode, multiple apps can be pinned, selected, and accessed by end-users according to the operations and job roles the device supports.
Let us overview the simple steps of enabling screen pinning on multiple devices with CubiLock:
Sign Up and Enroll your Android Devices OR Sign In to your CubiLock Portal.
Find Devices in the left-hand corner of the dashboard.
Click on Device Profiles.
Select any Device Profile you wish to work with.
Click on Edit > Applications.
Choose the Application you want to pin on your device screen.
Select Install Type > Kiosk as shown in the screenshot below.
After you are satisfied with your selections, click on Save.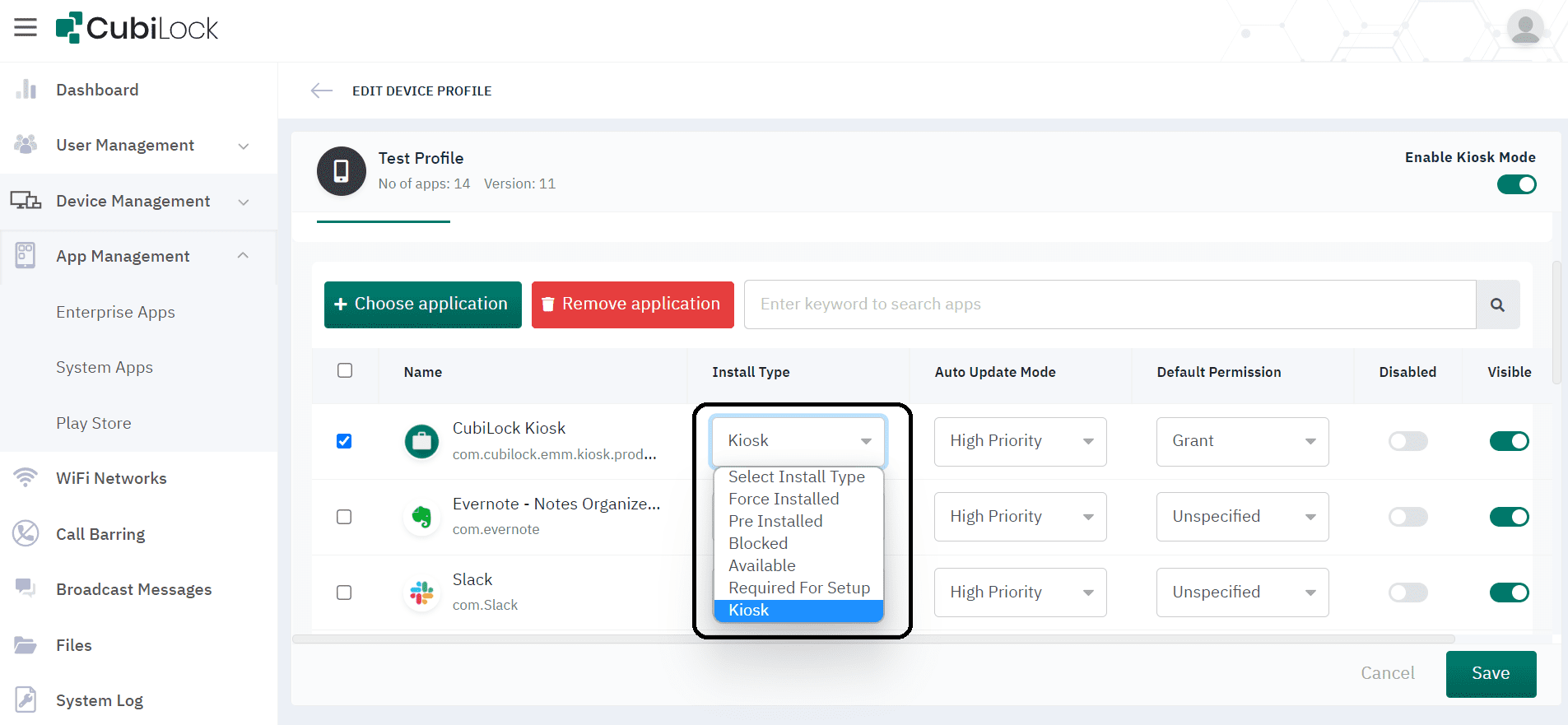 In Conclusion,
CubiLock MDM offers robust security features that complement screen pinning. It ensures corporate devices are used for the pre-intended purpose and end-users do not exploit device features and functionalities for unwanted use. CubiLock features add to corporate device security by disabling hardware buttons that can be used to unlock the device from kiosk mode. It restricts peripheral device connectivity (Bluetooth, WiFi, etc), disables notifications, and modifications of device settings according to the needs and policies of the enterprise. Using CubiLock, dedicated devices are secured and managed from a centralized console which only allows IT admins to unpin apps and websites through the CubiLock dashboard, giving end-user no authorization to make any unrequired changes.
Also read: Lockdown Android tablet for business purpose
Especially with the emergence of BYOD (Bring Your Own Device) trends, screen pinning has become beneficial for all types of industries and their verticals to streamline the work purpose of multiple devices. It effortlessly turns smartphones, tablets, laptops, and other mobile devices into a single app or multi-app kiosks that accesses only pinned apps and websites.

Apart from being a true sushi enthusiast, Sadichha (Aka SSH) is a content writer and blogger at CubiLock. She is passionate to enchant everything boring and nitty gritty about technology through her writings for her readers to enjoy and learn from at the same time. When she is not at her desk crafting content, you can catch her occupied with her cat.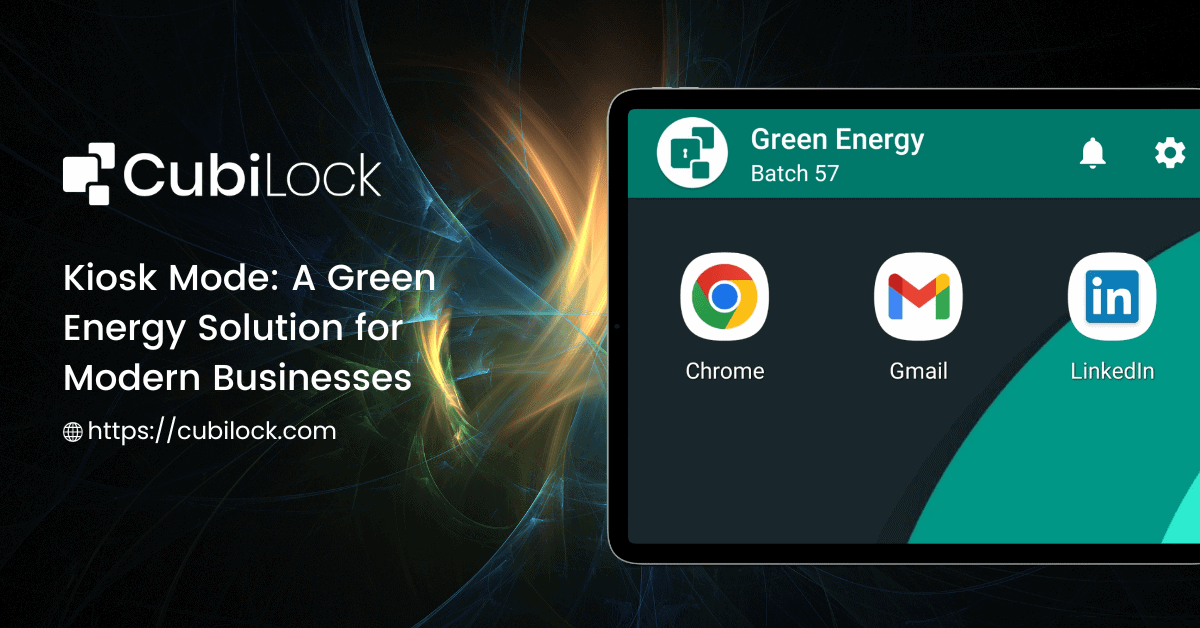 Kiosk mode brings several benefits for businesses, however, many businesses…