Factory Reset Protection – Protect Enterprise Devices With CubiLock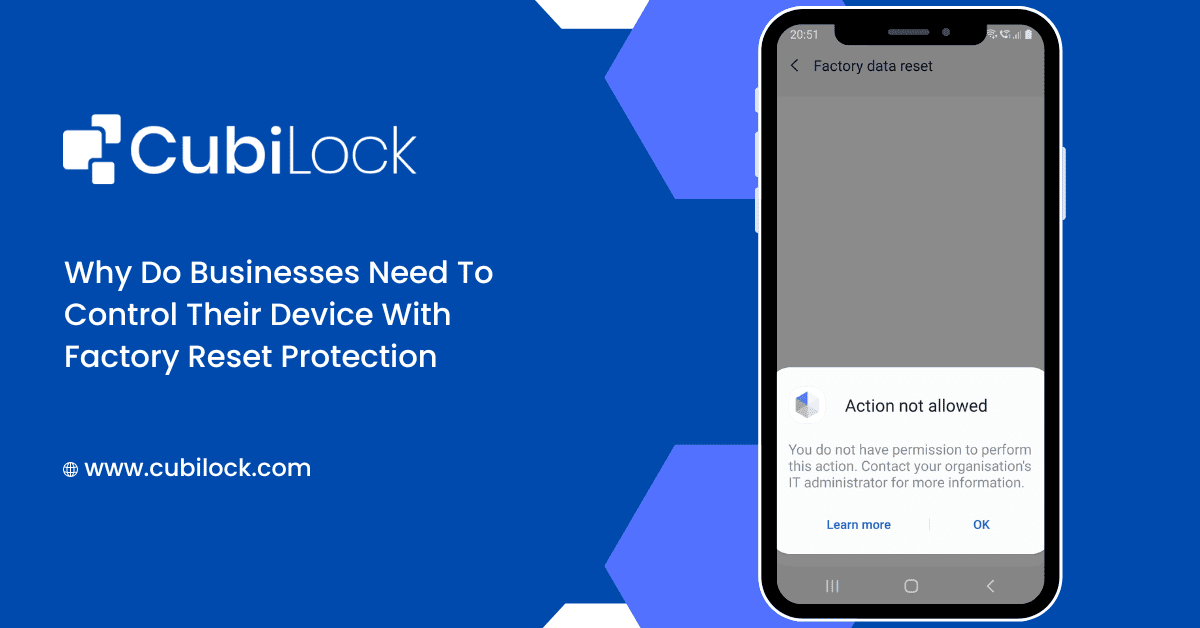 If you have an Android device running Android 5.0 or higher, you'll have FRP enabled by default. Factory Reset Protection (FRP) was created to ensure that in the event your phone is lost or stolen, someone can't just delete the data stored in it and perform a factory reset. FRP has been a part of Android since Android Lollipop, and the majority of the manufacturers of mobile phones have included it in their own models. It's a positive thing since it makes a stolen phone more difficult to use, which deters criminals and keeps your confidential data intact.
How Does Factory Reset Protection Work?
When you reset your device to its factory settings, all settings are returned to their default values and all data including files and downloaded apps are erased. Once FRP is turned on, it stops anyone from using the device after a factory data reset unless they log in with a Google username and password that was set up before on the device. So, if you have a Google Account set up on the device and you do a Factory Reset, you'll need to log in to the Google Account using the username and password to access the device. That means that without the credentials, there is no way around unlocking and using the device.
FRP is a great security measure for Android devices. Anything that can safeguard our data on a phone we've lost is always appreciated. This helps prevent device theft and improves data security, but it can cause some headaches for IT admins in organizations that provide corporate-owned Android devices to their employees. When an employee leaves the organization, the IT admin must re-provision the device to hand it over to another employee. Without the device passcode, the admin will have to hard reset the device to erase the data and settings. This enables FRP and the new user will have to authenticate with the previous user's Google account to activate the device. And without Google verification, the device cannot be used again. Likewise, there is always a risk of employees resetting the device for whatever reasons or even on accident, which can create problems.
Disable FRP With CubiLock 
CubiLock EMM is an all-in-one device management solution that allows businesses to disable the Factory Reset Button (FRP) from their unified console remotely. With the increasing popularity of BYOD trends and work-from-home culture, it is crucial to keep confidential corporate data and information safe. Employees cannot enable FRP on their work devices which eliminates the chances of accidents or reset without the approval of the IT admins. The responsibility of remembering google account credentials and managing the devices is no longer the burden of the employees rather it can be controlled centrally by your IT team.
Let's go over the steps to disable Factory Reset Protection from the CubiLock dashboard:
Step 1: Sign Up and Enroll your Android Devices OR Sign In to your CubiLock Portal.
Step 2: Head to Devices in the left-hand corner of the dashboard.
Step 3: Click on Device Profiles.
Step 4: Open the Device Profile you wish to work with. Click on Edit.
Step 5: Go to Policies > User Restrictions
Step 6: Scroll down to Disallow Factory Reset.
Step 7: Select the toggle button and save your changes.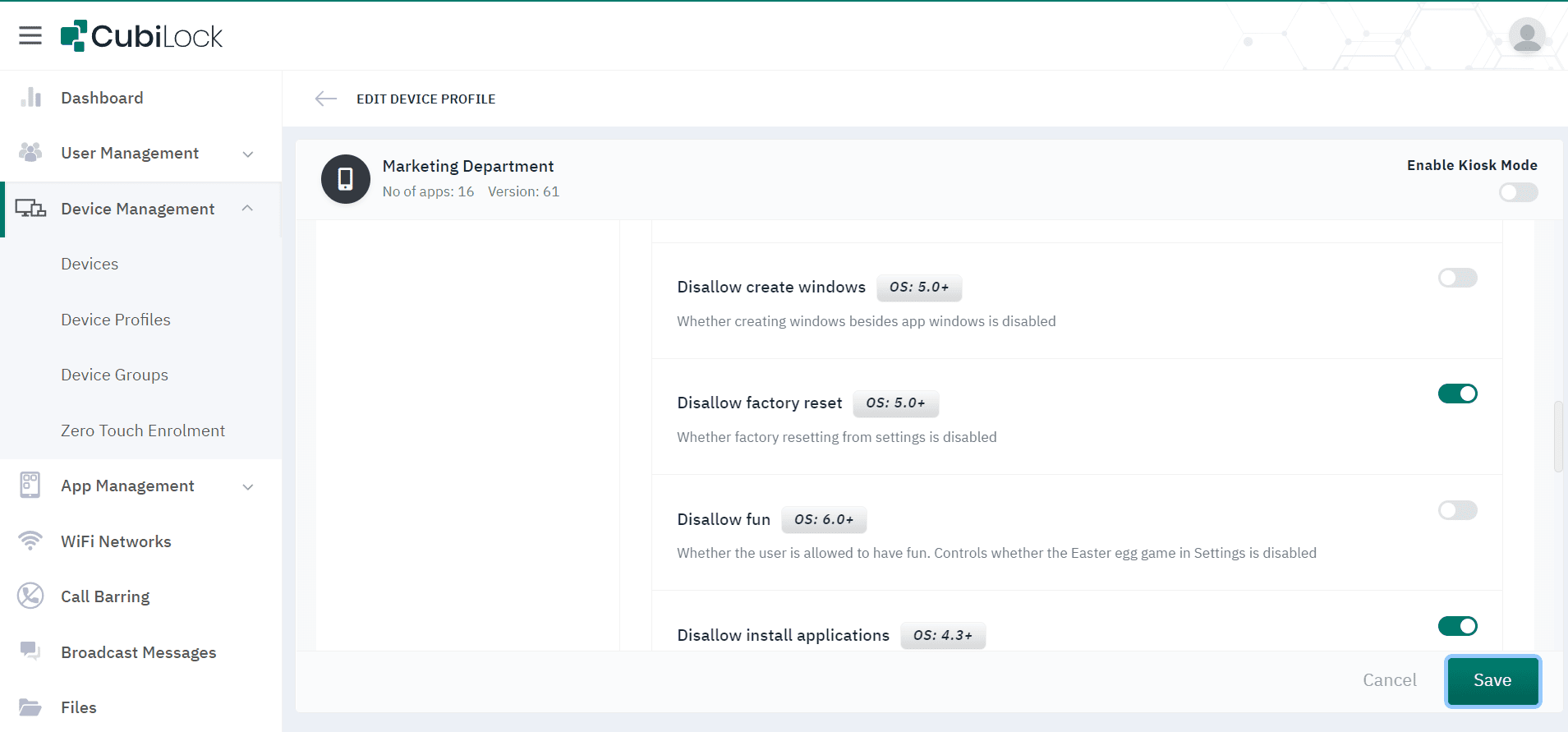 This way you can remotely disable factory reset protection from your mobile device settings in all your enrolled devices with a few simple clicks. Along with that, CubiLock geofence technology compliments FRP in securing the data and information stored in your devices in case of theft or loss. Geofence technology allows IT admins to create a virtual barrier for your devices and send alerts in the form of notifications or messages when the device leaves that boundary. Furthermore,  it can remotely wipe data off the devices that have been lost or stolen before it is exploited by anyone.
In conclusion
Technology is becoming even more advanced, and it's important to be aware of the changes that can be made and what those changes mean for us. We know that with the onset of mobility, you want to make sure that you and your business are on the right side of digitalization.
We hope you take away some useful information on how to utilize FRP in the right way for your business and its never-ending data. If you want to learn more about device management and security features of CubiLock, or you want to know how to incorporate digitalization into your business, then feel free to contact us anytime at contact@cubilock.com.

Apart from being a true sushi enthusiast, Sadichha (Aka SSH) is a content writer and blogger at CubiLock. She is passionate to enchant everything boring and nitty gritty about technology through her writings for her readers to enjoy and learn from at the same time. When she is not at her desk crafting content, you can catch her occupied with her cat.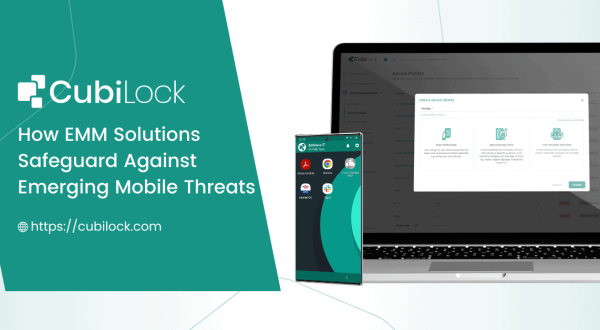 Explore how Enterprise Mobility Management solutions act as defenders against…