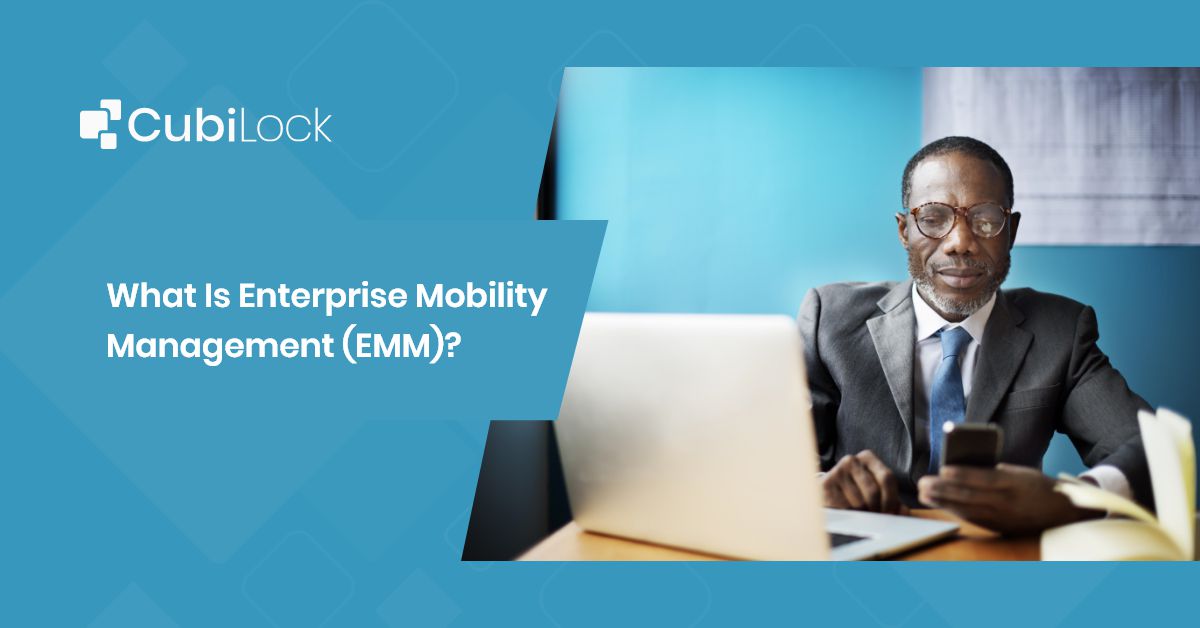 Enterprise Mobility Management (EMM) is a software technology designed to manage and secure mobile devices, be it corporate issued or personally owned. So what is EMM, EMM is a comprehensive set of policies and practices that secures sensitive corporate data and intellectual property that exists within the enterprise network system. In a nutshell, EMM is considered an extension of mobile device management(MDM) solution and incorporates a suite of other device management systems such as mobile application management (MAM), mobile content management (MCM), and mobile identity management (MIM) technologies that are dedicated to managing, monitoring, controlling and securing the fleet of devices. 
Components Of Enterprise Mobility Management
Mobile Device Management
Mobile Device Management (MDM) is the most fundamental device management technology that manages mobile devices throughout the device lifecycle. It remotely enrolls, configures, updates troubleshoots, and enforces policies on devices, providing device visibility and control.
MDM creates profiles on mobile devices and enables encryption, password policies, location tracking, and remote data wipe off in case of a data breach, device theft, or loss.
Mobile Application Management
Mobile Application Management (MAM) is a core element of EMM that focuses on the management of applications on mobile devices. It covers installation/uninstallation, deployment, and update of mobile apps that are pushed by IT admins through the unified console. Along with that, MAM allows admins to apply security policies to in-house corporate apps or store apps, restrict the installation of non-work-related apps and protect the devices from malware, viruses, hackers.
Mobile Content Management
Mobile Content Management (MCM) is another aspect of EMM that has everything to do with safeguarding sensitive corporate data and critical information that is stored and shared on mobile devices. The aim attribute of MCM is containerization which isolates personal data from corporate data in a single device. This feature allowed employees demanding BYOD (Bring Your Own Device) to easily use their personal devices for work. It helps to mobilize the workforce without the hassle of deploying separate corporate devices.
Mobile Identity Management
Mobile Identity Management (MIM) involves the protection of databases and corporate resources that are shared among devices. It ensures that data is accessible only to corporate devices with Single-Sign-On (SSO) and multi-factor authentication, making sure the files synced to multiple devices across the enterprise network system are secured.
Benefits of Enterprise Mobility Management (EMM) solution
EMM evolved as the need for BYOD increased in the business landscape. Mobility was embraced globally and the trend of digitalization catapulted businesses in every sector to adopt mobile devices in their operations. Previously, MDM was popularly adopted by businesses to manage and secure deployed smartphones, laptops, and tablets. EMM was then designed to bridge the gap between the limitations of MDM and the modern mobility needs of a business. EMM encapsulates a broader set of features so each business needs to be wary of its specific needs before investing in one. Let's discuss some of the crucial benefits of EMM for businesses and gain some clarity on how the EMM strategy will help yours.
Manage all enrolled devices from a single console over the cloud.
Enforce policies and create device profiles according to the specific needs of the business
Enable kiosk lockdown mode to restrict unauthorized apps and websites
Gain insights through EMM analytics and reports
Locate mobile devices in real-time with geo-fencing
Remotely update latest OS, diagnose, debug and maintain devices throughout their lifecycle
Isolate personal data from corporate data with containerization
Apply encryption, password policies, factory reset protection, remote device wipeout, and other security measures
Avoid device setting modifications or device access without password authorization
To elaborate on what is EMM, EMM software influences the growth and productivity of any business by keeping the distractions of unnecessary mobile device functionalities at bay. Productive hours that are lost in downloading unsafe apps, surfing the web, streaming music and videos, accessing social media platforms, etc can be completely restricted with the kiosk lockdown feature. It keeps a bird's eye view of device usage, health, data consumption, operational inefficiencies, security policies, etc in order to prolong device lifecycle and improve workflow, whether it be inside the four walls of a corporate office or off-site remote work.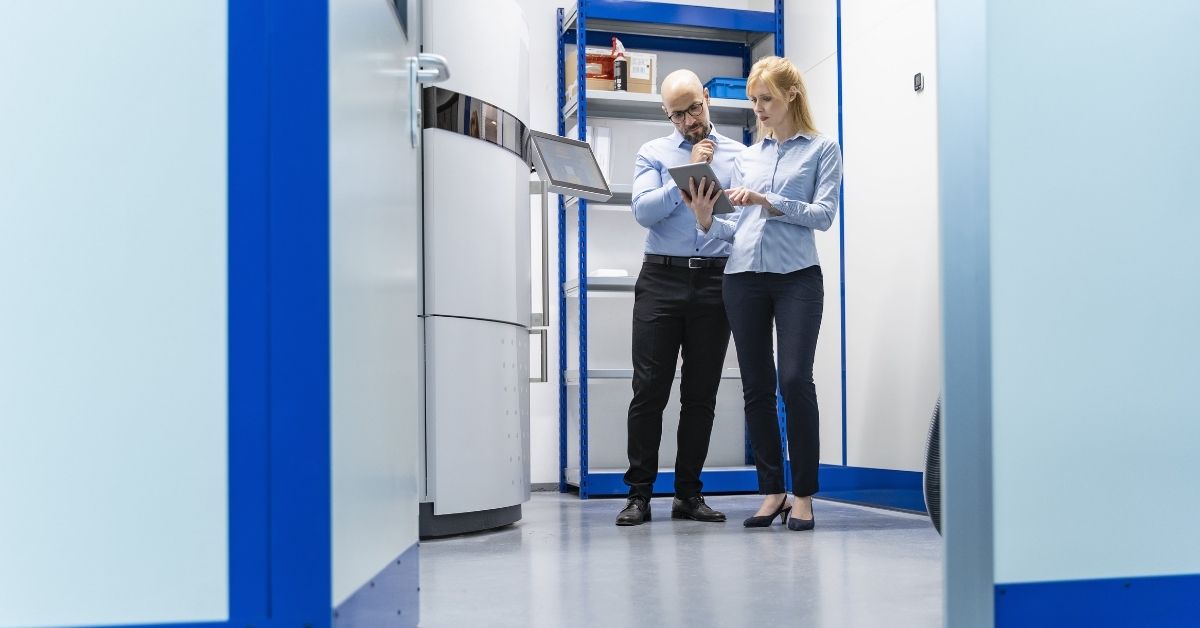 Unmanaged devices become a big issue for most companies as business-critical information and sensitive data are shared on multiple devices across various departments. Customer's personal details and information have become one of the most sought-after data for hackers today. Without taking proactive measures and deploying EMM tools, there is very little standing chance for any business to protect its resources, avoid unwanted financial expenditure, and bear brand damage caused by data breach and device theft incidents that are prevalent in any industry.
In addition to that, remote management of shared resources, and troubleshooting of devices takes off the burden from the IT team so that they can focus on more urgent tasks. The IT admins can perform better when they are not constantly consumed by an avalanche of support requests, system issues, and device malfunctions. It also takes away the stress of remote workers who may not be tech-savvy enough to deal with device errors and issues.
Also read: Checklist for IT admins to manage enterprise devices smartly
Lastly, the greatest asset of deploying an EMM solution is it supports the growing trend of BYOD in business culture. BYOD not only boosts employee morale by giving the flexibility of working from your own personal device but also takes off a portion of the device deployment burden from businesses, especially the small and independent ones.

If all these factors are important for the operational efficiency and management of workflow in your business, the CubiLock EMM solution is your best bet. Here at CubiLock, our EMM solution has been curated keeping in mind the needs of enterprises deploying mobile devices and taking digitalization head-on. Regardless of the type or size of the business, CubiLock EMM empowers organizations to maximize their productivity, enhance their data security protocols and save their time, money, and resources all the same.
Apart from being a true sushi enthusiast, Sadichha (Aka SSH) is a content writer and blogger at CubiLock. She is passionate to enchant everything boring and nitty gritty about technology through her writings for her readers to enjoy and learn from at the same time. When she is not at her desk crafting content, you can catch her occupied with her cat.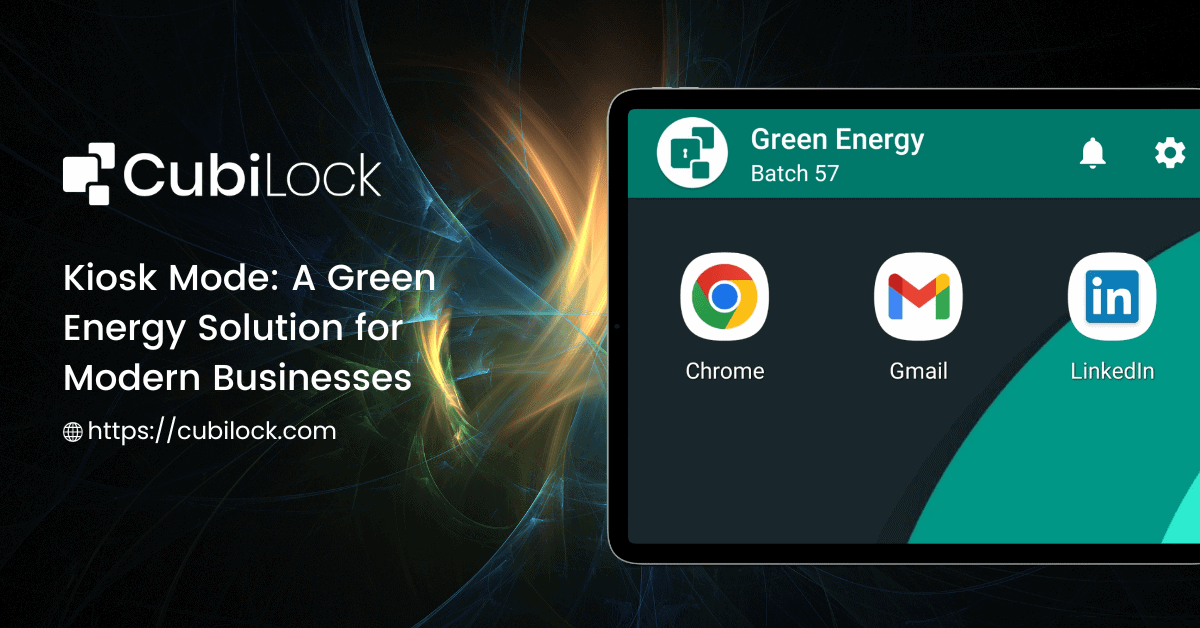 Kiosk mode brings several benefits for businesses, however, many businesses…