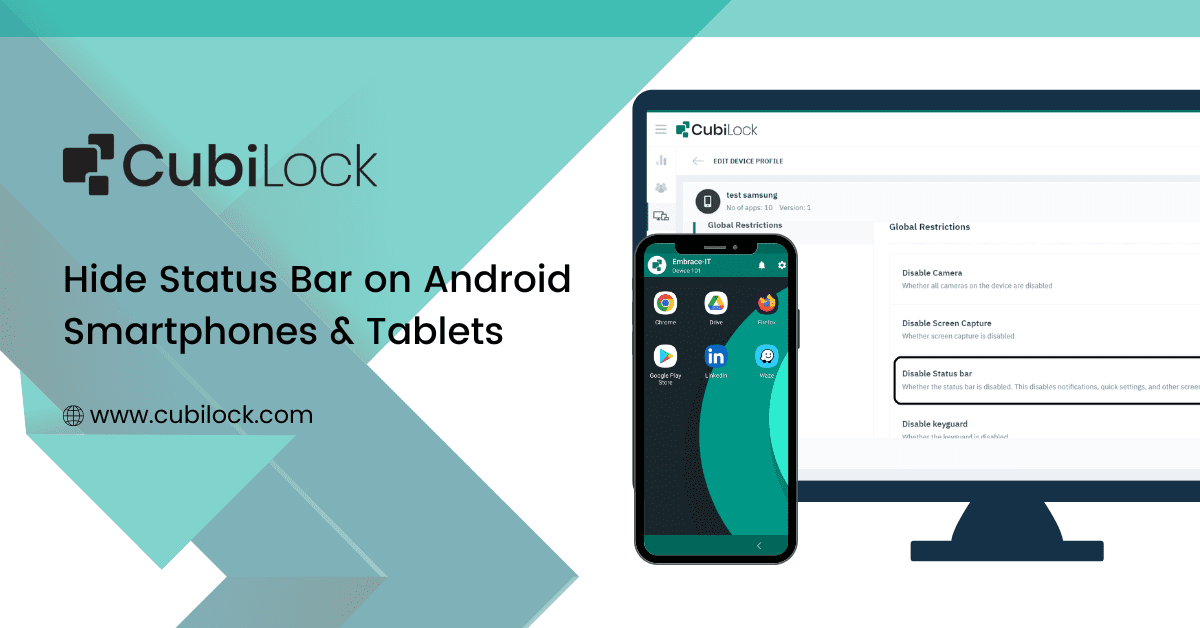 The Android status bar is a vertical strip at the top of the mobile device screen, above all other apps. It shows time, network status, battery status, and notifications from apps. It displays important information about your device and also gives access to different apps. You can also use it to control media playback or view battery status. Some apps may also show icons in their own space on this part of your device's display.
Hiding the status bar on android eliminates access to the time, Wifi status, battery life, and minimized notifications from the apps. In addition to hiding these elements, you may also hide the notification bar on android that's revealed when you pull down the status bar. The notification bar entails more system details such as location services, brightness, app shortcuts, Bluetooth/ WiFi connections, etc. 
Moreover, the status bar, in newer versions of Android devices, is designed to be highly customizable. This might be a functional aspect added for personal devices but they do not work well when it comes to corporate devices. This is because organizations today use Android devices for a plethora of purposes, point-of-sale (POS) for example. When these devices are deployed for dedicated purposes as such, it is critical to ensure that these devices are restricted to only the required apps while limiting access to other apps, websites, and device settings. Locking these devices in kiosk mode secures the confidential data and information stored in the devices and also protects the device from misuse. The kiosk mode also includes restricting access to certain device features and settings. However, with the status bar in full view, despite these restrictions, end-users can still get some wiggle room to access certain device settings on Android devices via the notification bar or the status bar.
This is why hiding the status bar is becoming crucial in the workplace. With notifications, system details, and other items like the battery meter or date/time out of sight, this will allow you to focus on what matters most: getting work done.
It not only eliminates the risk of end-user exiting a kiosk mode or changing the device settings but also engages your customers into an immersive experience when using these devices.
How to Hide Status Bar on Android Smartphones and Tablets?
The first option is through manual settings within Android itself; however, this can prove difficult if not impossible depending on what kind of phone model/version you have installed. It becomes especially difficult for businesses that manage more than one mobile device and need to manually configure device settings to hide status bar on android device they own.
In these cases, you can usually hide or show the status bar by tapping various areas on the device; for example by swiping left or right along its edge (or pressing a button). This makes it very easy for end-users to exit the configured device settings and change them unauthorized.
This is where your second option weighs in as a more practical and easier method. You can do this by using Mobile Device Management (MDM) to enforce a policy that allows you to hide or disable status bar on android as needed by the business. This will prevent users from accessing the part of the screen that displays information about their devices, such as the clock, Wi-Fi connection, battery life, notifications, and signal strength.
Android Kiosk Mode can be effective to hide android status bar from all apps, including those that are installed through Google Play Store or the Enterprise app store. You can also use CubiLock to hide the status bar from specific users by configuring each user's profile accordingly (for example: if only certain members of staff can get access to the status bar).
Steps to Hide Status Bar Using CubiLock:
From your CubiLock Console,
Go to the menu. Navigate to Devices > Device Profiles.
Click on the three-dot menu next to the profile you want to update.
Tap on the Update Profile from the drop-down menu to open in edit mode.
Click on Kiosk Settings.
From Kiosk Customizations, scroll down to Status Bar and select Notifications and system bar disabled.
Click on Save and Confirm to apply changes to your profile.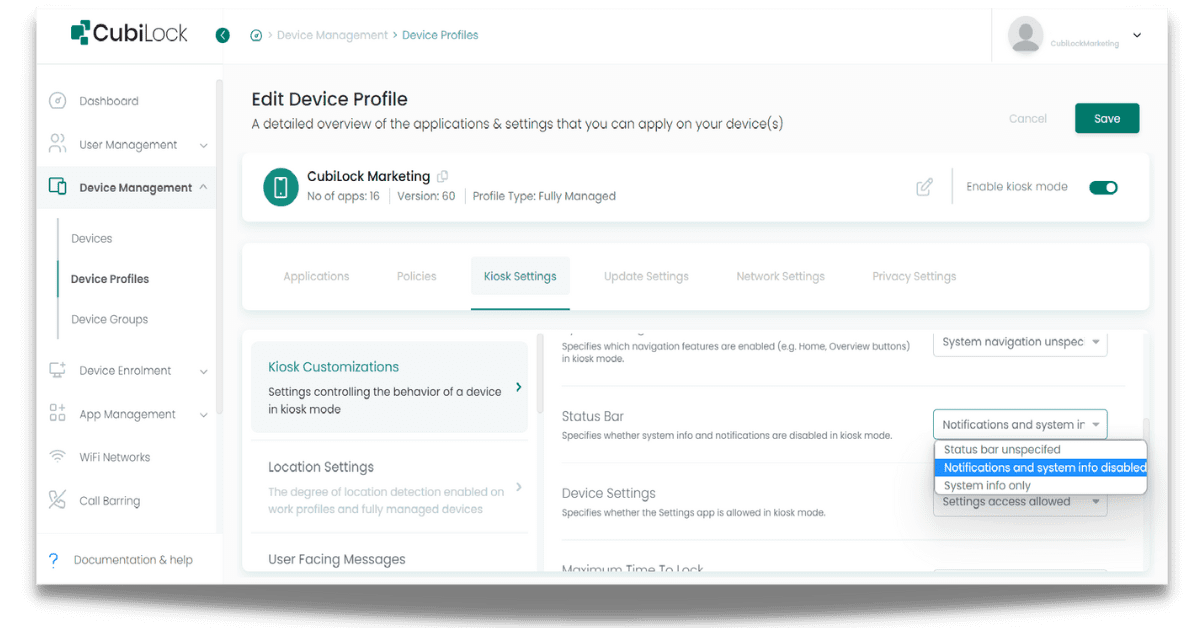 This disables end-users from exiting full-screen mode or kiosk mode by removing notifications, quick settings, and other screen overlays.
Thus, this method allows businesses to configure policies to hide android status bar and push it remotely to all or selected devices within a few minutes. Along with enabling or disabling the status bar, the CubiLock MDM solution allows IT admins to configure and customize a wide variety of policies to their devices to improve their operational efficiency and productivity. IT admins can also convert the entire device into kiosk mode for dedicated purposes, ensuring the devices are better suited for work environments.
Apart from being a true sushi enthusiast, Sadichha (Aka SSH) is a content writer and blogger at CubiLock. She is passionate to enchant everything boring and nitty gritty about technology through her writings for her readers to enjoy and learn from at the same time. When she is not at her desk crafting content, you can catch her occupied with her cat.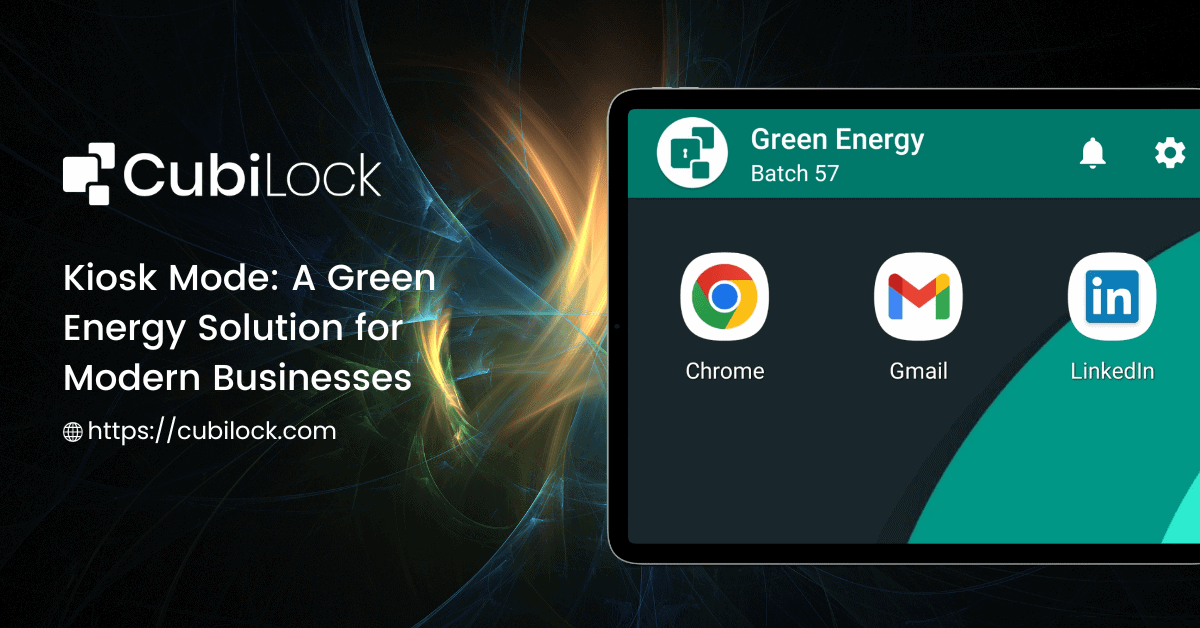 Kiosk mode brings several benefits for businesses, however, many businesses…