Android mobile devices have become the standard tools of most business operations at a backbreaking pace. These devices come in a wide variety of features and price ranges that suit almost any business need that helps it stand out from the competition in the market. They have also grown their popularity in the business arena with their promise to make strides in employee productivity, operational efficiency, and customer engagement.
But companies are not being able to grow as they should because of the lack of management tools for their Android devices. Maintaining an organization's data and resources on mobile devices is difficult if no mobile device management is in place. This is because employees may be tempted to misuse the device for personal use instead of company use. There is a need for a better way to manage these devices.
Why Implement Android Mobile Device Management Solution?
Mobile Device Management (MDM) software solutions give IT departments and administrators the ability to manage, secure, and control mobile devices such as laptops, smartphones, tablets, and IoT devices. MDM solutions can either be hosted in the cloud or onsite, and they support the management of all mobile endpoints, whether they are personally owned or corporate-issued. The goal of MDM solutions is to improve device management, user productivity, and policy compliance of corporate-owned mobile devices to meet business needs and strategy.
Mobile device management (MDM) has been around in various forms since the 1990s, but it has only become mainstream in the past few years, with Android being the most popular platform. MDM solutions offer a number of benefits to both organizations and employees:
Bulk-Enrollment: Businesses can bulk enroll any number of mobile devices in a matter of minutes using an MDM solution. You can adapt Zero-Touch enrollment where the devices are set up straight out of the box or use IMEI-based enrollment or QR code/URL-based enrollment where any device can be enrolled without the need for physical intervention by the IT admins, saving you both time and effort.
Security: MDM can help companies protect their data by requiring authentication and passcodes before accessing any corporate resources such as email or confidential files. It encrypts data and information that are shared across the company's network and even allows remote wipe data out of the devices in case they are lost or stolen.
Reduced Costs: Employees who use company-approved devices can be given a more flexible BYOD plan which will save them money and reduce the amount of time they spend managing multiple devices. Companies no longer require a large-scale IT team to manage their devices as most tasks are automated by a well-thought-out MDM solution. It also limits the use of WiFi and data plans to work purposes that can save ample expenses in the long run.
Improved Productivity: Employees will be able to work more efficiently on the go because all their work content will be accessible from one place, regardless of what device they are using or from where.
Kiosk Lockdown Mode: Businesses can also lock down the devices into kiosk mode allowing access to work-related apps only. In the kiosk lockdown mode, a single app or a set of predetermined apps and features can only work, restricting all other apps and functionalities in the devices. Consequently, this improves work productivity and the focus of employees working within or outside of the office.
Centralized Management: The unified interface of an MDM solution allows the management of all company-owned Android devices centrally. You can push OS updates, change device settings, schedule maintenance, and much more on multiple devices at once.
App Management: MDM helps IT admins manage apps over the air. You can install apps, update or downgrade them and even delete them remotely. You can also prevent end-users from downloading or deleting apps on their own without prior authorization.
Remote Troubleshooting: Businesses can streamline workflow and increase the productivity of their workers with remote troubleshooting of their Android devices. MDM solution has the ability to remotely diagnose and debug malfunctioning or problematic devices causing minimal system downtime. This mitigates the need to have IT personnel around at all times with employees and improves the device's durability throughout its lifecycle.
Peripheral Control: A good Android MDM solution allows IT admins to have complete peripheral control that allows only authorized devices and networks to connect with the corporate device. Any unauthorized network connections, Wi-Fi, Bluetooth, speakers, etc will be blocked from connecting with the device, ensuring employees do not tamper with the standard device settings and connections without permission.
Android Mobile Device Management for enterprises is a new way to automate the management and security of Android devices in your enterprise. It's a solution that lets you manage the Android devices in your enterprise and secure them from data breaches and cybersecurity threats like malware, viruses, and hackers to name a few.
With the CubiLock MDM solution, you can manage multiple Android devices from a single platform. It allows you to remotely control all of the settings of the device and make sure that they are set to your preferences. You can also make sure that the devices are not being used for malicious purposes by blocking certain apps or features. This is especially useful when managing company-owned devices that are used remotely or outside the office premises. To keep your device management simple yet effective, give the CubiLock MDM solution a go today. Visit us to know more.

Apart from being a true sushi enthusiast, Sadichha (Aka SSH) is a content writer and blogger at CubiLock. She is passionate to enchant everything boring and nitty gritty about technology through her writings for her readers to enjoy and learn from at the same time. When she is not at her desk crafting content, you can catch her occupied with her cat.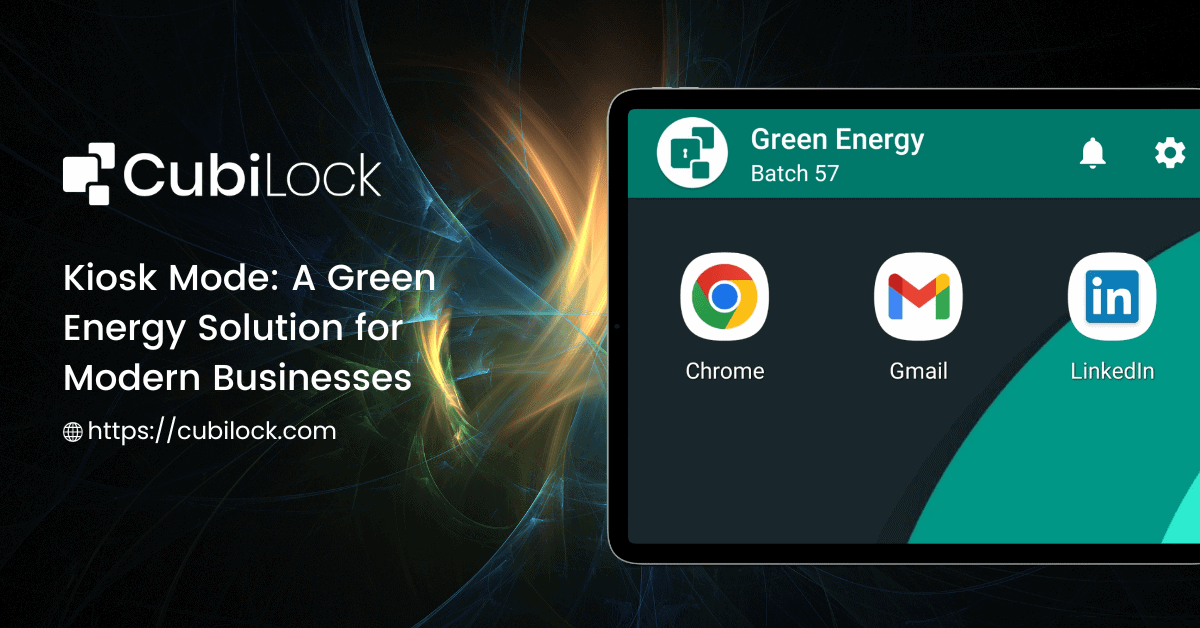 Kiosk mode brings several benefits for businesses, however, many businesses…