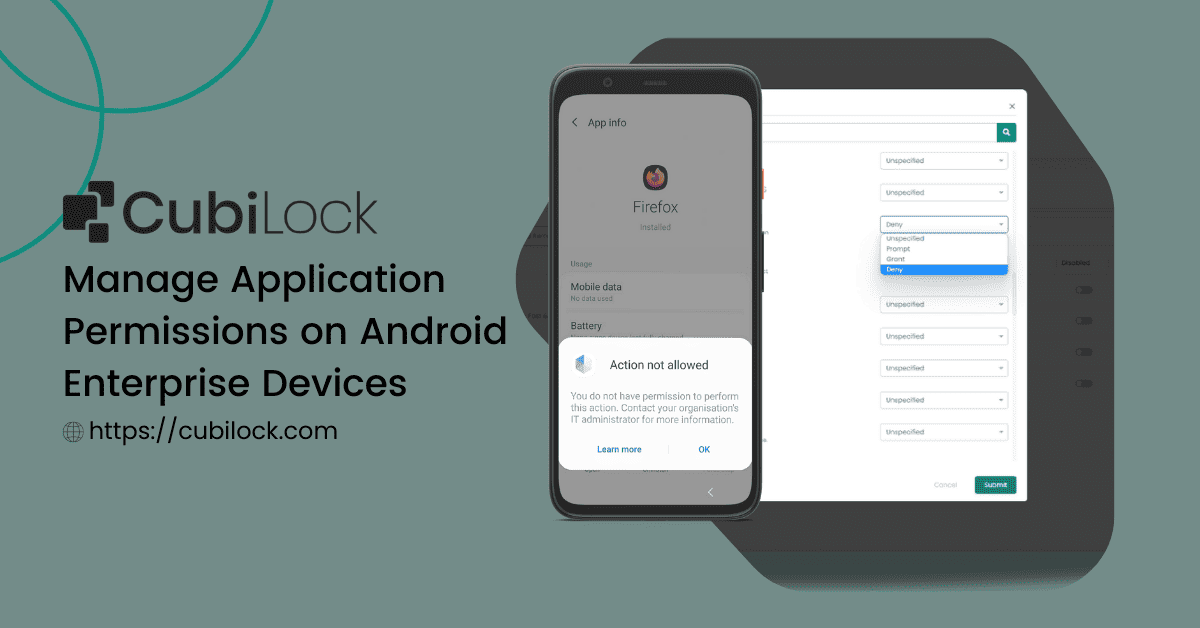 From productivity to entertainment, mobile apps can expand the capabilities of mobile devices and help us perform a plethora of tasks, all from the palms of our hands.
CubiLock provides an efficient way to configure apps and app permissions on enterprise devices. The app permission feature allows businesses the flexibility to configure different work settings for different end-users and their job roles. You can grant or deny permissions to streamline in-house or commercial apps and exercise control over their accessibility.
App permissions let you decide how apps are used in a work setting. If you want to take pictures, you need to grant camera permission, which will help you get quality pictures. If you want to use the internet frequently, you need to grant network permissions, which will allow you to access your favorite sites easily. If you want to use specific photos, you need to grant access to your camera gallery, etc. And if you need your end-users to not access these features, you can also deny these permissions and disable them. It helps administrators to manage and secure devices across the organization while providing users with access to only the resources they need.
With app permissions, CubiLock allows you to configure what a specific app can do or have access to even before it is installed on the device. It also comes with features like android kiosk mode, app lockdown, remote control, and device monitoring that enable organizations to ensure their IT environment is secure and productive.
How To Set Up App Permissions With CubiLock?
From your CubiLock console, 
Go to the menu. Then from Device Management > Device Profiles.
Click on the three-dot menu next to the profile you want to update.
Tap on the Update Profile from the drop-down menu to open in edit mode.
Open Applications from the ribbon bar.
Find the app you need to configure. Select the three-dot menu at the very end.
Click on Permissions. A pop-box opens to app permissions that you can configure on the specific app.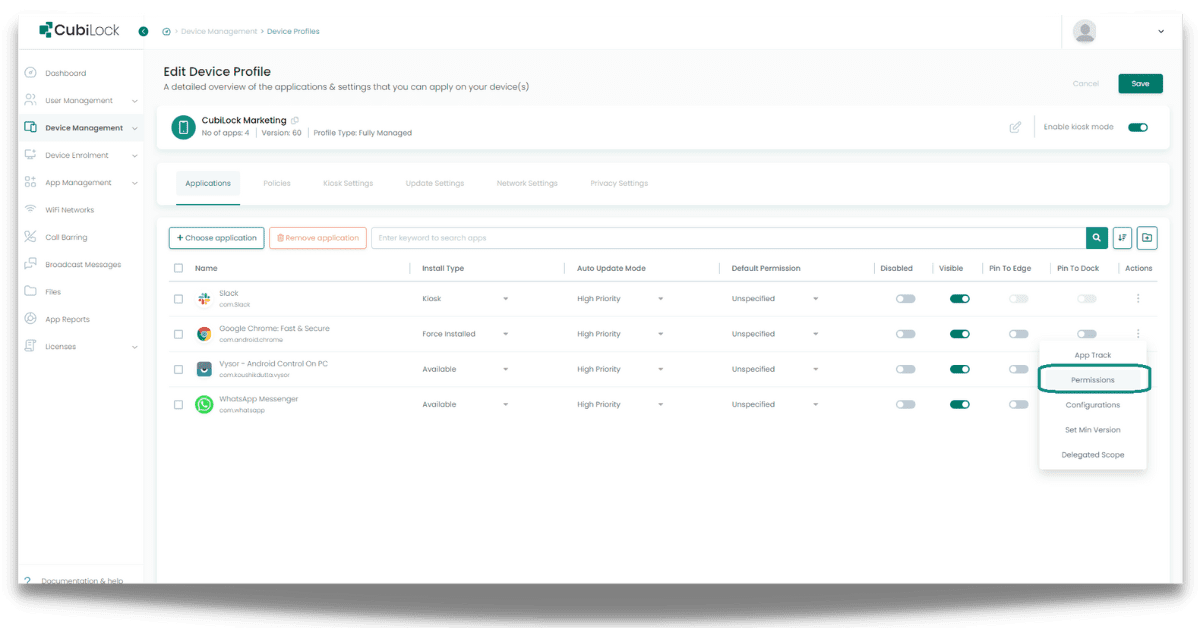 Choose Prompt, Grant, OR Deny permissions as you need.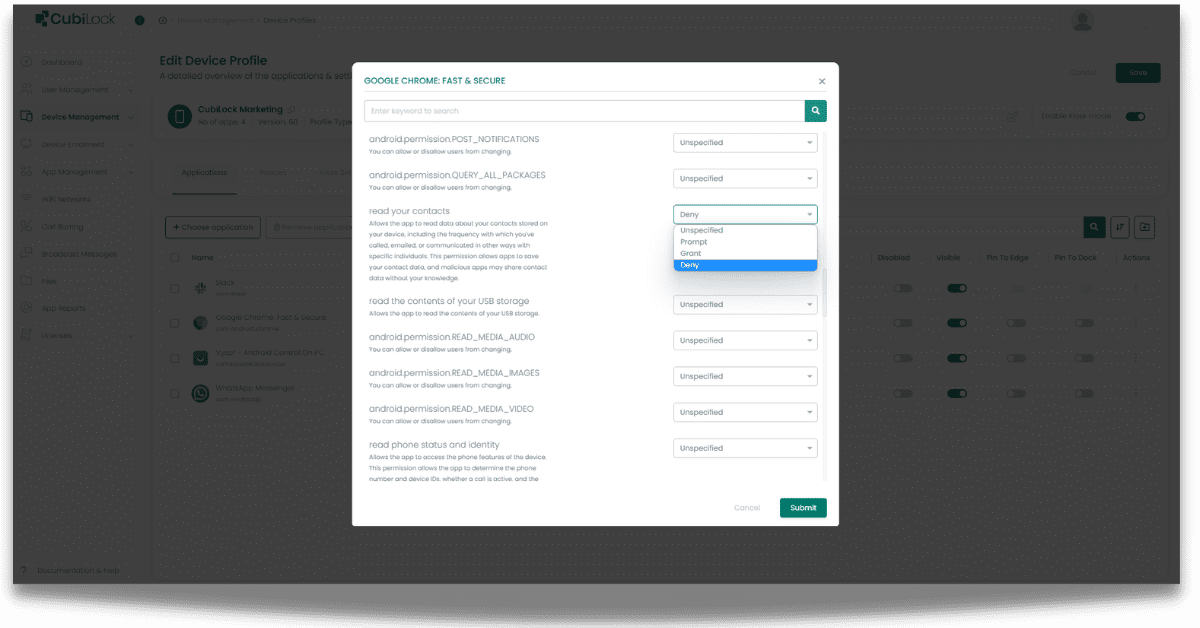 Lastly, Click on Submit > Save to save your changes.
There are different permissions for different apps. There may be permissions that are shared by more than one app but each app has a unique set of permissions based on the nature and functions of the app. On the CubiLock dashboard, you can select from a variety of app permission configurations. Although it is not possible to list all of the apps and their subsequent app permissions here, we will explain one or two of them to give you an idea of what app permission configuration is all about.
Manage Google Chrome Permissions
Google Chrome is the standard browsing app for most businesses. Some of the configurations that are applicable to this app are:
Precise location (GPS and network-based)
It enables the app to get your exact location by using the Global Positioning System (GPS) or network location sources like cell towers and Wi-Fi. For the app to use these location services, they must be turned on and available on your device. Apps may use this to determine your location, consuming additional battery power.
View network connections
It allows the app to see all network connection information such as existing networks or connected networks.
View Wi-Fi connections
It allows the app to view Wi-Fi networking information, such as whether Wi-Fi is enabled and the names of connected Wi-Fi devices.
Access Bluetooth settings
This feature enables the app to configure the local Bluetooth device as well as discover and pair with remote devices.
Pair with Bluetooth devices
It allows the app to view the Bluetooth configuration on the device, as well as make and accept Bluetooth connections.
Reorder running applications
It allows the app to switch between foreground and background tasks. This could be done by the app without your knowledge.
Take pictures and videos
It grants the app to use the camera to take pictures and videos. You can use the app to take photos and videos and save them in the camera gallery without your permission at any time.
Record audio
It gives the app access to record audio using the microphone. This permission allows the app to record audio without needing any authorization.
Manage WhatsApp Permissions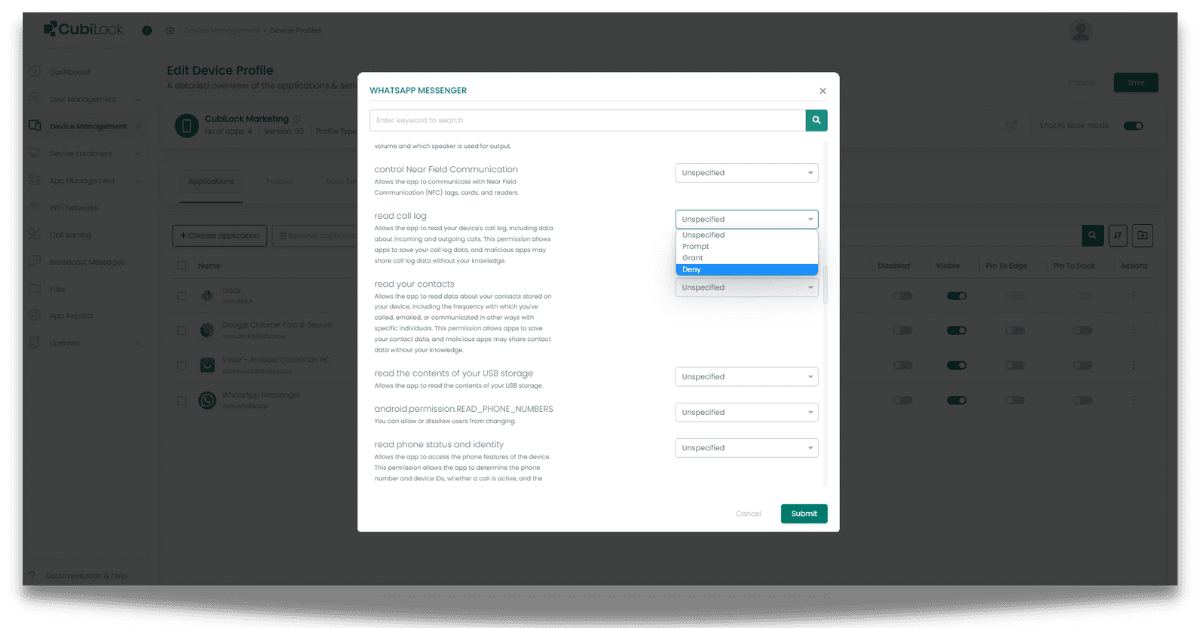 Whatsapp although a household favorite messaging app, is also widely used for business. It has proven to be a cost-effective and easy way to manage teams, send updates, open informal communication, and much more. Some permissions available for this app are:
Read call logs
It allows the app to read the call log on your device, including information about incoming and outgoing calls. With this permission, apps can save your call log data which can be used by malicious apps to share call log data without you knowing.
Read your contacts
This permission enables the app to read data from your device's contacts, such as the frequency with which you've called, emailed, or communicated in other ways with specific individuals. It also allows the app to save your contact information, so permission must be carefully granted
Manage Slack Permissions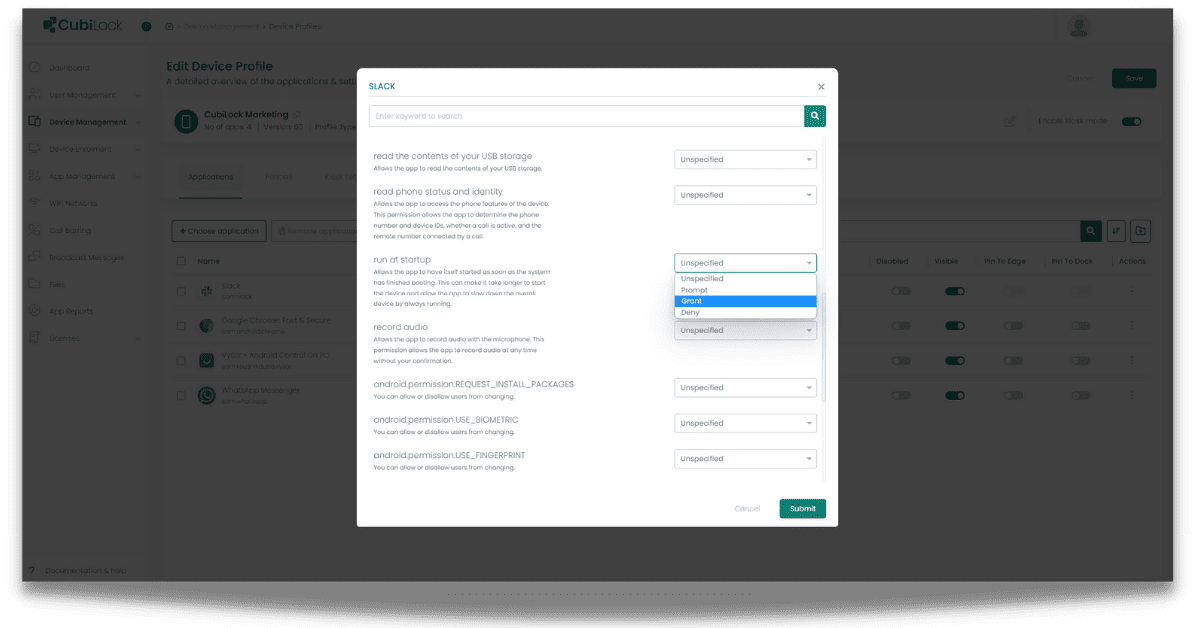 Slack is another popular app in workspaces that are used for messaging. It focuses on creating dedicated spaces called channels for employees to work, collaborate and communicate in. The configurations for Slack that you can control from the CubiLock dashboard are:
Read your contacts
It allows the app to read data from your device's contacts, such as the frequency with which you've called, emailed, or communicated in other ways with specific individuals. You need to be careful with this permission as it enables apps to save your contact information, and malicious apps may share this information without your knowledge.
Keep the device from sleeping
Allows the app to prevent the device from sleeping.
Read phone status and identity
It allows the app to use the device's phone features. The app can use this permission to determine the phone number and device IDs, whether a call is active, and the remote number connected by a call.
Modify your audio settings
Allows the app to change global audio settings such as volume and output speaker.
Run at startup
It enables the app to be launched as soon as the system has completed booting. This can cause the device to take longer to boot up and allow the app to slow down the overall device by running constantly.
The app configurations mentioned above are just a few of the many permissions you can manage from the Cubilock dashboard. It empowers your employees with devices that can seamlessly blend into your work environment and deliver what is required and more. Make any app easier to use by leveraging app permissions and configuring policies. CubiLock is always available to assist you with details of device management that cater to even your smallest business requirements, which makes a big difference.
Also read – How to lockdown android tablet for business
Apart from being a true sushi enthusiast, Sadichha (Aka SSH) is a content writer and blogger at CubiLock. She is passionate to enchant everything boring and nitty gritty about technology through her writings for her readers to enjoy and learn from at the same time. When she is not at her desk crafting content, you can catch her occupied with her cat.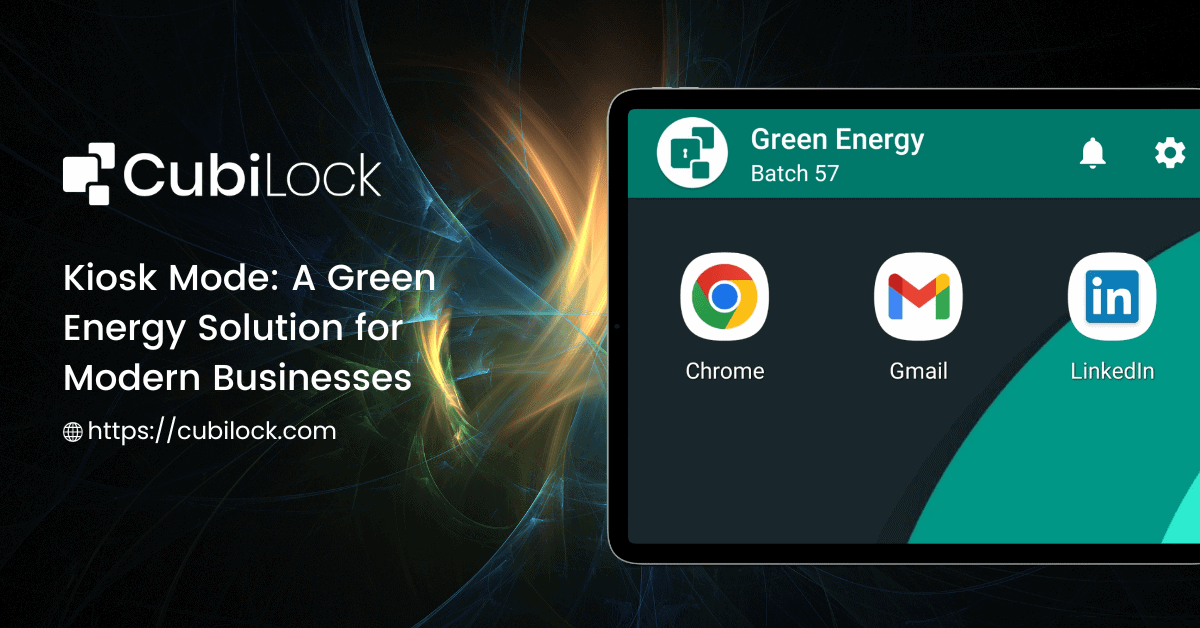 Kiosk mode brings several benefits for businesses, however, many businesses…