How to Prevent Employees/Staff from Uninstalling Android Apps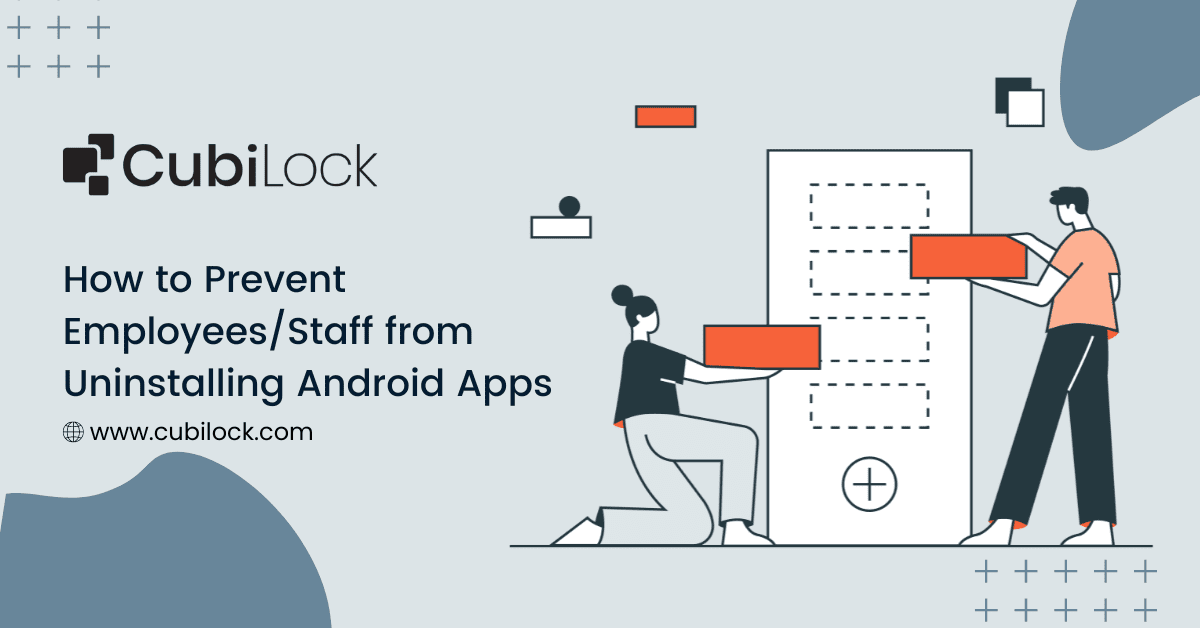 In the modern age where almost everything revolves around technology, it is not surprising to see business owners and CEOs investing in mobile devices as a part of their enterprise culture.
But as an IT admin, you are very much concerned about the security of the mobile applications and the business data it stores. That's why you try to keep tight control over the device and app usage across the organization by diligently checking on their maintenance and security. This also includes monitoring devices so that there are minimal chances to tamper with the data and apps without your attention. But with the ever-increasing deployment of mobile devices like laptops, smartphones, tablets, and rugged devices and the addition of mobility approaches such as BYOD, remote work, and hybrid work policies implemented by your organization, it has become exceedingly complicated for you to secure your device fleet.
It is important for organizations to keep track of all their mobile applications at all times or deleting one wrong application can cost you volumes of sensitive data in a matter of seconds. Not only can your apps be deleted unintentionally but the threat of virus attacks on apps causing them to automatically uninstall is always prevalent. So how do you avoid your company losing data and money when employees uninstall a crucial app which was required to run the workflow of their operation?
This can be accomplished by setting up Mobile Device Management (MDM) software that helps apply settings, restrictions, and policies on all mobile devices. The MDM software solution can assist a company address all aspects of security such as maintaining, administering, and monitoring the mobile devices and the applications that it houses.
CubiLock MDM software provides the best solution for business owners who are looking to automate their mobility management and improve their data security. It helps you keep a tight rein on enterprise applications and ensure that only the approved apps are allowed to be published or removed. Without IT authorization, end-users will have little to no autonomy over installing or uninstalling the apps on their devices. CubiLock' offers a simplified way to manage and control your Google Playstore apps as well as your in-house enterprise apps without the need for manually supervising and maintaining the apps. It allows IT admins to:
Remotely publish, update or remove apps from devices.
Set up company policies and enforce regulations on targeted and specific apps.
Schedule app rollouts outside of working hours to eliminate system downtime.
Remotely troubleshoot system errors and malfunctions.
Restrict employees from installing or uninstalling apps from their devices.
Provide access to specific apps and websites while blocking access to the rest.
CubiLock can prevent end users from installing apps that have not been approved by businesses (know more: kiosk mode for android). When app usage is monitored and controlled, there are fewer chances of the mobile devices that are intended for work purposes to be misused by your employees to surf the internet, stream videos, play video games, etc, and waste valuable time and resources. Along with that, installing unapproved and unsafe apps can put the data in your mobile devices in jeopardy with cybersecurity threats and potential data breach risks. There are high chances of apps misbehaving or deleting on their own when such attacks occur without the knowledge of your IT admins. For that, CubiLock allows IT admins to restrict end-users from installing or uninstalling apps and eliminate the risks of data loss completely. Here's how: 
Steps To Prevent Employees from Uninstalling Android Apps
Method 1:
From the CubiLock console:
Go to the menu. Navigate to Devices > Device Profiles.
Click on the three-dot menu next to the profile you want to update.
Tap on the Update Profile from the drop-down menu to open in edit mode.
Open Policies from the ribbon bar.
From Global Restrictions, scroll down to find the Disable Uninstallation Of Applications option.
Toggle on the Disable Uninstallation Of Applications button. This will restrict end-users from uninstalling any application on the device without the authorization of the IT admin.
Click on Save and Confirm to save your changes.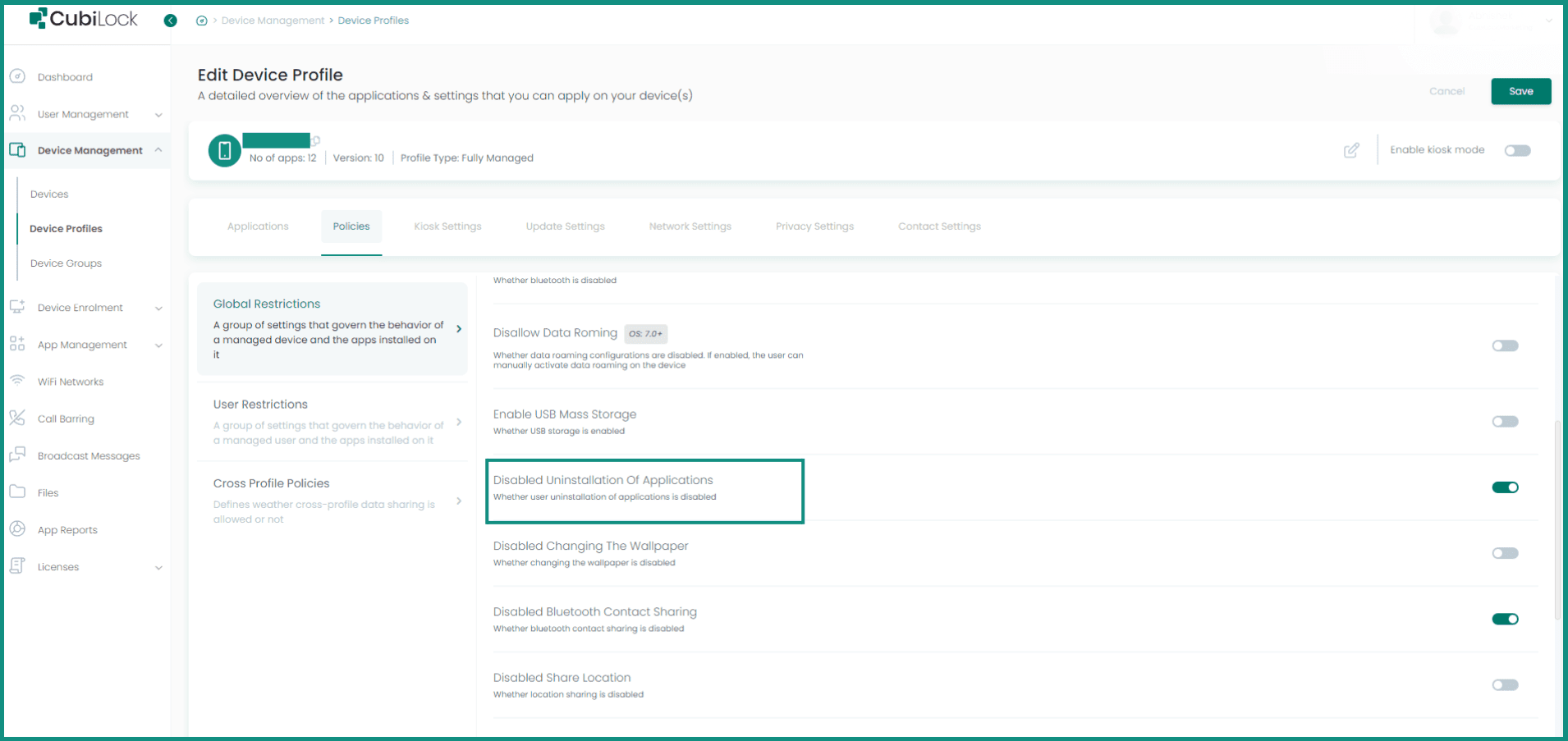 Method 2:
From the CubiLock console:
Open Policies from the ribbon bar.
From User Restrictions, scroll down to find the Disallow Installation Of Applications option.
Toggle on Disallow Installation Of Applications button. This will disallow applications other than the ones configured in applications that are blocked from being installed.
Click on Save and Confirm to save your changes.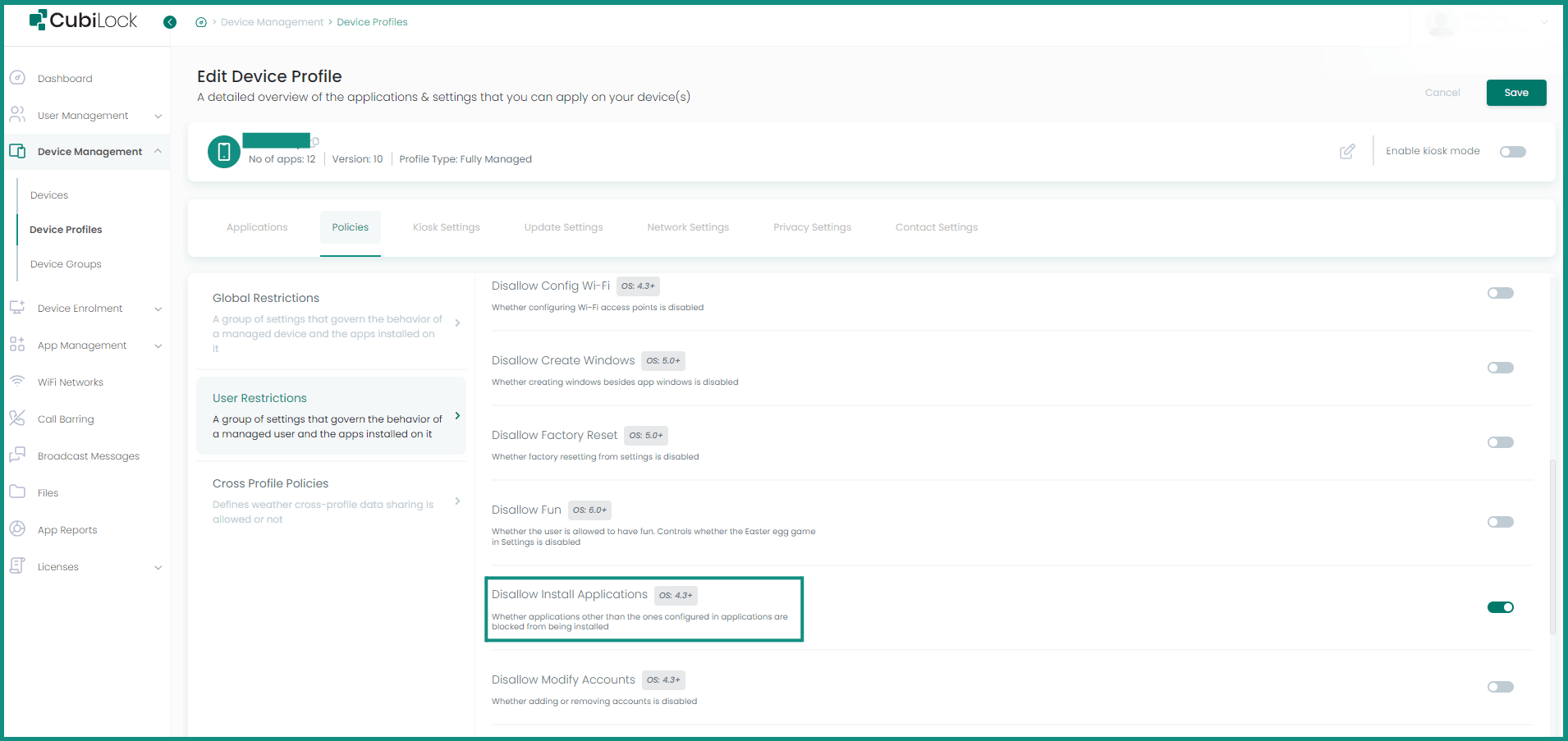 Many employers are likely to overlook the importance of managing resources on their corporate-issued or employee-owned mobile devices. This has also led businesses to face an uphill challenge to combat the threats from hacks, thefts, viruses, and data leaks. Without proper device management, employers can risk losing control, facing monetary loss and privacy issues, and a decline in productivity among their employees which consequently loses them business opportunities.
Mobile device management solutions are a great way to centralize the operations of your business and ensure the security of your data and devices. You can automate mundane and cumbersome tasks of managing and monitoring applications and ensure a simplified and easy IT experience for your employees as well as your IT teams, leaving no room for errors or accidents.
Also read How to enable android single app mode

Device Security Analyst, loves testing devices that are used for dedicated purposes.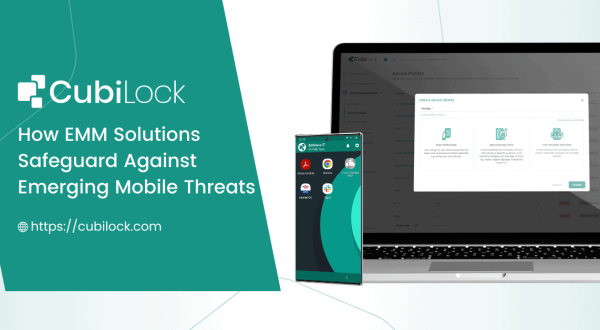 Explore how Enterprise Mobility Management solutions act as defenders against…