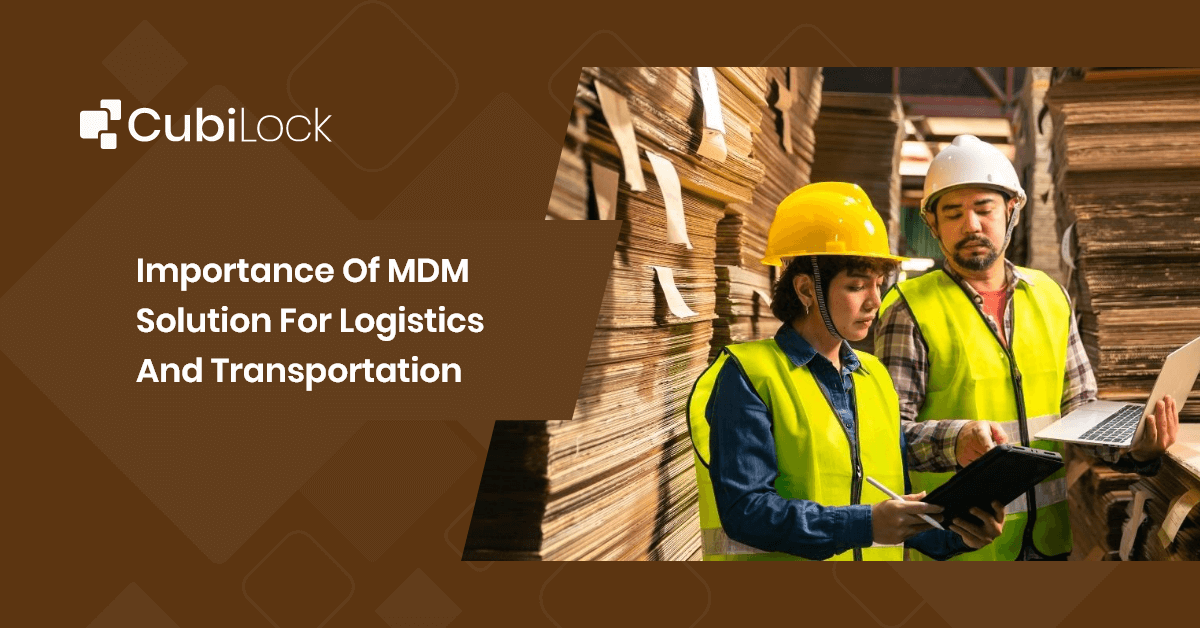 The transportation and logistics (T&L) industry in an essence, is the continuous management of goods moving from one place to another in the most viable, cost-effective, and efficient way. The technological uprising of using mobile devices has reformed every industry in one way or the other and the logistics and transportation industry is no exception to that. After the Covid-19 crisis, it has become a necessity for any logistics and transportation business to increase their dependency on mobile phones such as smartphones, laptops, tablets, and PCs to survive in the market. Along with that, outdated technology is no longer compatible with the ongoing globalization themes of the twenty-first century. To ensure timely supply of goods and services, the T&L businesses employ a large number of staff and vehicles that are mainly on the go, spending hours away from the conventional office. Without proper geo-tracking and open communication network, there mainly arises the issues of fragmentation that disrupts the chain of communication between parties involved. The T&L industry requires a massive number of mobile devices with specific features and functionalities to constantly monitor the field team, provide customer satisfaction and keep the entire supply chain connected which cannot be achieved without the proper management of these devices. It is therefore crucial for the T&L companies to adopt the latest technology of Mobile Device Management (MDM) logistics to leverage remote technology to its maximum capabilities by mitigating the risks of cybersecurity, data loss, device downtime, overworked IT teams and misusing the devices strictly intended for work-purposes.
In this article, we will discuss what is MDM for logistics and its emerging importance for the transportation and logistics industry.
CubiLock is a cloud-based Android Mobile Device Management (MDM) logistics tool that helps businesses manage, monitor, control, track and secure their mobile devices that are connected to one extensive network. It is the underlying technology of Enterprise Mobility Management (EMM) that remotely controls and manages the entire mobile device lifecycle through a unified console. The perceived disadvantages of integrating digital gadgets in the workplace are addressed by CubiLock MDM software with key features such as:
Quick enrollment of devices
Password policy enforcement
Device settings configuration (Wi-Fi, Bluetooth, unknown networks, speakers, etc)
Whitelist/blacklist apps and websites
Work Profile Management that supports BYOD (Bring Your Own Device)
Custom Branding( with company logo, wallpaper, custom messages)
Importance Of CubiLock For The Transportation And Logistics Industry:
Geo-tracking of fleet
CubiLock makes it easy to keep track of thousands of mobile devices logistics with geofencing that uses the global positioning system (GPS) to ensure that couriers and deliveries are never delayed. Tracking the vehicles on the move in real-time not only detects the whereabouts of the shipment but also informs drivers and front-line workers of the best route, moving speed, and status of their vehicle. This helps them gain some control in an otherwise unsupervised environment. The chances of mistakes, time wastage, and damage of goods during transport and delivery are completely avoided with CubiLock's reliable device management solution that gives businesses increased device visibility to better serve the consumers and tackle any problems encountered in route by the field team.
Lockdown devices in Android kiosk mode
CubiLock comes with a powerful Android kiosk mode feature that limits the use of enrolled mobile devices to a specific list of apps and websites only; while blocking out the rest of the non-work-related apps and websites. It avoids the tendency of unsafe browsing among employees and lowers the risk of distractions during work hours.CubiLock streamlines tasks and goals for on-field as well as off-field workers so that they can dedicate their focus on apps pertaining to their work which in turn boosts productivity and engagement of employees at work. Locking down devices in kiosk mode restricts employees from visiting unsafe and untrusted websites which saves the business the cost of data and Wi-Fi overages, reduces the IT issues caused by mishandling or misusing the device and also provides security of sensitive corporate data from cyber-attacks, viruses, or theft which can cause hefty losses for the business.
Kiosk Mode is incredibly useful for unattended or self-service devices often used in the transportation and logistics industry so the device can only be used for its intended purpose. It offers a single app or multi-app kiosk mode, policy configuration, updates, and custom device settings which refines the end-user experience and also helps drivers and workers with little technological knowledge to use the devices safely and with ease.
Remote troubleshooting and maintenance of devices
CubiLock takes over and automates repetitive IT work with their staged rollout of app installation, updates, policy configurations, and maintenance. This ensures the longevity of the MDM logistics lifecycle and minimizes technical issues by keeping apps up-to-date and consistent across all departments.IT admins can push the installation of in-house apps from anywhere in the world. Also, the remote support features in CubiLock allow your IT team to troubleshoot the problematic device from anywhere in the world and at any time. This way an IT admin doesn't have to manually fix the device, which saves massive time and costs. The reduced downtime and increased efficiency of devices deliver a smooth and stress-free working environment for the workers.
Analytics and insights
CubiLock MDM solution intuitively collects a huge volume of data while working with multiple mobile devices across various departments. Companies can gain insight into their device and employee performance, health status, app version, data usage, etc. Moreover, administrator activity logs give insights into the activities performed by the admin on the CubiLock dashboard. CubiLock helps to access this data and comprehend it analytically to provide useful real-time information to managers to improve their operations and identify the setbacks effectively.

In conclusion, a successful supply chain management requires an effective mobile device logistics solution that offers a robust set of features that supports your workers, drivers, vehicles, and cargo throughout the transport process — from shipping to pickup and delivery. CubiLock renders zero-trust security by leveraging Android Enterprise's full security stack that is comprehensive and multi-layer in nature. With CubiLock, your transportation and logistics business can capture vital information through real-time device visibility and open communication shared between operation centers and drivers which can be analyzed and accessed to advance and grow your supply chain management system.

Apart from being a true sushi enthusiast, Sadichha (Aka SSH) is a content writer and blogger at CubiLock. She is passionate to enchant everything boring and nitty gritty about technology through her writings for her readers to enjoy and learn from at the same time. When she is not at her desk crafting content, you can catch her occupied with her cat.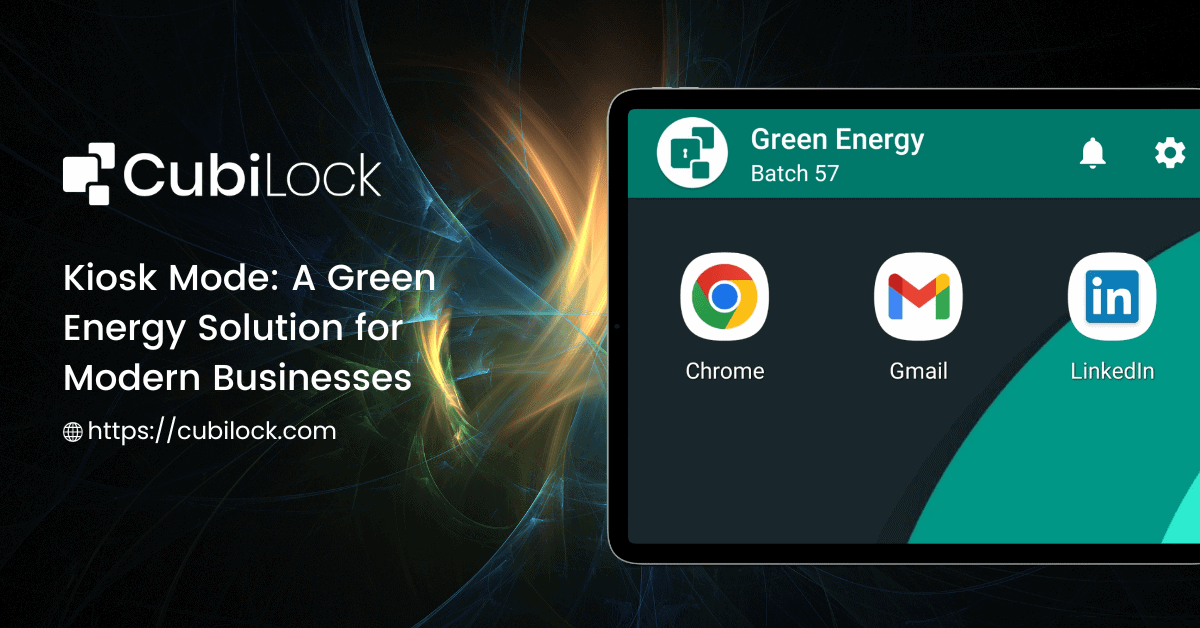 Kiosk mode brings several benefits for businesses, however, many businesses…