Browsers are graphical user interface that acts as a portal to access the internet. Every aspect of our life today is intricately bound with the internet, whether it is to mindlessly surf the web or to garner information about everything and anything around us. A day doesn't pass by without using the internet that runs on web browsers such as Google Chrome, Apple Safari, Mozilla Firefox, etc. These browsers are the access point to the endless world of the internet and are used for a wide array of things. Astronomical amounts of sensitive information, from passwords to personal details are accessed and shared daily from web browsers, yet a lot of businesses and organizations operate on weak browser security, making them vulnerable to cyber-attacks and security threats.
Cyber attacks on all businesses, but particularly small to medium-sized businesses, are becoming more frequent and targeted. According to Accenture's Cost of Cybercrime Study, 43% of cyber attacks are aimed at small businesses, but only 14% are prepared to defend themselves.
The rise in cybercrimes and security issues has pushed businesses to re-evaluate their strategies and methods to enforce secure browsing at the workplace to tackle the issues from the root.
Secure Browsing Practices to Eliminate Cybersecurity Crisis
Cyberattacks and security breaches have a huge impact on a business regardless of its size or type. Besides tremendous financial loss, the business incurs a loss of customer loyalty and credibility. Customer acquisition and brand image recovery is a difficult process after such incidents, building back up and restoring the confidence that your customers have lost in your business is no walk in the park. Apart from the expense of data loss, amount robbed by attackers, and loss in sales, the expense of recovering the damaged and breached system is the main herculean task. Failing to protect organizational data and customer data collected by the company, as mandated by the cybersecurity laws of the government further results in regulatory fines and sanctions.
Web browsers are the most targeted entry points for cyberattacks such as malware, viruses, hackers, and phishing to name a few. When these browsers run on multiple devices and assist employees in the everyday operations of businesses, it is crucial to prioritize secure browsing and take corrective measures for employees' poor internet habits. Now let's dive into some effective measures that businesses can adopt to secure web browsing against sophisticated and complex cyberthreats and data breaches.
The foundational step to secure your corporate browsing experience is to keep your browser updated. Each update finds bugs and vulnerabilities in the browsing site itself and tackles them as soon as it is detected. It sometimes also provides added features that enforce more protection for the experience.
However, the pitfall is the inability of businesses to manually update each and every browsing app as frequently as possible, keeping it up-to-date at all times.
Yes, your business can use VPN software to mask the user's IP address. The VPN servers make your online presence and online activities untraceable. It is important to invest in a trusted VPN as the VPN server still has access to your data and activities. But the main issue lies in configuring the VPN settings in each and every corporate device which can be a cumbersome job that wastes productive work hours.
Using a firewall guard protects your business network against the rest of the unknown and unauthorized external networks. Most computers such as Windows, Linux, and Mac have built-in firewalls. It works as a security structure that filters incoming and outgoing web traffic and only allows access to secure networks.
Website Whitelisting and Blacklisting
A mobile device management (MDM) solution is a management or security technology that enables businesses to manage, secure and control all corporate mobile devices from a unified console.
CubiLock MDM remotely pushes browser updates, configures VPN settings, and enables firewall setup to all enrolled devices. It also allows IT admins to create separate profiles for different device configurations and their varying browser requirements.
Moreover, CubiLock provides robust lockdown android tablets where devices have limited access to websites that are strictly work-related. Website whitelisting allows IT admins to pre-select specific websites while blocking out all the rest of the unwanted websites that can be points of cybersecurity threats and data breaches. It can authorize only such apps and websites that are trusted which ensures devices are not misused or mishandled. 
Admins can also blacklist particular websites that are infamous for inflicting viruses and potential breaches. With blacklisting, the IT admins need to keep on updating the list of websites that are to be blacklisted frequently. Website whitelisting is more favorable and effective as it ensures no other website except the listed ones can be accessed by end-users.
To Whitelist Website From Your CubiLock Console :
Sign in to your CubiLock Portal
Head over to the PlayStore Apps page, under Application Management
Select Public Apps from the iframe
Search for the Chrome application and select it.
Approve the app from its listing by clicking on the Select button
Click on Add button to load the app into Enterprise Apps
In the Applications tab of your Profile, click on Configurations next to the Chrome app
You can Whitelist and even Blacklist websites by adding URLs in this format: ["blacklist1.com","blacklist2.org","anothersite.net"]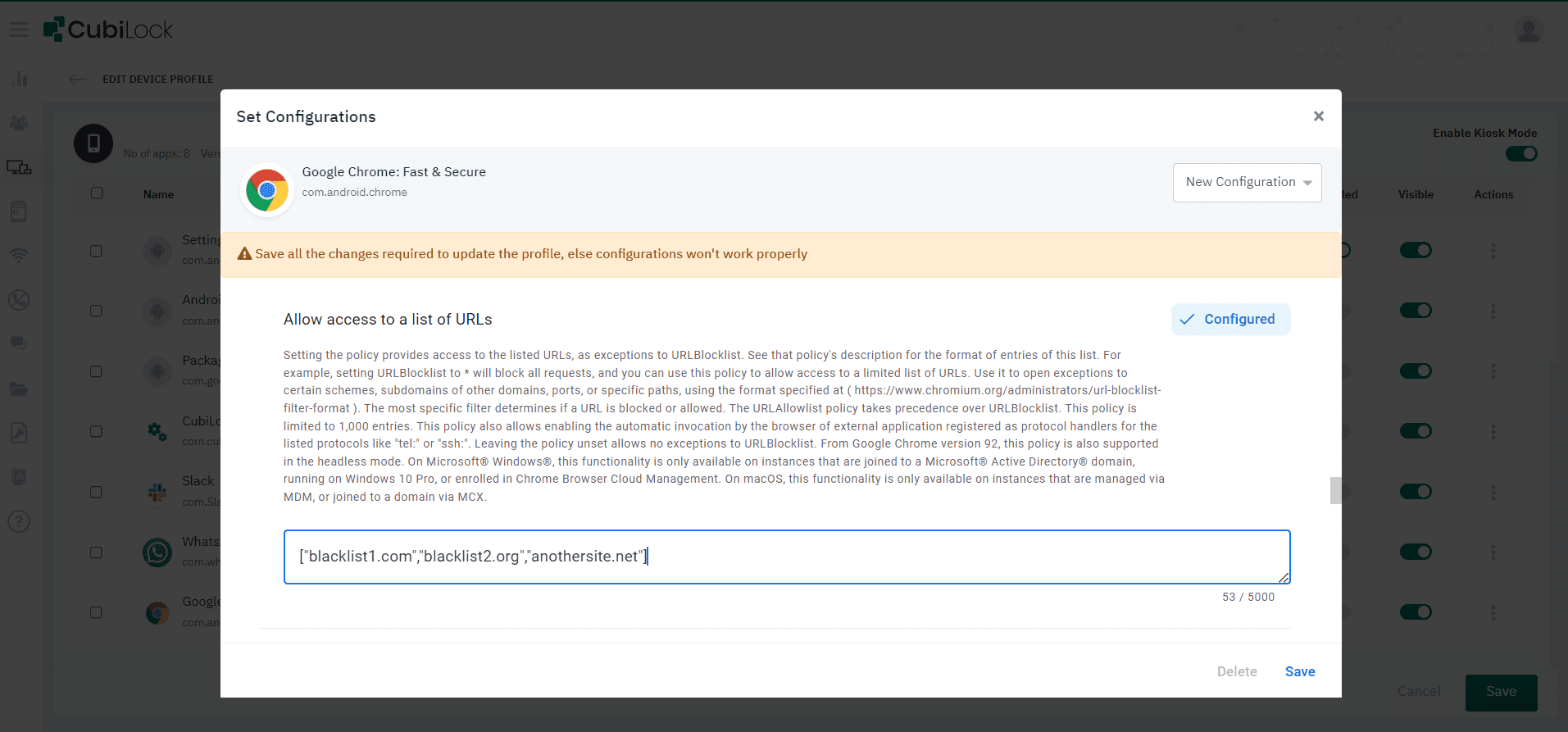 When businesses implement good security practices such as the use of HTTPS, private browsers, or secure browser extensions and combine them with the agile features of MDM solution, it builds extensive security for businesses to protect their organizational and customer data. Enforce business security configuration, automate updates, and control device security from the cloud to ensure a secure browsing environment that promotes profitability, productivity, and performance.

Apart from being a true sushi enthusiast, Sadichha (Aka SSH) is a content writer and blogger at CubiLock. She is passionate to enchant everything boring and nitty gritty about technology through her writings for her readers to enjoy and learn from at the same time. When she is not at her desk crafting content, you can catch her occupied with her cat.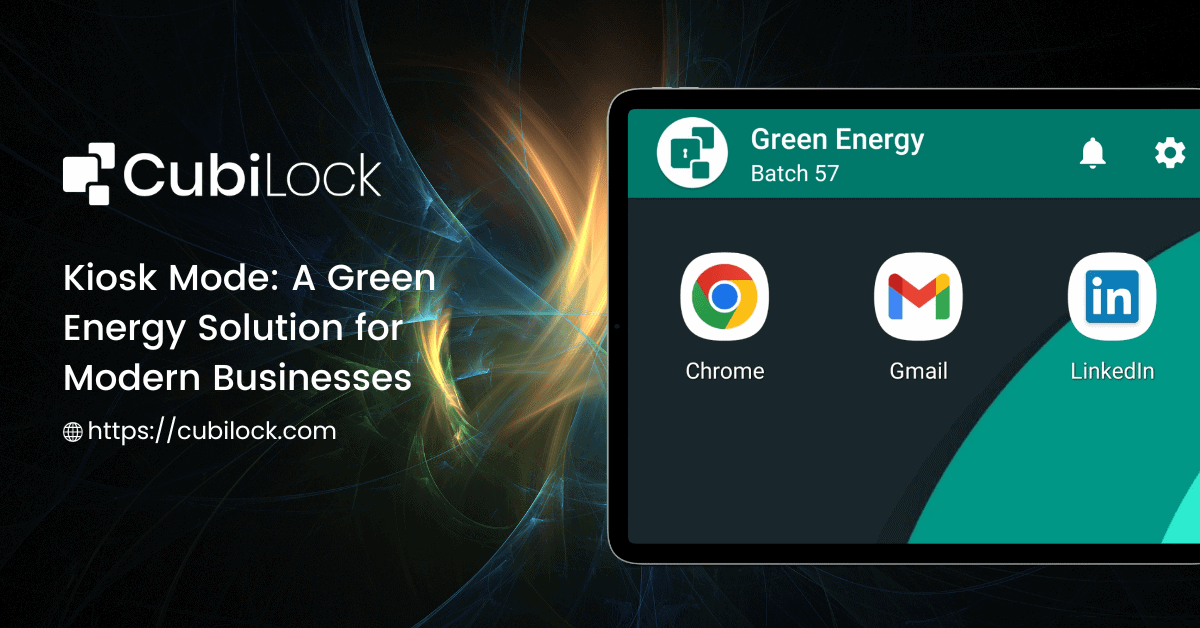 Kiosk mode brings several benefits for businesses, however, many businesses…