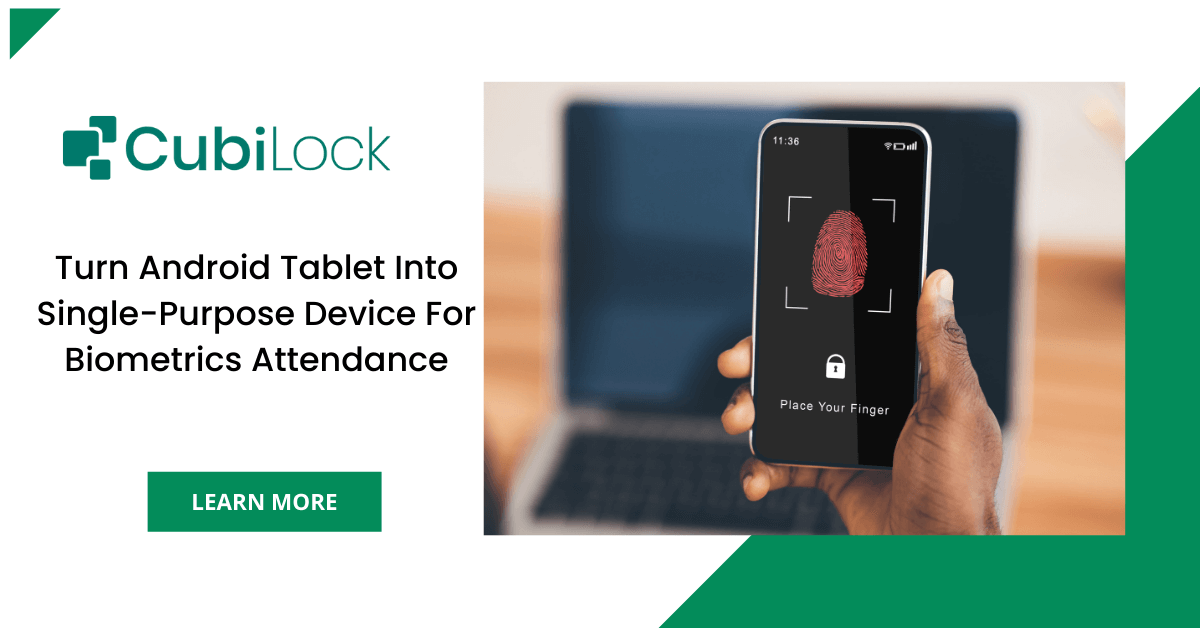 Ownership of desktop computers is decreasing with the surge in the use of handheld technology. Among the plethora of handheld devices used today, tablets stand out the most.
According to Maximize Market Research's industry report, the tablet market size reached $39.81 billion in 2020 where Android led the way with a 44.91 percent market share.1 Android tablets today are designed with powerful technology which is reshaping the future of computing and digitalization.
So what does this mean for businesses?
Tablets are growing in prominence in the business landscape for their diverse usability. From janitors to CEOs, these devices are used to support all types of job roles and business operations today. Biometrics is one such device technology recently being heavily picked up by businesses in various fields and across different verticals to support remote work culture and device management. Biometrics attendance scans and verifies the biological characteristics of humans, such as iris recognition, retina recognition, face recognition, and fingerprint recognition to name a few. It is popularly used to accurately measure the log-in and log-off times of an employee, providing authorities with clarified data to track entry/exit.
Besides being a boon for tracking remote and on-field workers, the biometrics attendance system allows no room for ghost punching which is a prevalent issue in many corporate offices. It doesn't work like a corporate card that can be lost and requires frequent replacement, with easy fingerprint scans or retina scans there is one less thing to worry about at the workplace. It provides accurate data which is easily accessible at all times for businesses to generate reports and gain insights. The attendance information acquired from the biometrics allows employers to make fair payments to their employees, this increases worker productivity and also saves unwanted payroll costs for the company. The system enforces discipline in employees regarding work breaks and absenteeism which creates an effective and motivated business environment. The accountability factor plays a huge role to diminish the loopholes and issues of an outdated manual attendance system for forward-thinking businesses.
In this blog, we will discuss how your existing Android devices can be turned into a biometric attendance system without the need for additional investments or hardware deployments. Your simple answer to turning your Android tablets into a single-purpose device like a biometrics attendance device is an MDM solution.
MDM or mobile device management solution is device management or security technology that enables IT admins to manage, monitor, control, and track all enrolled devices. CubiLock device management solution is a type of MDM technology that allows IT admins to convert your enrolled devices into a single-purpose device from a unified console. Businesses deploy multiple devices to support varying job roles and automate varying operations. With CubiLock Android kiosk mode, your generic Android tablet can be locked to a single app such as the biometrics system with a few clicks over the air. It remotely configures single app kiosk mode on an Android tablet and automatically pushes the particular app onto the device. Then, the device enables that particular application while disabling all other device features and functionalities every time the device reboots. Simple as that. 
Leverage Tablet-Based Biometric Attendance System With CubiLock:
Sign in to your CubiLock Portal.
Create/edit device profile.
Select the biometrics app and choose "kiosk" as Install Type.
Save the settings.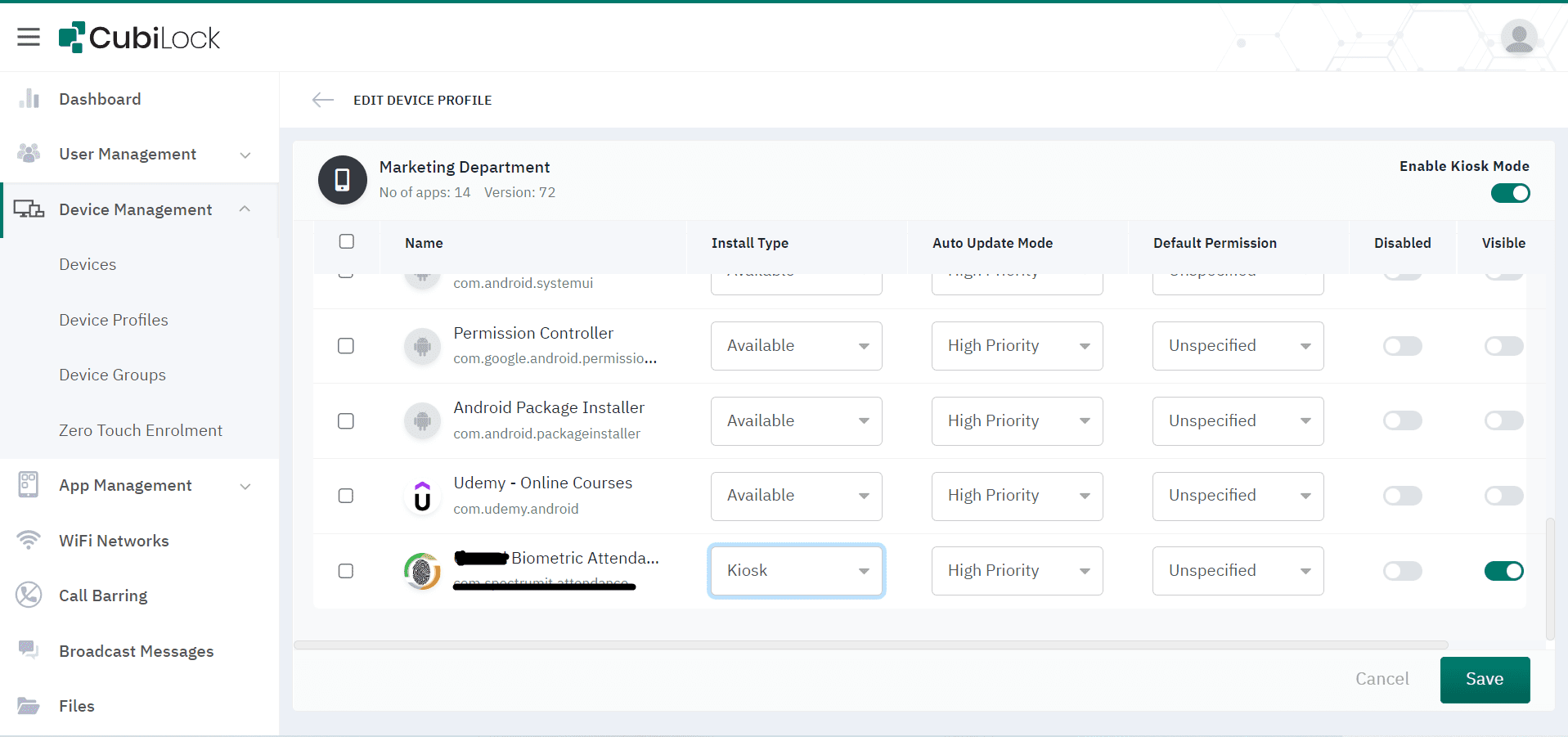 Significance of Using Biometric Attendance App in Kiosk Mode
Accuracy and Insight
An automated biometric system eliminates the chances of human error or fraud tendencies that is widespread in manual attendance system. It collects accurate attendance information which gives businesses in-depth clarity and insight into employee performance and regularity. The payroll is also accurate if the attendance data is up-to-date and tracked automatically.
Especially for remote work environments, there will be a fair system for hard-working employees to be paid as deserved boosting employee morale and establishing accountability. Employee's sick leaves, half-days, overtime, and absence and is easily accessed which helps authorities deduce fair payroll. CubiLock dashboard makes the data collected easily accessible and makes analysis of these reports a lot more streamlined.
Increased Productivity
Manually collecting attendance is a cumbersome and time-demanding task, other methods such as electronic id-cards require additional hardware investments, making the process even more complex for the employees and employer all the same.
The biometric attendance system tracks the exact time of employees. It can also calculate break hours and holidays. This ensures employees use their work hours to maximum capacity. Staff that is allocated for supervising employee activities and attendance can be freed up for more productive and engaging tasks. Moreover, CubiLock kiosk mode locks the devices and restricts access to any other apps and websites which relieves employers from the stress of device mishandling and misuse, ensuring devices are strictly used for a predetermined purpose.
Geo-Location
CubiLock not only transforms typical Android devices into a biometric attendance system and tracks your employee's whereabouts but it also tracks your tablets from the CubiLock dashboard with its geofence technology. The devices are secured from theft and loss as alerts are sent to IT admins when the device leaves certain geolocation, for instance, the office premises.
Also read: What Is Geofencing? Why It's an Essential Feature for Businesses?
This makes the tablet biometric system more favorable than any other hardware attendance system that is more expensive and doesn't support these features.
Data Security
The issue of managing all your biometric tablets and ensuring the data collected through them is secured is easily resolved with CubiLock. CubiLock has a user-friendly dashboard where 100+ device settings can be controlled. The employee data is secured in the devices throughout their device lifecycle which gives employees the confidence to share fingerprint scans and retina scans with the company. Replacing manual attendance with the latest biometric technology gives a premium feel and professional interface to the employees, making their jobs easier without compromising the security of their personal data and information.
Technology is no doubt a big part of our lives, incorporating it into your business is definitely a smart choice that will pay off in the long haul. Biometrics attendance is a step toward your digitalization goal and using the right device management solution will help achieve it in no time. CubiLock, however, is not limited to turning mobile devices into biometrics attendance systems. You can lock down your enrolled devices in any single application, according to the changing needs of your business. It is easy to turn your devices into a dedicated kiosk with our Single App Kiosk Mode feature. With CubiLock, Android tablets can be utilized in dynamic ways, turning them into dedicated device or a kiosk that fits your unique business requirements.

Apart from being a true sushi enthusiast, Sadichha (Aka SSH) is a content writer and blogger at CubiLock. She is passionate to enchant everything boring and nitty gritty about technology through her writings for her readers to enjoy and learn from at the same time. When she is not at her desk crafting content, you can catch her occupied with her cat.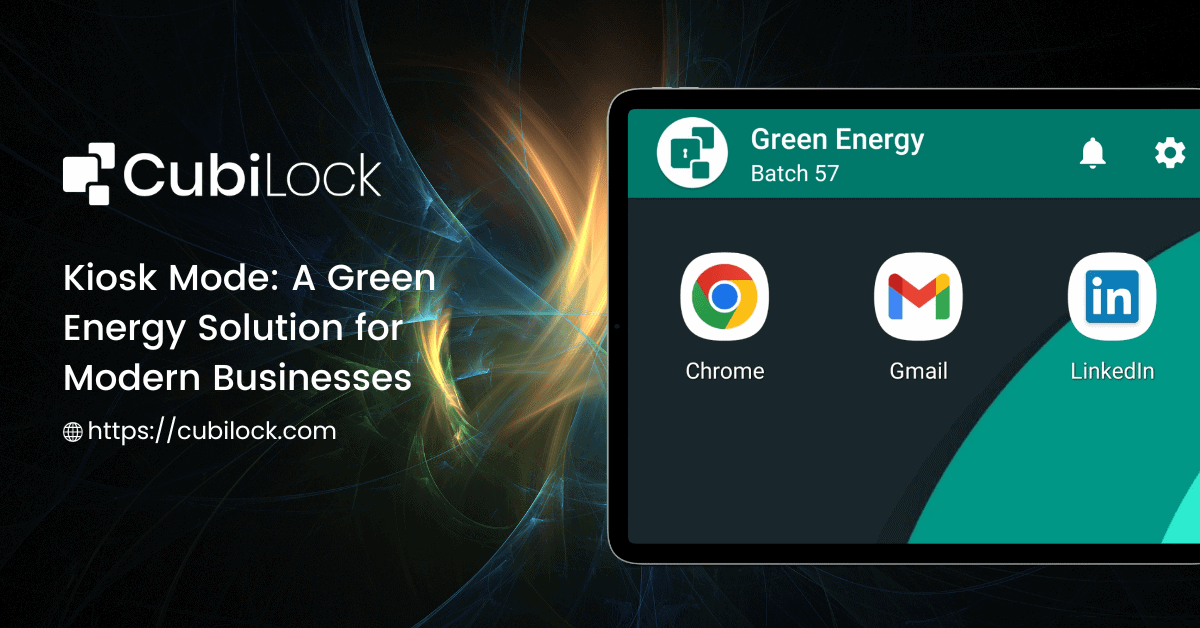 Kiosk mode brings several benefits for businesses, however, many businesses…