Kiosk Lockdown Software: How to Implement and Its Use Cases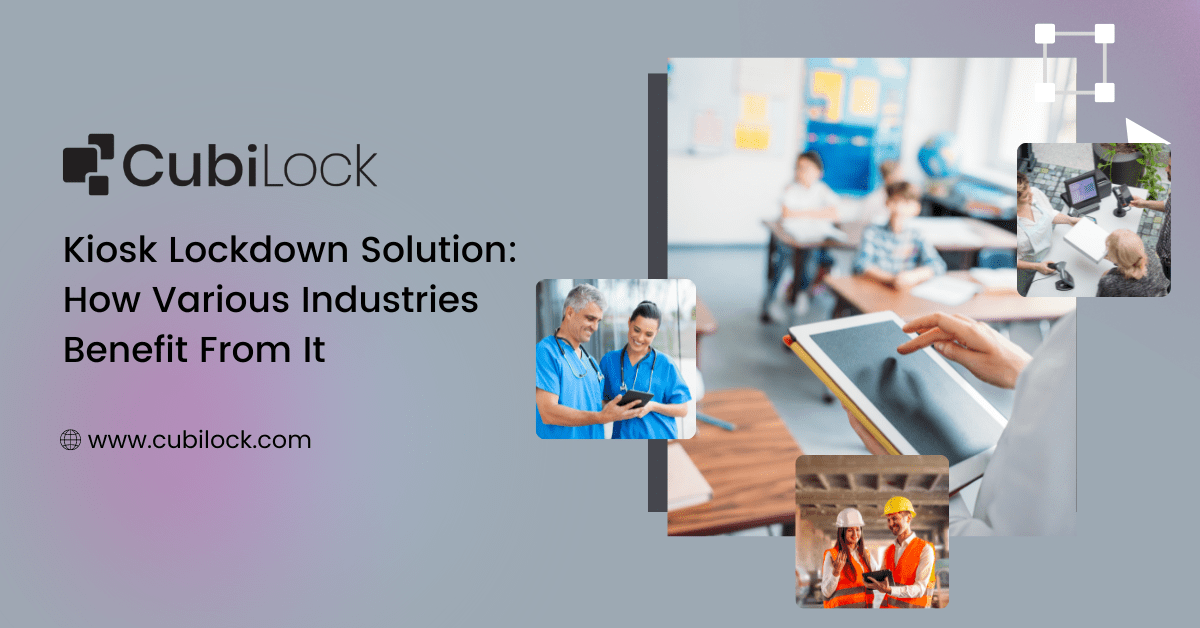 The modern business landscape is a competitive place. Businesses today are constantly looking to leverage the latest technologies such as smartphones, tablets, and laptops as their consumers grow tech-centric. Furnishing mobile devices has become standard in almost every industry that you can think of today. But digitalization alone does not equate to businesses turning highly profitable and productive overnight and this is where kiosk lockdown software comes into the picture.
Mobile devices come along with their own set of challenges that businesses need to be vigilant about or else in no time it is quick to rob you and your employees of the very thing it promises: improved operational efficiency and maximizing productivity
When it comes to boosting a business's productivity and securing its data, nothing is quite as effective as a kiosk lockdown mode. Kiosk lockdown software have been used for years in airports, train stations, and other public spaces where people gather. Now, companies are using them to turn mobile devices into self-contained android kiosk lockdown for employees to enhance their workflows and for customers to improve their experience with mobile kiosk lockdown solutions.
What is Kiosk Lockdown Software?
The mobile kiosk lockdown software allows you to customize your mobile device for work by restricting access to specific apps and websites so that only the necessary applications and websites are approved on the device. It allows you to turn your generic mobile devices into dedicated devices that only launch the specific app or set of apps and do not leave room for other unwanted apps (like messaging) to open on the screen. You can also make the settings more strict so that only approved apps launch whenever you reboot the device and you don't have to worry about people accessing something unwanted, inappropriate, or illegal through your device.
The result is improved device usability throughout the lifecycle of the device. When you use kiosk lockdown mode, your productivity increases because users get focused on their tasks without being distracted by other applications reeling their attention or being available on their screens all day long.
The kiosk lockdown software is a must-have for any industry or enterprise that has adopted enterprise mobility in its business approach. CubiLock Android kiosk mode ensures device management and control via means of turning them into dedicated devices. It allows IT admins to configure kiosk management software policies and remotely push predetermined apps and websites onto the devices from a unified console, eliminating the issue of distractions and unsafe device use by end-users.  With CubiLock's simplified approach, lifting the risks involved when integrating mobile devices by enabling the lockdown software of their android tablets is a minimal hassle for any business working in any industry. And here's how:

How to Implement Kiosk Lockdown on Android Devices:
Sign in to your CubiLock Portal.
Create/edit device profile.
Toggle to enforce device lockdown mode as shown in the screenshot below.
You can even select the type of installation for each application.
Apply settings on all devices enrolled in the profile.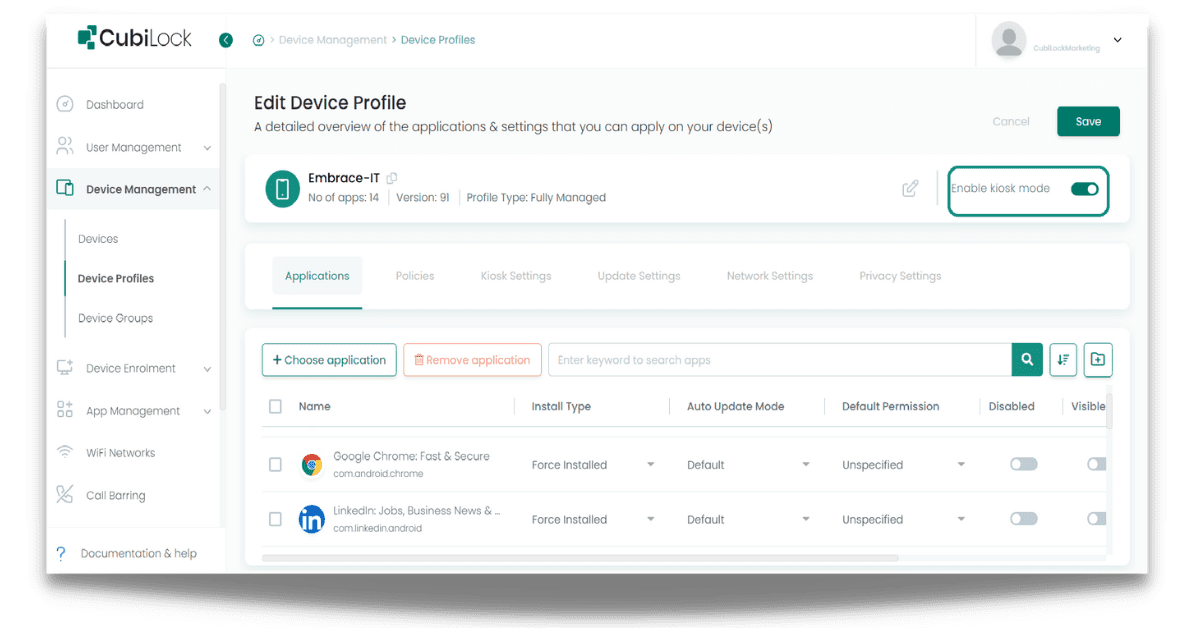 Benefits Of CubiLock Android Kiosk Lockdown Software:
Single App and Multi App Mode
It offers Android single-app mode and multi-app kiosk lockdown mode. You can upload multiple apps and functions or stick to one single app that auto-launches to the specified app or website every time the device reboots.
App Management
It strictly enables only work-related applications and websites, that are either Google Play Store apps or In-house apps that support specific business operations, decreasing the probability of misuse.
Enhance Productivity
It boosts the productivity of employees by streamlining their work processes and also improves the performance levels of devices.
Whitelist/Blacklist Websites
It backlist or whitelist websites and domains according to the primary needs of the business. This is crucial for remotely working employees to not be swayed by distractive mediums in the device.
Device Security
It protects the corporate network from compromising its data and cyber security protocols.
Peripheral Control
It allows peripheral device restrictions (WiFi, Bluetooth, speakers, etc) and device settings restrictions (hardware buttons, notifications, volume adjustments, etc) according to the business's needs and policies.
Cost Effective
It mainly cuts additional costs of data, Wi-Fi, device maintenance and management, and resources and saves the business from the extra effort, time, and investments that can now be directed towards more profitable pursuits.
Also read: Lockdown Android tablet for business purpose
Industry-Wise Benefits Of CubiLock Andriod Kiosk Lockdown Software
Education
Students can engage in interactive and immersive learning experiences in classrooms that offer tablets and smartphones in kiosk management software, without any issues of attention deficit.
Students are shielded from unhealthy internet habits and exposure to potentially harmful hackers, online content, websites, and apps.
A single-app biometric system can be locked down in smartphones and tablets to track and keep a record of students' attendance.
WiFi, Bluetooth connection, and physical hardware devices can be locked down to avoid misuse of devices on school premises.
Libraries, labs, IT departments, and exam centers can lock devices in a single app or multi apps that cater to the specific operational needs of the department.
Healthcare
Regular smartphones and tablets can be converted into medical devices that track patients' medical histories, current reports, and prescriptions all in one place.
The registration, verification, and discharge process can be swift and instant for patients as they're entering or exiting the facility.
The hassle of paperwork is completely eliminated with virtual files and document transfer.
Healthcare apps, virtual consultations, test results, and appointment bookings can be made available for patients digitally, simplifying medical procedures while disabling them from tampering with the intended use of the device and its default settings.
Logistics
Kiosk lockdown mode provides control of device usage, eliminating visibility issues with on-field workers in the supply chain.
Warehouses can turn tablets and smartphones into barcode readers, effectively manage inventory, and keep track of existing stock.
Drivers and delivery executives can be given dedicated devices that are limited to specific functions, reducing accidental meddling with the devices.
Remote management of smartphones, tablets, laptops, and rugged devices decreases manual errors and improves customer experience.
Kiosk lockdown software can be used to monitor vehicle health, schedule device maintenance on the go, and retrieve data and reports. 
Important customer information and personal data can be secured from chances of potential network vulnerabilities, cybersecurity threats, and data breaches.
In an industry where multi-tasking is required, employees are provided with a streamlined process and a much easier interface with a mobile device that performs only targeted actions.
Retail
Android smartphones and tablet kiosk software can be used for advertisements, catalogs, and displaying product information as opposed to investing in traditional mobile kiosk lockdown solution that are more rigid and expensive in nature.
mPOS (Mobile Point Of Sale) can make check-out, payment, and billing processes much quicker, simpler and faster.
Smartphones and tablets for inventory management, customer care service and customer information can help improve the operational efficiency and customer retention of the store.
Long queues at the billing counter, and waiting around to get help from on-floor staff can be completely avoided with mobile devices that are at your customer's service at all times.
Corporate-issued devices or BYOD (Bring Your Own Device) culture can be implemented for staff use, without any concern for data loss or theft from these devices.
Restaurants
Customers can use smartphones and tablets for placing orders and making payments.
Customers can customize their order placements easily through user-friendly apps and air menus.
Tech-friendly restaurants meet the demands of modern-day customers, providing them with a quick and refined service that creates a sophisticated experience for consumers.
By confining the devices to their dedicated functions, when it comes to simplifying payment transmission, self-order placements, and digital customization of orders, these restaurants reduce the chance of manual errors and even security issues.
In A Nutshell,
The benefits of adopting digital and mobile in the workplace are frequently eclipsed by the risk of mobile phones and tablets being used as distracting mediums at the job. Employees when granted unsupervised autonomy to use these devices can jeopardize their performance and productivity abilities at work. The primary purpose for enabling devices in kiosk lockdown mode is to be aware of these potential negatives and to combat them with an efficient mobile device control solution such as CubiLock. If you want to get more control over your corporate devices, no matter the industry, Android kiosk lockdown mode is your appropriate answer.
Frequently asked questions
What is lockdown kiosk mode?
A lockdown kiosk mode is a security feature used in smartphones and other digital devices. Its primary purpose is to restrict access to a single application or a set of pre-approved applications. It is widely used to limit user access at retail stores, restaurants, public places, and airports.
What is kiosk management software?
Kiosk management software is used to manage the functionality of interactive kiosks in public spaces and businesses. It allows IT admins to remotely monitor kiosk status, manage content deployment, and control settings. This software optimizes operations, ensuring a seamless user experience while maintaining security and efficiency. With centralized access to real-time data and remote troubleshooting, kiosk management software provides reliable and user-friendly self-service solutions.
What is the purpose of kiosk system?
The purpose of a kiosk system is to provide a self-service option that improves customer experience and manages operations in various settings. Kiosks act as interactive hubs where users can access information, perform transactions, and complete tasks independently. They reduce wait times, improve service efficiency, and increase customer satisfaction. Kiosk systems can be used in retail, hospitality, healthcare, and transportation.
How does kiosk lockdown software work?
Kiosk lockdown software operates by restricting access to a single application or a predetermined set of applications on a kiosk device, effectively creating a controlled and secure environment. The software locks down the device's operating system and prevents users from accessing unauthorized data or system settings. Administrators can customize the user interface, allowing only required applications to be accessible to users.

Apart from being a true sushi enthusiast, Sadichha (Aka SSH) is a content writer and blogger at CubiLock. She is passionate to enchant everything boring and nitty gritty about technology through her writings for her readers to enjoy and learn from at the same time. When she is not at her desk crafting content, you can catch her occupied with her cat.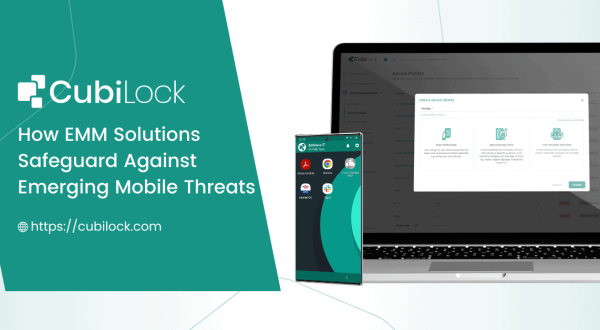 Explore how Enterprise Mobility Management solutions act as defenders against…