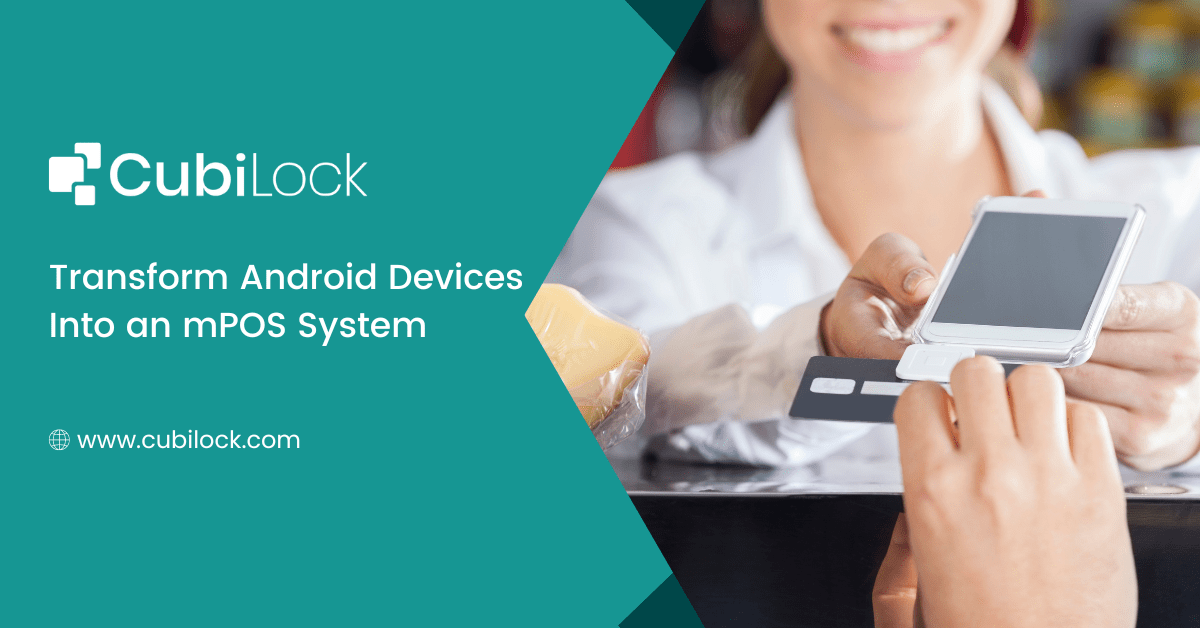 If you are reading this blog, you are most likely reading this from your smartphone or tablet or you definitely have one lying around you. Are you aware that this device is now capable of replacing your traditional POS terminals and cash payment methods? Standing in a long queue, fumbling around to pay at the cash registers, or writing elaborate cheques are old-fashioned ways of doing things that are no longer preferred by digitalized consumers that want everything quick and easy.
To cater to the rising demand for digitalization, businesses need to be forward-thinking and adopt newer ways of doing business to keep their customers happy. Deploying mPOS App is just a crucial step in that direction.
But deploying an Android mPOS does not need to be another headache of wasting valuable time, money, and effort. How do you ask? Well, let's begin from the top.
What is an mPOS?
A Mobile Point of Sale (mPOS) is a smartphone, tablet, or dedicated wireless device that performs the functions of a cash register or electronic point of sale terminal (POS). An mPOS App includes a POS app (or point of sale app) and an external card reader. The card reader communicates with the POS app over Bluetooth or Wi-Fi. The merchant swipes their customer's credit/debit card or taps it on the card reader to accept payment. The Android mPOS systems allow you to accept payments from customers anywhere you have cell coverage and can be accessed via any web browser.
How Does It Work?
An Android mPOS system includes a POS device with the app (or point of sale app) and an external card reader. The external card reader is a separate device that connects to the POS app via Bluetooth or Wi-Fi. It also has a battery that lasts for several hours, so you don't have to worry about charging it every few days.
The first thing you'll need is an Android smartphone with NFC support, which most devices from last year do not have anymore because they've been replaced by newer models with built-in NFC technology.
The card reader communicates with the POS app over Bluetooth or Wi-Fi. The merchant swipes their customer's credit/debit card or taps it on the card reader to accept payment.
When the payment processor receives an authorization request from the mPOS App provider, they route it to the issuing bank for a decision. This process usually takes less than 60 seconds and can be done in real-time using APIs provided by most banks.
After reviewing your application, banks will approve or decline your transaction based on its risk profile (e.g., high or low). If approved, funds are transferred from the client's account to your account within seconds as soon as approval is received from the issuing bank partner.
Turn your Android device into an mPOS with CubiLock
CubiLock MDM solution is a device management solution that helps businesses manage, control, and secure their fleet of mobile devices remotely from a centralized console. It facilitates Android single-app mode that allows you to use your devices for dedicated purposes.
Android Single App Kiosk Mode is a restrictive mechanism that allows IT admins to lockdown android devices to a single application. The device runs a single pre-determined application even when it reboots, which prevents end users from having access to unwanted applications and device settings.
With this solution, you can turn any Android device into an mPOS. No need to buy hardware or install any other third-party software. No need to change your current POS system or billing system. You just need an Android tablet enrolled with the CubiLock MDM solution, where you can push the mPOS app and restrict access to all other device functions.
This way, you can use any Android device to run an mobile point of sale. You can use a tablet, smartphone, or dedicated wireless device, and there are no heavy investments to worry about. Best of all, you don't need anything that isn't portable—you've already got everything you need in your pocket.
This means that no matter what type of Android phone or tablet you have, it can be used as your point-of-sale terminal. You'll never have to buy another Android POS system again—all the apps and data will be stored on your own private cloud, which gives you complete control over employee activity and inventory tracking in real-time. From the user-friendly dashboard, you can :
Restrict access to unapproved apps.
Blacklist/Whitelist websites.
Lock access to peripheral devices( Speakers, Bluetooth, WiFi, etc).
Block physical or hardware buttons ( power button, volume button, etc).
Block incoming/outgoing calls with Call Barring.
Locate devices in real-time with Geo-fence.
So, how exactly can you do this? Let's go over the steps to lock your Android devices into a single app and transform them into an mPOS:
From your CubiLock console,
Step 1: Sign Up and Enroll your Android Devices OR Sign In to your CubiLock Portal.
Step 2: Select Device Management > Create New Profile OR Select an existing Device Profile.
Step 3: Click on Edit > Applications.
Step 4: Navigate to + Choose Application.
Step 5: Select the application you need. For Eg: the mPOS application.
Step 6: Click on Install Type > Kiosk from the drop-down menu as shown in the screenshot below.
Step 7: Save to apply changes.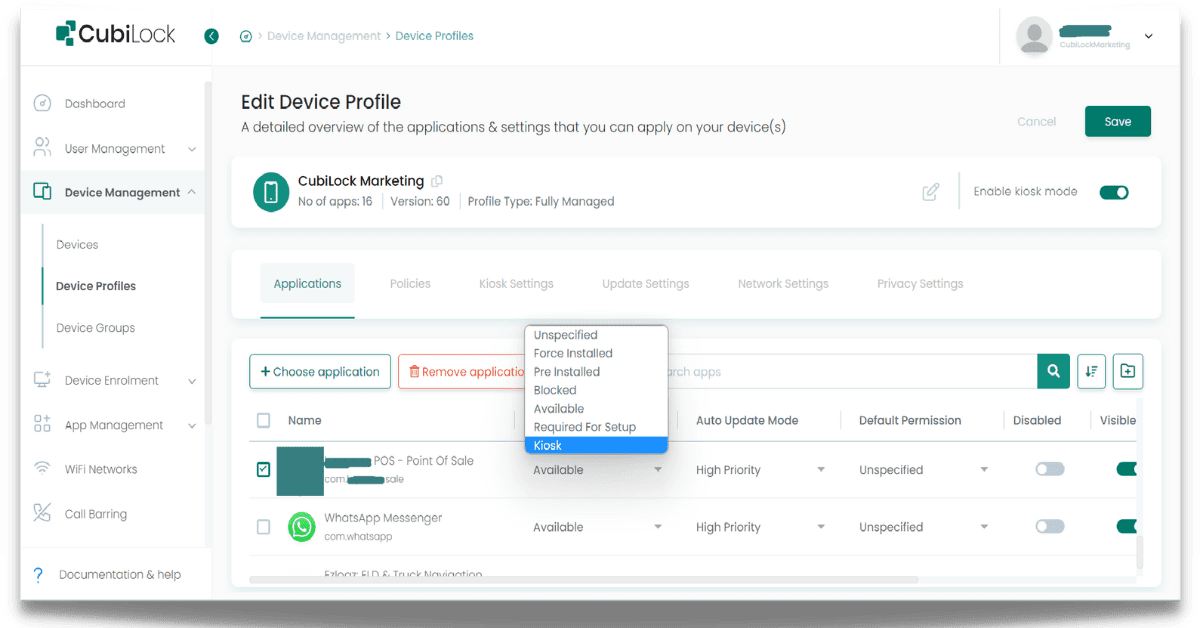 Conclusion
If you're looking for a way to increase your business, Android mPOS can help. It's an easy way to add valuable capabilities to any Android device and it can be done in minutes with minimal resources required. CubiLock MDM solution can turn your generic Android devices into an mPOS App that has everything you need to get started: a secure payment processor, inventory management system, reporting tools, and more. All of this technology is integrated into one convenient solution so that you don't have to worry about configuring anything or installing apps on each individual device. You can have remote access to your mobile point of sale Android from anywhere, anytime.

Apart from being a true sushi enthusiast, Sadichha (Aka SSH) is a content writer and blogger at CubiLock. She is passionate to enchant everything boring and nitty gritty about technology through her writings for her readers to enjoy and learn from at the same time. When she is not at her desk crafting content, you can catch her occupied with her cat.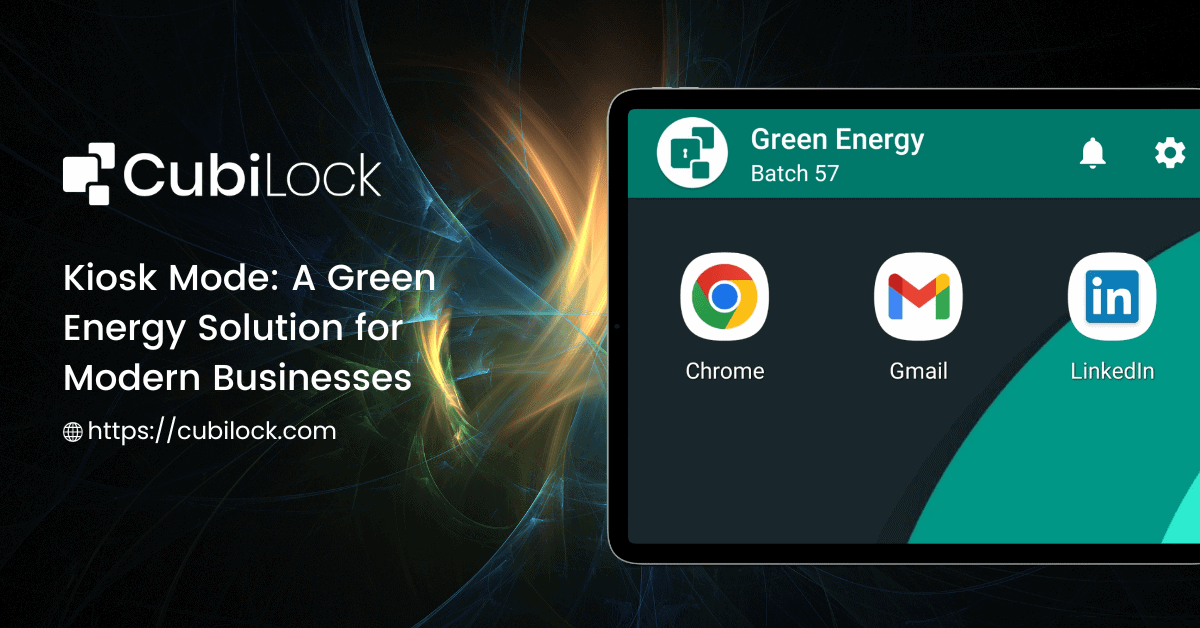 Kiosk mode brings several benefits for businesses, however, many businesses…