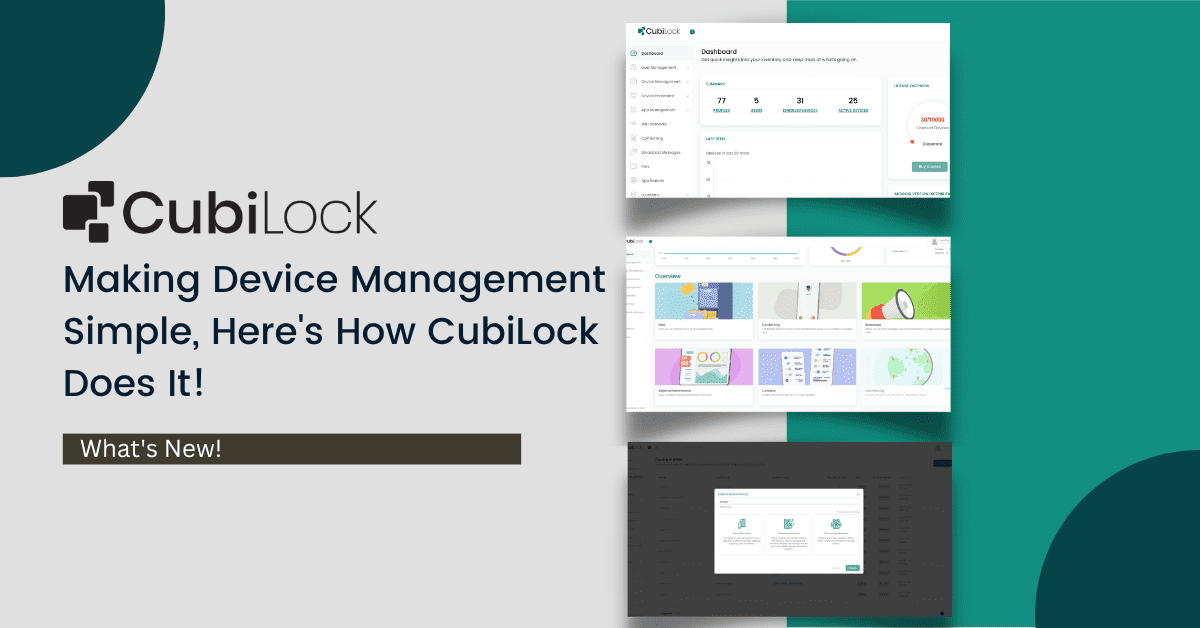 With more and more companies looking for all-in-one endpoint management that can tackle all their mobility woes, a solution like CubiLock has been a game changer. One of the core aims of CubiLock has always been to refine and improve its service offerings to provide a simple yet sophisticated Android device management solution. In this pursuit, CubiLock has come up with the release of an upgraded version that delivers a new set of features and an improved user interface. Let's go over the latest improvements in the CubiLock solution. 
New User interface
At CubiLock, we have given the dashboard a whole new makeover that provides a complete overview of your fleet of devices. You can get quick insights on what's going on across your device fleet at a glance. You can get a summary of profiles, users, enrolled devices, and the number of active devices. It also helps keep track of your licensed devices, Android version distribution, profile types, and storage usage and capacity. The first page allows you to access uploaded files, apply call-barring restrictions, send prompt broadcast messages, view reports and schedules, and retrieve contacts straight from the dashboard. This way you can monitor, control and review all your devices in a matter of minutes. Our simple interface and smart new widgets have been designed to keep device management effortless for your business.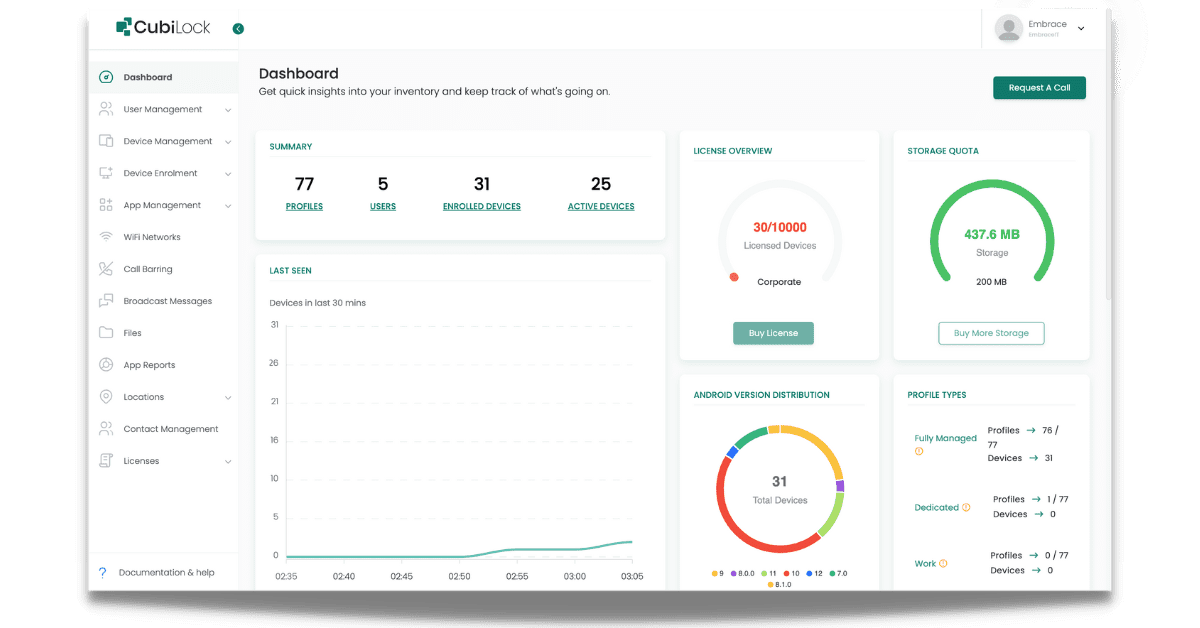 Along with our all-new dashboard, CubiLock is now power packed with a bunch of new features that are committed to elevating your mobility experience. So, what's new?
Feature 1: New Profile Types
CubiLock now allows you to create different profiles for your dynamic business needs. You can now create different device profiles that suit your different business strategies and work approaches. You can create: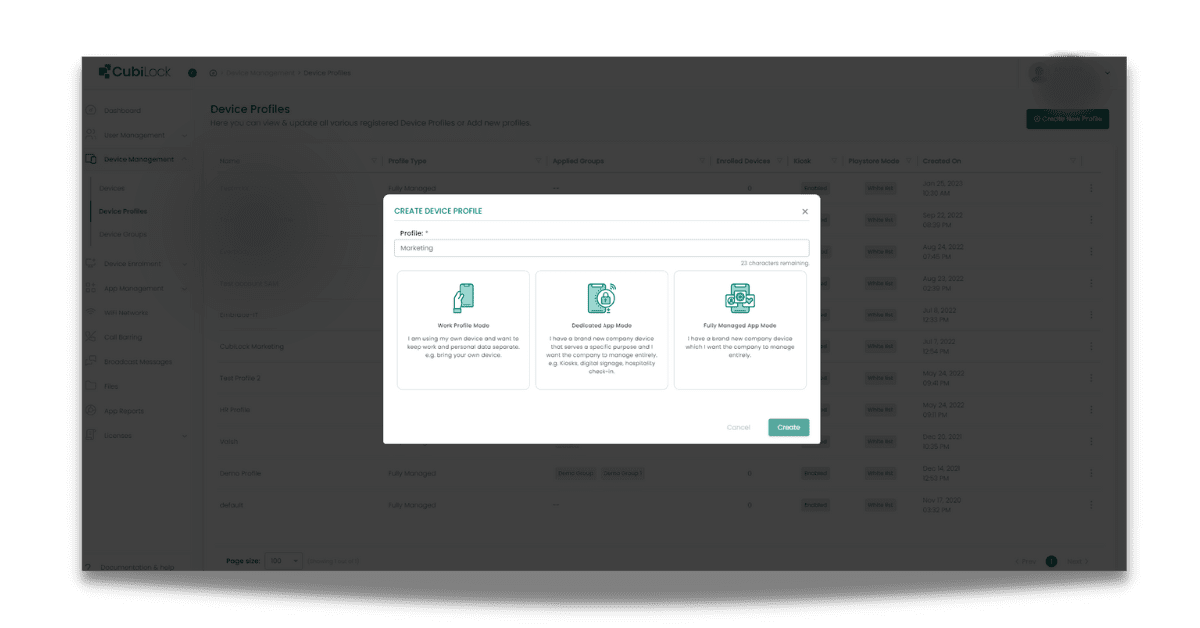 Work Profile Mode: This mode allows you to separate work data from personal data and is best suited for employees who bring their own devices to work (BYOD)
Dedicated App Mode: This mode converts your regular mobile devices into dedicated devices used for specific work purposes such as mPOS (mobile Point Of Sale) systems, kiosks, digital signages, survey or feedback forms, check-in/check-out processes, etc. 
Fully Managed App Mode: This mode allows companies to manage new corporate-owned devices entirely and gain complete control over them. 
Feature 2: Call-baring 
The call-barring feature of CubiLock allows or blocks end-users from making and receiving calls from specific numbers If you need to block incoming and outgoing calls entirely or selectively, number-wise or country-wise, this feature can help you out with that. CubiLock has introduced the incoming call barring which basically lets you control all calls coming in just like it lets you control all calls going out from the device. You can allow and block incoming calls from specific numbers or from an entire country.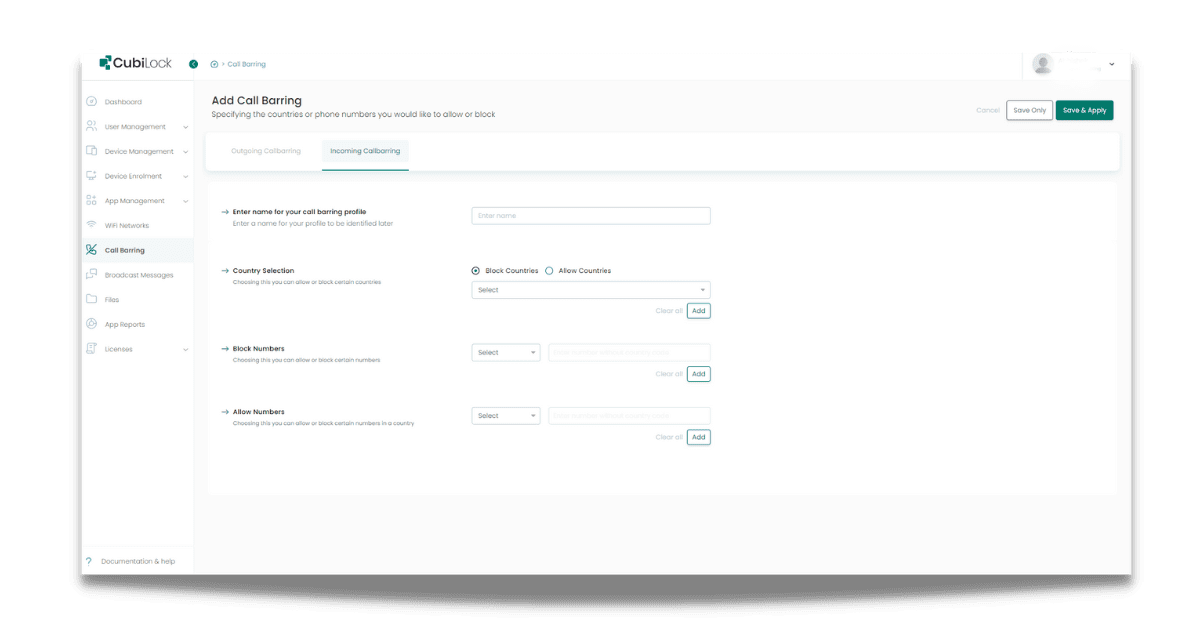 Feature 3: Role Creation
You can now create custom roles that fit your business, teams, and department and assign control to these users according to their job roles. You can give full access and control to your IT admins and at the same time limit the privilege of other roles. This way, management, and access control can be correctly delegated. You can either allow users permission to access all activity or restrict their authority to perform specific activities as per their job roles.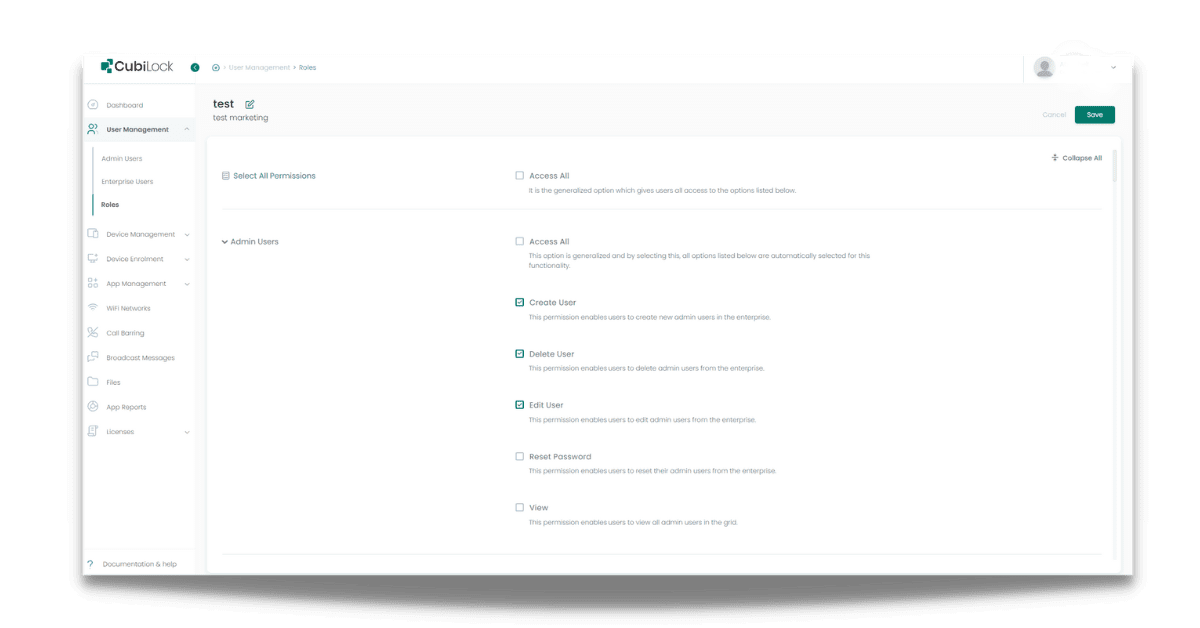 Feature 4: App Sorting In KIOSK
You can now enable app sorting in Kiosk mode which allows you to not only access the list of applications that are installed in a particular device profile but also sort them.
Feature 5: Licensing feature
With the new licensing feature, you can easily get access to all your subscriptions and their detailed information. You can now view the subscription key, email id that is used, plan name, number of devices using the specific plan, the status of the subscription, and its purchase and expiry date right from the dashboard. This gives you an easy way to keep track of multiple subscriptions at once and lets you know what's going on at one single glance.
Feature 6: App Reports
With our latest update, you can now review app reports in an instant. Along with information on saved reports, scheduled reports, and repository reports, it allows you to view, schedule and download instantaneous and data-filled reports that help you grab accurate information about: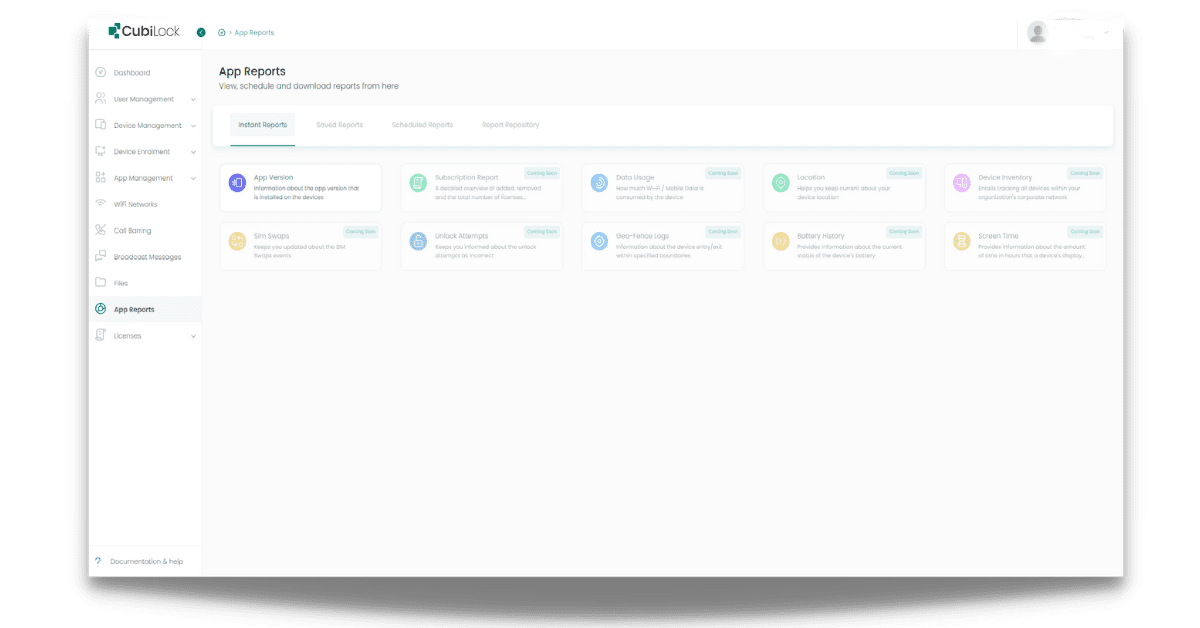 App version: lets you know which app version is currently installed on your devices.
Subscription report: lets you see a detailed overview of the added, removed, and total licenses. 
Data usage: lets you analyze mobile data and WiFi consumption by all your devices.
Location: lets you track down your device locations.
Device inventory: lets you keep track of all devices within your organization's network.
Sim Swaps: lets you be alerted about any sim swap events.
Unlock attempts: lets you know about the number of incorrect unlock attempts on your devices.
Geo-fence Logs: lets you review device entry/ exit in a pre-specified virtual boundary.
Battery History: lets you see the current status of the device's battery.
Screen Time: lets you know the total hours your device display has been turned on. 
Apart from being a true sushi enthusiast, Sadichha (Aka SSH) is a content writer and blogger at CubiLock. She is passionate to enchant everything boring and nitty gritty about technology through her writings for her readers to enjoy and learn from at the same time. When she is not at her desk crafting content, you can catch her occupied with her cat.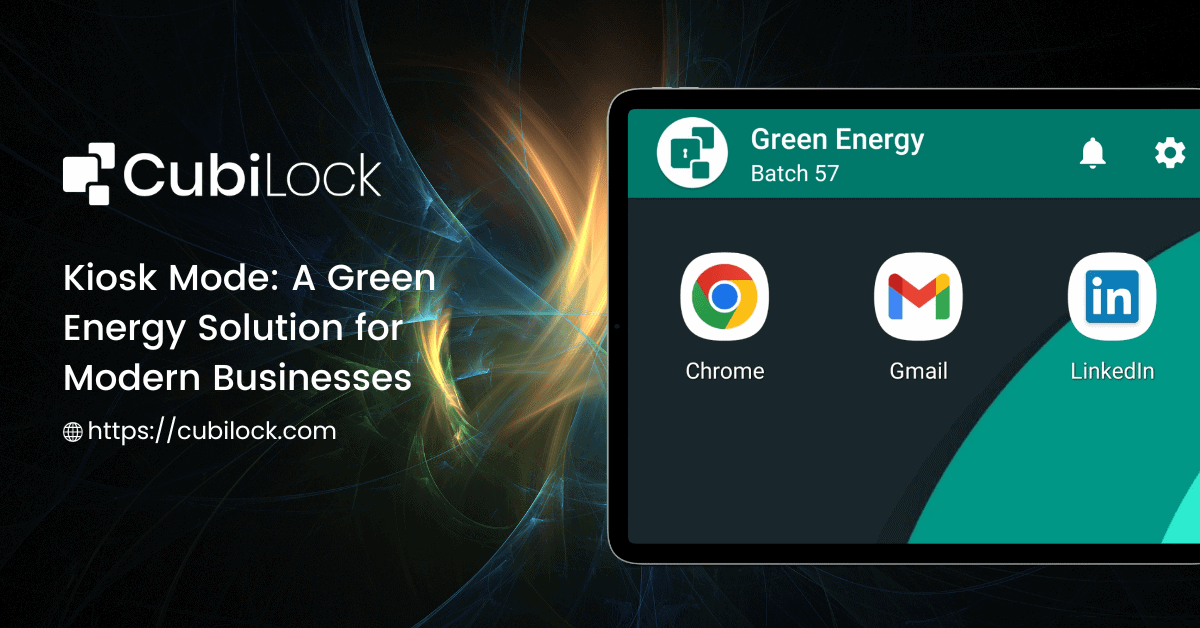 Kiosk mode brings several benefits for businesses, however, many businesses…