Mobile threat defense is a new approach to mobile security that's focused on combating the cybersecurity threats that mobile devices face. In today's connected world, many businesses are attacked by malicious viruses and hackers that steal sensitive information or conduct fraudulent activities. The goal of a mobile threat defense solution is to enable organizations to detect, investigate, and remediate attacks of hacking through malware, viruses, phishing, and potential network vulnerabilities against their mobile devices in near real-time while they are connected or disconnected from the internet. MTD solutions are designed to provide automated response capabilities that can help mitigate cyberattacks on corporate assets by detecting suspicious activity within milliseconds before it becomes harmful or even detectable by other systems.
Mobile Threat Defense (MTD) is an emerging technology that provides advanced detection, classification, and response capabilities against cyber threats on the move or at rest. It uses machine learning algorithms for the rapid detection of new types of attacks that are difficult or impossible for traditional antivirus software to detect without manual inspection.
How Does MTD Work?
MTD works by monitoring the security of mobile devices in near real-time to tackle cyber criminals and provide automated remediation when threats are detected. It closely monitors all traffic coming from or going out of a device, looking for malicious activity such as:
Reconnaissance: A hacker will try to learn about your company's assets and policies by observing how you interact with them online (e.g., who has access).
Virus/malware: Malware can be delivered through phishing emails, infected websites, unsafe applications, or other means.
If something suspicious is detected, it will be blocked automatically by MTD without the need for user intervention.
The Urgent Need For MTD solution
Mobile threats are becoming more prevalent across industries because there are so many new ways your employees and customers use their devices – from banking transactions via mobile banking apps, sending instant messages or emails, storing data on the cloud, using a plethora of mobile apps as well as using GPS navigation systems such as Google Maps, etc. which encourages hacking and scams like phishing.
Hackers understand that mobile devices have become an integral part of business operations and are often organizations' primary tools for accessing corporate data, networks, and applications. Organizations are now more vulnerable than ever with the widespread cybersecurity attacks and the rise of sophisticated viruses. For these reasons, businesses need to develop strategies to protect their business data on mobile devices as just having a mobile device management solution might not suffice.
Mobile threat defense solutions can be a great way to protect your business from mobile threats and their consequences. Here are some of the benefits:
Protects corporate data from malware, hackers, and viruses.
Prevents information leakage by blocking malicious apps from accessing sensitive information stored in company databases or cloud storage accounts.
Blocks phishing attacks that use fake websites to steal login credentials (e-mail addresses) and other personal information such as credit card numbers, bank account numbers, and birth dates.
Warns users about dangerous links on social networking sites before they click them and provide the risk levels that allow businesses to protect themselves against identity theft scams like those involving Gmail accounts or Facebook profiles.
Helps make quick and informative decisions and provides organizations the time to take corrective measures before any irrecoverable damage is caused.
Provides security at device, application, and network levels rather than basic antivirus software level.
Mobile Threat Defense and Mobile Device Management
Mobile device management (MDM) is a software solution that manages, controls, and monitors all the mobile devices in an organization from a single console. It helps provide control over what end-users can access on their phones or tablet through policies and security regulations determined by IT administrators. These policies can restrict end-users access to unsafe apps and websites, preventing them from misusing the devices and putting confidential data at risk.
CubiLock is an Android MDM solution that allows IT professionals to control and secure the activities of their employees' devices, including:
Remote data wipe-out, passcode policies, and encryption.
Android Kiosk mode with apps and website restriction and blocking capabilities.
Restrictions from the peripheral device and network connectivity.
To address the challenges and threats of deploying mobile devices, it is important that businesses consider combining an agile mobile threat defense (MTD) solution with their mobile device management (MDM) solution or opt for an Enterprise Mobility Management solution that takes care of security as well as management of mobile devices remotely.
CubiLock can help businesses to mitigate data loss, provide identity-based access to applications and devices. Monitor devices in real-time with an option to configure geofence on a single or group of devices. By whitelisting websites and restricting end users from installing any apps; businesses can ensure security against data breaches or device misuse.
Conclusion
We hope this article has given you an understanding of what mobile threat defense is and its increasing importance to businesses. We've also highlighted some key benefits that come with implementing a solution like CubiLock MDM. If you are interested in learning more about how you can combine both for the utmost secured endpoint management of all your devices, contact us today. 
Also read: What is Mobile Device Management?

Device Security Analyst, loves testing devices that are used for dedicated purposes.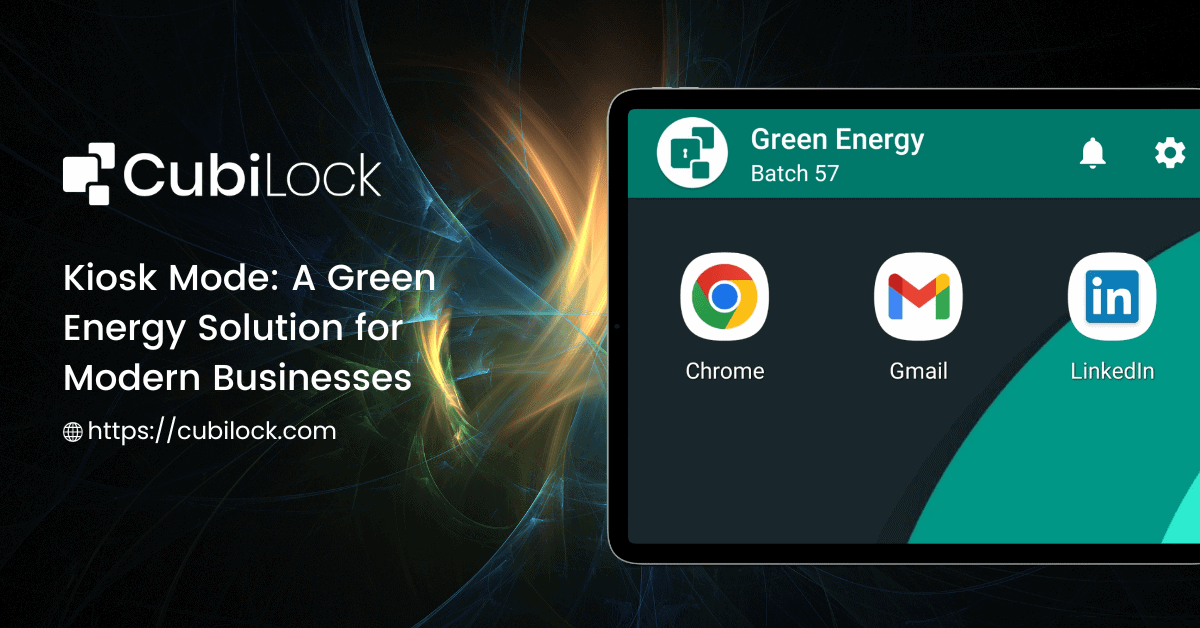 Kiosk mode brings several benefits for businesses, however, many businesses…