Mobile Application Management – Do More Than Just App Management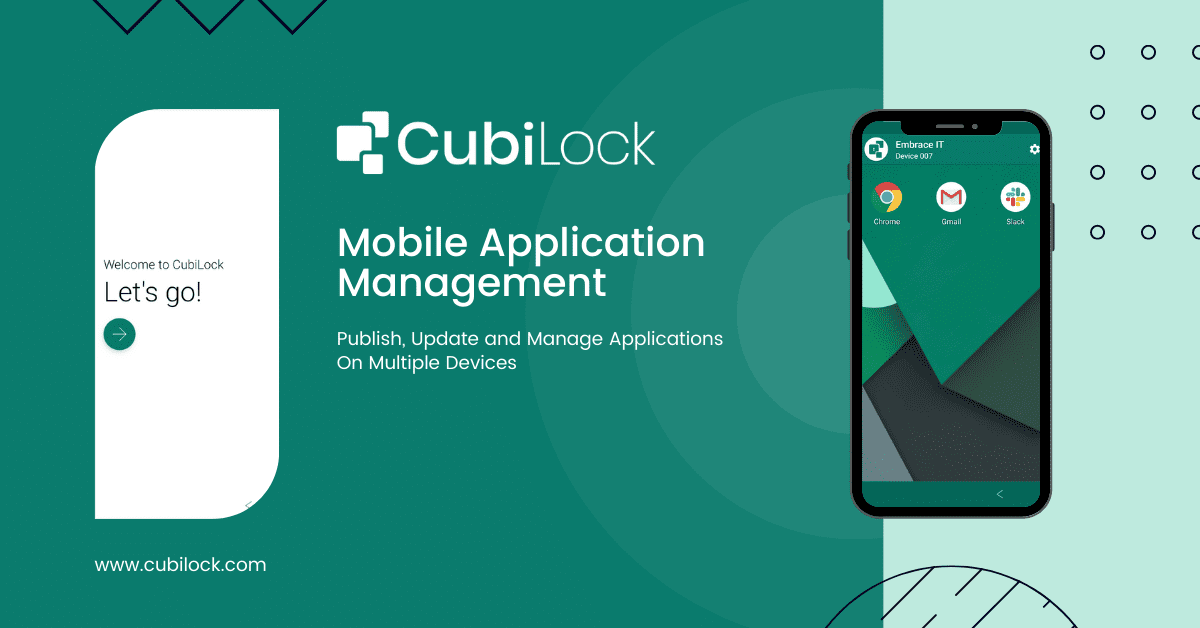 With more and more businesses adopting mobility, mobile applications have become an integral part of the business environment. There are a plethora of apps out there for everything you need, you name it and it probably exists. The use of enterprise apps is also rapidly growing to support technological advancements. Employees' devices are loaded with a variety of apps that have helped automate business processes and boost accessibility and employees' productivity. These applications used in a workplace need tight management to ensure a secure, streamlined, and uninterrupted workflow. Businesses need a mobile application management solution to manage the variety of mobile devices used for various purposes across enterprise systems.
Mobile Application Management with CubiLock
CubiLock MDM (Mobile Device Management) offers businesses app management capabilities with MAM that automates the deployment, management, and distribution of mobile apps that run on Android OS. MAM or Mobile Application Management is an extension of MDM, where the service focuses on distributing and administering mobile apps rather than managing the entire device. Installing, removing, and updating software on business and personal smartphones and tablets are among the primary features of MAM. It also manages app licensing, establishes restrictions on installing third-party or personal apps, and configures settings and company policies to meet corporate security standards within all departments. The core idea is to ensure that all mobile devices, whether personally owned or corporate-issued, are running the latest versions of the appropriate apps in accordance with the company's policies. It is important to run the newest version of the application on corporate used devices as:
Crashes, bugs, or unexpected device resets are highly prevalent in older versions of the app.
Updates are oftentimes corrective measures for security flaws.
It introduces features that might help solve existing company issues.
Protects devices from unforeseen technical problems.
With MAM, publishing, managing, and updating applications can be remotely executed from a single console. IT departments can grasp perfect control over the different variety of apps on a variety of devices without interrupting end users' experiences. IT administrators can modify, schedule, and implement stage rollouts to update Android apps based on varied business demands. You can, for example, use the staged rollout capability to update your company apps on your remote worker's devices from the cloud. App updates and policy configurations can also be scheduled outside work hours as system downtime can be very costly when all devices are engaged in updates or installments during work hours. Remote installations, downloads, and distribution are also important for businesses adopting BYOD trends or remote work practices. MAM also offers an in-house library for enterprise apps, detects problematic apps, and removes them without requiring end-user involvement.
Application Update & Staged Rollouts
Silently pushing applications and their updates is a valuable feature for businesses to publish apps without affecting work. Especially if the apps need to be pushed on a large scale to remote workers, on-field workers, or unattended kiosks and dedicated devices. CubiLock schedules and delivers application installation and updates from the dashboard without any help from end users. User permissions can be pre-approved and apps can be published in single app mode without hampering the productivity of employees or negatively impacting the experience of customers. With staged rollouts, you can schedule releases, track app data usage, force install apps, and get notified of app release completions. It helps test out apps in a selected group of devices before updating or installing the apps across your entire fleet of devices. IT admin can pre-test apps on certain devices, set a time and date to publish apps and automate the task without breaking a sweat.
Configure Policies & Create Enterprise Library
Mobile Application Management allows IT admins to configure business policies and enforce regulations on targeted and specific apps. The rules are imposed only on specified apps that access business data, leaving personal apps and data alone. App configurations can set login credentials, pre-configure security protocols, and policies as per their needs and requirements
CubiLock creates an enterprise library for the business to manage, organize and customize personal enterprise apps. This helps segregate apps into categories and push apps according to job roles and functions of mobile devices. It also supports branding, where Android apps can be customized to display specific images, icons, and color that represents the company and the brand. It creates a professional interface for employees at work while increasing brand recognition among potential and loyal customers.
Also read: How to downgrade an app?
Prevent Data Loss & Errors
Many businesses hesitate to jump on the BYOD (Bring Your Own Device) trend due to the security risks involved. However, BYOD has proved to be a profitable and strategic solution to the mobility requirements of a workplace. With companies prioritizing a mobile-first workforce, businesses are constantly seeking methods to secure mobile devices and manage app consumption. Besides being distracted by non-work-related apps, employees' bad internet habits, downloading and using unsafe and unnecessary apps exposes mobile devices to viruses, malware, network vulnerabilities, and malignant hackers and puts valuable business-critical data at risk.
CubiLock MAM helps IT administrators control mobile applications and implement tight security controls over the applications that store a humongous amount of data and information on a day-to-day basis. It enforces :
Using multi-factor authentication to provide identification data.
Verifying and authenticating business mobility apps without a password.
Test running app updates to detect issues.
Providing geographical location data.
Requiring certain OS steps prior to app activation.
Remotely track malfunctioning apps and remove them from the cloud.
The CubiLock dashboard's simple interface makes app management as simple as it gets for your IT team. Time spent tracking, monitoring, and organizing these apps on each of your devices can be saved by automating tasks, all from one place.
From the CubiLock Dashboard > App Management, you can find:
The enterprise apps section shows you the list of white-listed apps for your enterprise. You can also manually add apps to the list, which can be configured directly on your devices. It gives you a consolidated list of System as well as Play Store apps. You can remotely publish the apps, uninstall them, or delete them altogether from here.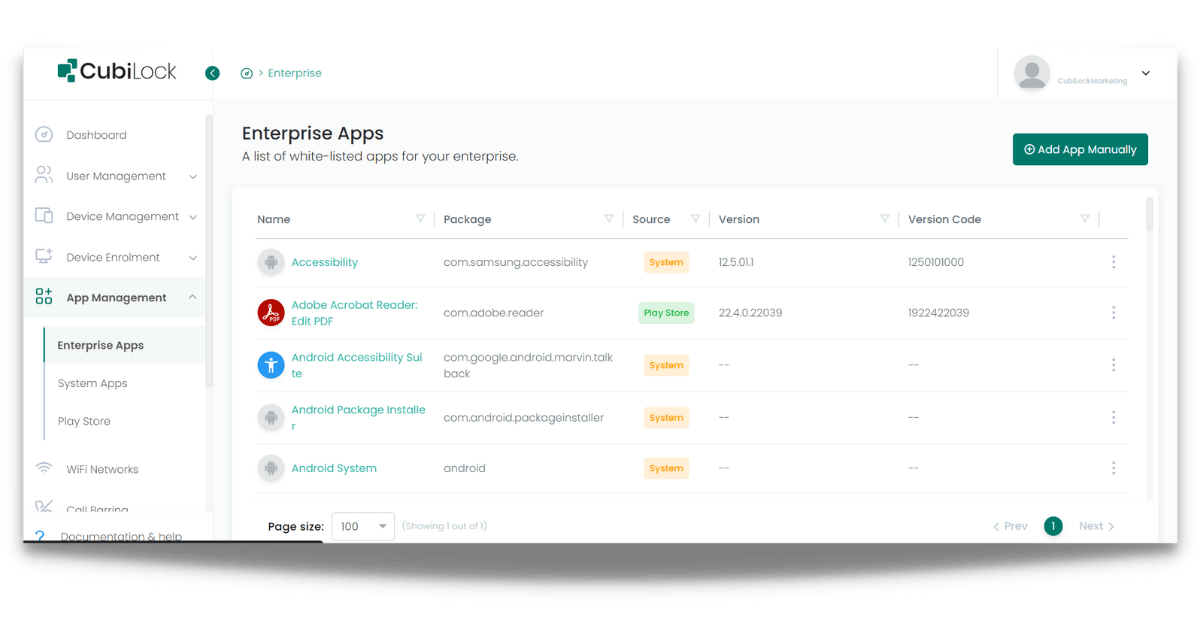 This section shows you a list of pre-installed apps that you can publish on your devices.
This section directs you to the Google Play Store, where you can download all the apps that are available there. You can also push in-house private apps or web apps from here.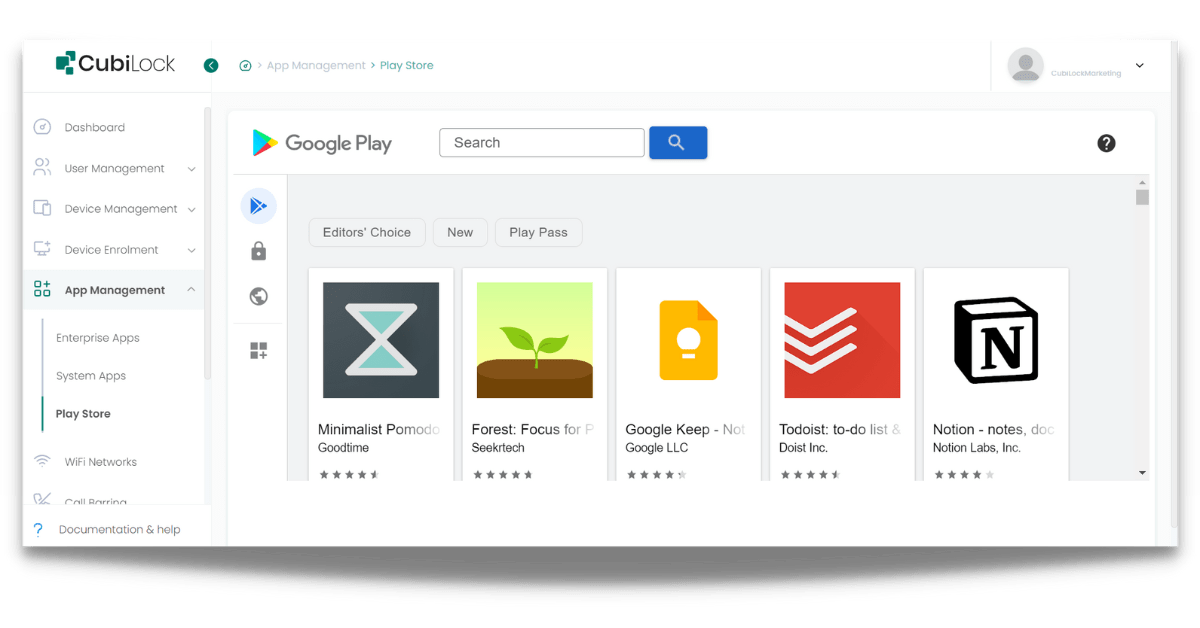 Moreover, you can also apply multiple settings on all of your applications that run on the device.
To access that from the CubiLock Dashboard,
Go to Device Management > Device Profiles.
Find the device profile you wish to work with.
Select Update Profile from the three-dot drop-down menu.
From the ribbon bar, click on Applications.
Now, select the three-dot menu. You'll find a drop-down box with:
App Track
Here, you can set up app tracking for your Play Store apps. After selecting and saving the app track, all devices within the policy will receive the version corresponding to the selected track. If there are no tracks other than production, you can click the "fetch tracks" button to get the most recent tracks, if they are available.
Permissions
Here, you can set a plethora of permissions for your apps. You can allow the app to determine your approximate location (network-based) or exact location (GPS-based). Likewise, you can view Wi-Fi connections, pair with Bluetooth devices, access Bluetooth settings, allow apps to take pictures and videos, download files without notification, provide full network access, modify global audio settings, and so much more.
Set Min Version
Here, you can set the app's minimum version that runs on the device. If set, the device attempts to update the app to at least this version code. If the app is out of date, the device will have a NonComplianceDetail with a nonComplianceReason that is set as APP NOT UPDATED. The app must already be available on Google Play with a version code that is greater than or equal to this value. Per policy, no more than 20 apps may specify a minimum version code.
Future Of MAM For Enterprises
Mobile Application Management (MAM) is a rapidly evolving field, driven by the increasing use of mobile devices in the workplace and the need for organizations to manage and secure their mobile applications. Here are some potential developments that could shape the future of MAM:
Adoption of cloud-based MAM solutions
When compared to traditional on-premise solutions, cloud-based MAM solutions offer greater flexibility, scalability, and cost-effectiveness. As cloud technology advances, more organizations will adopt cloud-based MAM solutions.
More emphasis on security
With enterprises gearing to adopt the next generation of mobile apps, security will continue to be a major concern for organizations, as they seek to protect their sensitive data and intellectual property. MAM solutions will need to offer dynamic security features that can better sustain emerging apps such as hybrid web apps, wearables apps, micro apps, etc, and stay ahead of security threats.
Increased use of artificial intelligence (AI) and automation
As MAM solutions become more complex and handle larger volumes of data, we can expect to see increased use of AI and automation to simplify and streamline management tasks. This could include fully automated app updates, security checks, and optimizations. Applications will also leverage AR (Augmented Reality) or VR (Virtual Reality) that will enable enterprises to use their enterprise apps beyond a flat screen.
Facilitate Blockchain technology
Blockchain technology is making a name in the business space. Progressive workplaces are looking for ways to integrate mobile apps that support blockchain technology in their operations. App developers to IT heads are adopting identity and authentication apps, DApp (decentralized app) browsers, payment processing apps, and wallet apps to name a few.
In a nutshell, mobile application management is adopted by businesses looking to effectively select and manage useful apps that support employees to help them become more efficient and productive.IT admins need an MDM solution with robust mobile application management to bring forth streamlined processes and enhanced management capabilities. CubiLock is an MDM solution with intuitive mobile application management integrated to provide IT admins with easy app deployment and management tools for secured and optimum device usage in the work environment.

Apart from being a true sushi enthusiast, Sadichha (Aka SSH) is a content writer and blogger at CubiLock. She is passionate to enchant everything boring and nitty gritty about technology through her writings for her readers to enjoy and learn from at the same time. When she is not at her desk crafting content, you can catch her occupied with her cat.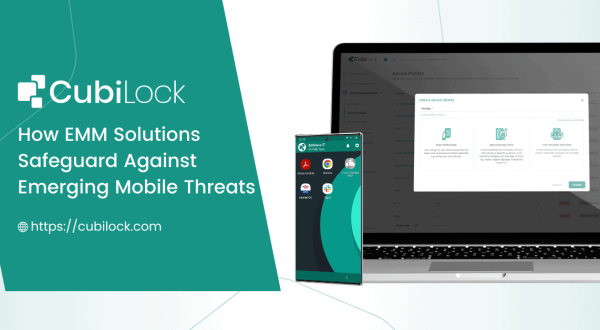 Explore how Enterprise Mobility Management solutions act as defenders against…