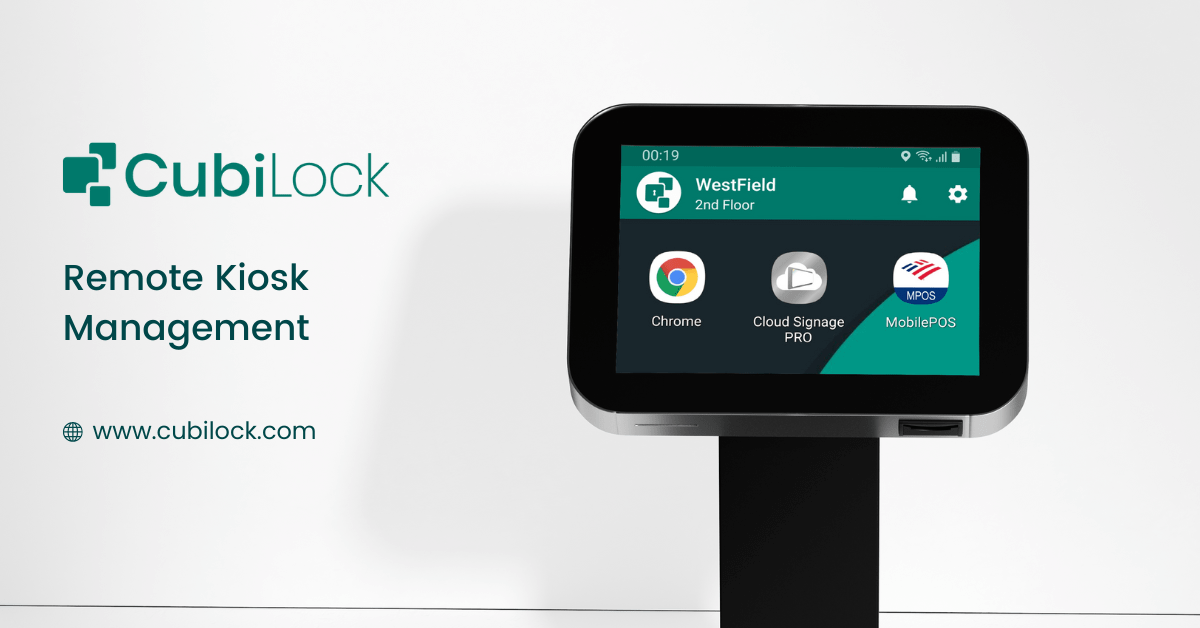 Mobile kiosks are now seen everywhere thanks to their versatility, flexibility, and ability to engage customers in a personalized and interactive way. Remote kiosk management can be used for various purposes, such as self-service kiosks, order placements, product catalogs, message boards, event registrations, digital signages, feedback forms, and so much more.
However, managing these remote kiosks is fairly new and can be a daunting task for businesses, especially those with limited resources. This is where CubiLock can help you with its remote kiosk management capabilities. This cloud-based mobile device management solution helps businesses turn their regular devices into dedicated android kiosk mode and manage them all remotely from a central location. 
So, How Exactly Can the Cubilock MDM Solution Help With Remote Kiosk Management?
Remote Monitoring and Control: CubiLock allows you to remotely monitor and control your kiosks from a central location. You can monitor the kiosks for any issues or errors, and perform tasks such as rebooting the devices, configuring policies, pushing apps, or updating software without needing any IT admins to be physically present. From the centralized dashboard, you can:
Bulk enroll multiple devices and centrally manage and supervise them over the cloud.
Restrict access to unwanted apps and device settings with a kiosk lockdown mechanism.
Have remote control over peripheral devices and network connections.
Enable website whitelisting/blacklisting features to allow access to only safe URLs.
Schedule maintenance, remote OS, and app updates outside work hours to eliminate system downtime.
Restrict device functions and settings (For eg, locking hardware buttons, blocking the status bar, incoming/outgoing calls, changing brightness or default volume).
Automatic Software Updates: Software updates are an essential part of keeping your Android kiosk devices running smoothly and securely. Remote kiosk management can automate the software update process right from the dashboard, ensuring that all kiosks are up-to-date with the latest updates, patches, and security fixes.
Mobile Content Management (MCM): Managing the content displayed on your kiosks remotely can remove a huge chunk of the burden from your employees. This includes updating images, videos, and text displayed on the kiosk screens, ensuring that the content is always fresh and relevant. CubiLock can enable mobile content management and secure file sharing in real-time without any hassle.
Device Security: Mobile kiosk devices can be vulnerable to system malfunctions, data breaches, and cyber attacks, especially if they are unmanaged and not properly secured. The multi-layer security offered by CubiLock can help with kiosk security by remotely enforcing security policies and patches, and by providing instant alerts in case of any security breaches. You can utilize security features such as remote data wipeout, password policies, device encryption, Factory Reset Protection (FRP), location tracking, etc in case of security breaches, device theft, or loss.
Likewise, with remote kiosk management, you can reduce device downtime by quickly identifying and resolving issues before they become major problems. This means that your dedicated devices will be up and running more often, increasing customer satisfaction and revenue.
Mobile Application Management (MAM): CubiLock uses cloud technologies to make it easy to push apps onto specific mobile devices and allows IT admins to manage, update and push mobile apps remotely. One of the main functions of mobile application management is to install, remove, and update apps on personal and professional smartphones and tablets. It also provides the following capabilities:
Policy configuration: IT administrators can use MAM to establish and enforce policies on specific apps that access company data, without affecting personal apps and data.
Enterprise library creation: It creates a centralized library of enterprise apps that can be managed, organized, and customized according to job roles, company branding, and specific device functions.
Data loss and error prevention: It also offers tight control over mobile applications that are exposed to multiple end-users and imposes strict security measures on apps that store large amounts of data and sensitive information to prevent data loss and errors.
Need For Remote Kiosk Management In Various Industries
Remote kiosk management can be a game-changer for industries that are aiming to be digitally progressive and leverage mobile kiosks in their daily operations. Here are some of the benefits of using remote kiosk management in each of these industries:
Retail:
Centrally manage multiple kiosks in different branches that are used for different purposes.
Streamline operations such as file sharing, content management, software updates, and security patches.
Provide real-time data analytics to track customer preferences and inventory levels.
Save costs while simultaneously delivering faster services.
Healthcare:
Monitor and manage patient records, prescriptions, and medical devices at any time, from anywhere.
Access all data for real-time updates and scheduling.
Get quicker alerts for emergencies.
Improve facilities and provide patient safety and efficient care.
Hospitality:
Manage operations such as reservations, room service, and check-in/check-out processes without the need for interactions with staff.
Ensure all kiosks are maintained for better customer experience.
Real-time data analytics to track customer preferences and trends.
Have updated services, menus, displays, and way finders for customers.
Restaurants:
Streamline ordering and payment processes, reduce wait times, and increase customer satisfaction.
Manage air menus, daily offers, and promotions.
Collect customer preferences and feedback digitally.
Ensure devices that are used in kitchen operations, inventory, and staff management are efficient and up to date.
Bottom Line
With the remote kiosk management tools offered by CubiLock, your Android mobile devices can be utilized in dynamic ways, turning them into dedicated devices or kiosks that fit your unique business requirements. They not only reduce employee's work burden, and improve customer's experience but also lead to cost savings for the business. Implementing CubiLock's agile features can make mobility management easier than ever, thus reducing IT overhead expenses. The restrictions enabled in these kiosk management software to run only a select set of apps and websites can also prevent data overages. In contrast, without a capable MDM solution, businesses may suffer significant financial losses from mismanagement to device theft and data breaches. Traditional kiosks and other outdated approaches are no longer appealing to the modern-day consumer, making mobile kiosks a versatile and smart choice for all kinds of businesses. For this, an Mobile application development like CubiLock is a godsend for businesses looking for long-term remote kiosk management solutions.
Apart from being a true sushi enthusiast, Sadichha (Aka SSH) is a content writer and blogger at CubiLock. She is passionate to enchant everything boring and nitty gritty about technology through her writings for her readers to enjoy and learn from at the same time. When she is not at her desk crafting content, you can catch her occupied with her cat.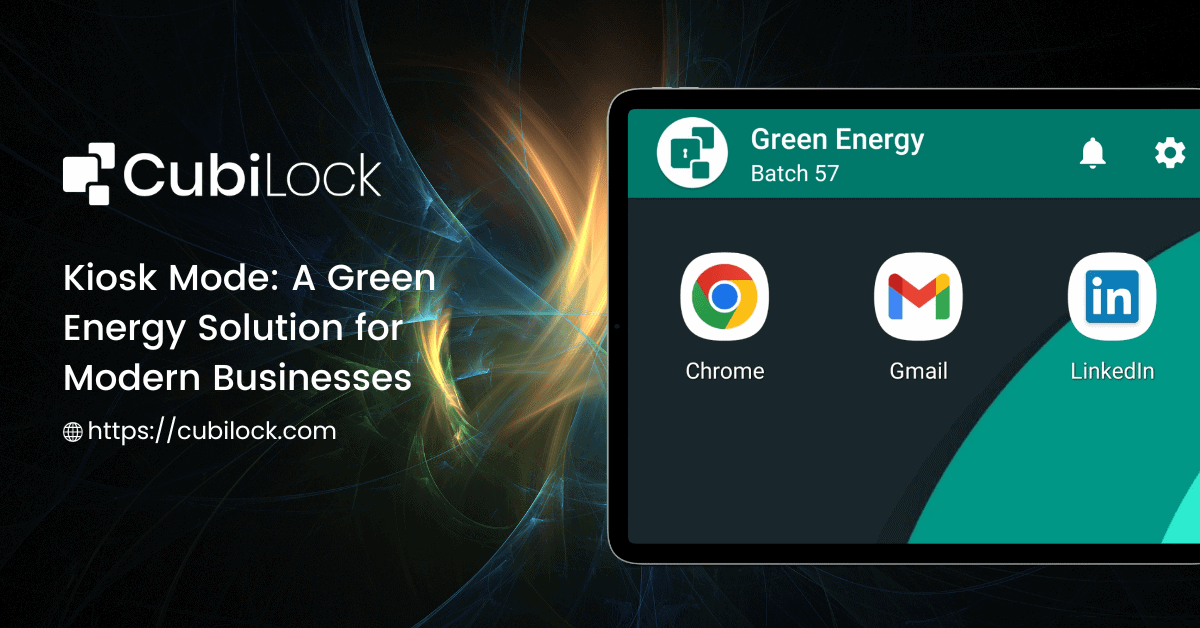 Kiosk mode brings several benefits for businesses, however, many businesses…