Unleash the Power of Pixel Tablet for Work with CubiLock EMM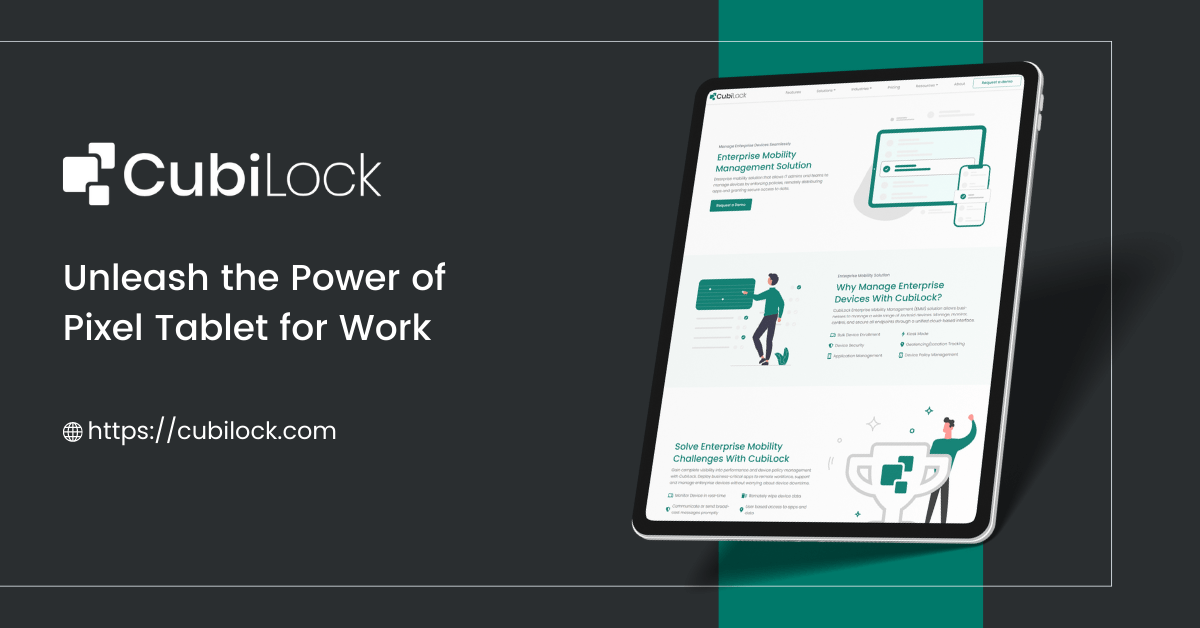 Technology continues to revolutionize the way we work. Among the many innovative devices available, the Pixel tablet stands out as a powerful tool for professionals seeking efficiency and mobility. In this blog post, we will explore the numerous advantages and features that make the Pixel tablet an excellent choice for work purposes, especially when paired with an Enterprise Mobility Management solution.
Manage Pixel Tablets with EMM Solution
Portability and Versatility: The Pixel tablet's sleek design and lightweight nature make it ideal for professionals on the go. Its compact size allows for easy transportation, fitting snugly into a briefcase or backpack. Whether you're attending meetings, traveling, or working remotely, the Pixel tablet ensures that you can carry your workspace wherever you go. When combined with an EMM solution, you gain even more control over the device's security and management, making it a reliable and secure tool for work.
Stellar Performance: Equipped with robust hardware and optimized software, the Pixel tablet delivers exceptional performance. Its powerful processors and ample RAM allow for seamless multitasking, ensuring you can effortlessly switch between applications and handle resource-intensive tasks. Whether you're working with complex spreadsheets, designing graphics, or editing documents, the Pixel tablet offers the processing power you need to stay productive. With an EMM solution in place, you can streamline app deployment, manage updates, and enforce security policies across your organization's fleet of Pixel tablets, ensuring consistent performance and data protection.
Pixel Pen: Unleashing Creativity: For professionals in creative fields or those who prefer the freedom of handwriting, the Pixel Pen is a game-changer. This stylus offers precise control and pressure sensitivity, enabling you to take notes, sketch, and annotate documents with ease. The Pixel Pen seamlessly integrates with productivity apps, allowing you to unleash your creativity and enhance collaboration in the workplace. An EMM solution can provide additional control and management over the Pixel Pen's usage, ensuring that sensitive information remains protected while enabling creativity to flourish.
Pixelbook Keyboard: A Typing Experience Like No Other: When it comes to typing, the Pixel tablet takes productivity to the next level with its detachable Pixelbook Keyboard. With its responsive keys and comfortable layout, it provides a laptop-like typing experience. Transform your Pixel tablet into a versatile workstation and enjoy the convenience of a physical keyboard whenever you need to draft emails, write reports, or work on lengthy documents. With an EMM solution, you can enforce password policies, encryption, and remote wipe capabilities, adding an extra layer of security to your work-related typing activities.
Seamless Integration with Google Workspace: The Pixel tablet seamlessly integrates with Google Workspace, including apps like Google Docs, Sheets, and Slides. This integration ensures smooth collaboration with colleagues, allowing you to edit documents in real time, share files effortlessly, and access your work from any device. The Pixel tablet's compatibility with Google Workspace enables a seamless transition between your tablet and other devices, ensuring you're always connected and up to date. By combining Google Workspace with an EMM solution, you can ensure data protection, device management, and compliance, enabling secure and efficient collaboration within your organization.
Enhanced Security with CubiLock EMM Solution: To safeguard sensitive work-related data and ensure compliance, implementing an EMM solution is crucial. With an EMM solution, you can enforce security policies, such as device encryption, passcode requirements, and secure data transmission. It enables centralized control over device configurations, application installations, and updates, ensuring that all Pixel tablets within your organization are up-to-date and secure. Additionally, an EMM solution provides capabilities for remote device management, allowing IT administrators to enforce android kiosk mode with features like remotely locate, lock, or wipe a lost or stolen device, safeguarding your organization's information.
Conclusion
The Pixel tablet, when combined with an Enterprise Mobility Management (EMM) solution, becomes an exceptional choice for professionals seeking a powerful and secure device for work. With its portability, high-performance hardware, and seamless integration with productivity tools, the Pixel tablet empowers you to maximize productivity and stay connected, whether you're in the office, on the move, or working remotely. By implementing an EMM solution, you gain enhanced control and security over your organization's fleet of Pixel tablets, ensuring data protection, compliance, and streamlined management. Embrace the power of the Pixel tablet, coupled with an EMM solution, and elevate your work experience to new heights while keeping your sensitive information secure.
Unlock the true potential of the Pixel tablet for work purposes and embrace the benefits of enterprise mobility management. Embrace productivity, mobility, and security with Pixel tablets and EMM solutions, and take your professional endeavors to new horizons.
Quick References:
Device Security Analyst, loves testing devices that are used for dedicated purposes.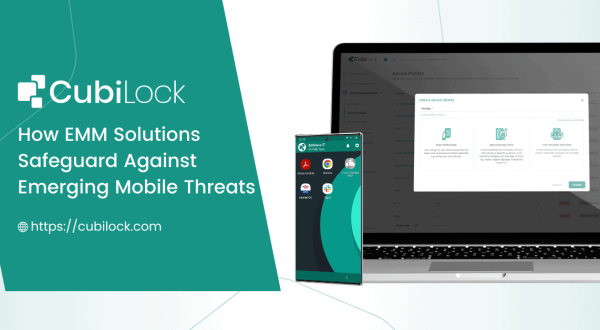 Explore how Enterprise Mobility Management solutions act as defenders against…