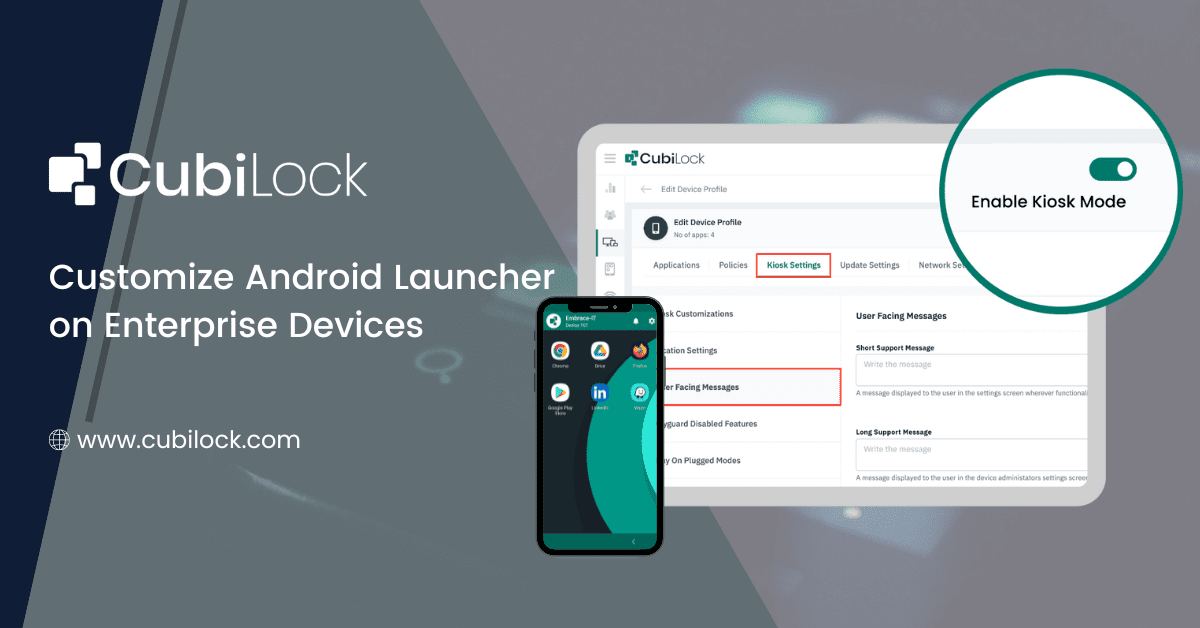 Most mobile devices that are available in the market today are designed to cater to personal use. When you take these devices and put them in a work environment, it is a completely different story.
The device features and functionalities like instant messaging, calling, surfing the web, streaming videos, and playing games that support personal use are more often than not hindering business use. Unauthorized access to mobile devices can kill workplace productivity, increase costs and create device security risks. Every job profile today has different needs and businesses are quickly realizing that a universal operating system may not be the answer to their unique needs and requirements. A trucking company mainly wants a device that can use GPS technology for route planning while a shopping store would use the same device as digital signage or an mPOS terminal. So, how can we make these devices fit their specific work purpose like a glove?
A typical business might go about the old ways of deploying mobile devices and put the entire burden on their IT teams to manually control and manage these devices. But forward-thinking businesses are proactively deploying android kiosk mode on their mobile devices that provide a customizable interface that implements custom android launchers.
How To Set Up A Custom Android Launcher?
Using the CubiLock EMM solution, there are multiple ways one device can serve you in its lifetime. CubiLock Android kiosk mode enables you to create a custom android launcher for any number of your devices to turn them into dedicated devices that can be used for specific purposes.
In a simple sense, kiosk mode is a restrictive OS interface where a preinstalled app launches immediately after the device reboots and you are unable to exit it. You see Android kiosk devices with custom launchers everywhere nowadays, such as payment terminals and digital point-of-sale registers, where albeit many of these devices run on Android, you don't get the typical Android home screen when you turn them on. You can neither send standard text messages nor can you make personal calls from these devices, they can solely run specific apps ( For e.g. mPOS application for payments) that are relevant to the device use.
CubiLock EMM solution allows you to customize your Android devices to only launch specific apps and websites. It enables IT admins to authorize work-related apps and websites while strictly prohibiting end users from accessing undesired apps and mobile device functionalities. It rapidly limits the number of features and capabilities available to your employees on your device, preventing unwanted access or data exposure.
It eliminates distractions and removes the possibility of losing productive hours at work that might otherwise be spent surfing the web, consuming social media, streaming films, playing games, and other forms of entertainment. The primary purpose of a custom launcher is to maximize your device capability and control remotely for a streamlined device interface that boosts productivity. CubiLock powers your mobile devices with a custom launcher that is feature-packed for your enterprise mobility needs. It offers:
Android Kiosk mode
CubiLock custom Android launcher supports single-app and multi-app kiosk policies, where
In a single-app mode, the device automatically reboots to a single application every time and only one app can be configured at a time. The device opens straight to the specific app that has been remotely pushed onto it, without any access to the home screen.
In a multi-app mode, the device locks the kiosk apps in the home screen to ensure that end-users can only access those specific apps. This mode allows end-users to access a pre-determined set of apps, without modifying the rest of the device software and hardware settings.
Website Whitelisting/Blacklisting
Instead of attempting to discover and block each and every problematic website or URL link, CubiLock's custom launcher allows IT admins to simply prepare a list of approved websites that are required for the specific mobile device and grant users limited access to those. Website whitelisting prevents users from accessing unsafe websites, hence preventing detrimental consequences for the company and its customers. Although whitelisting may appear to be a rigorous and stringent policy, it can help organizations keep their precious data safe and secure, leaving no room for mistakes or mishaps.
Website blacklisting is the inverse strategy, in which IT administrators create a list of websites to disable. This strategy has a flaw since the blacklisted websites must be religiously checked and updated as the number of websites to be blocked can be countless.
Device Settings Modifications
With app and website restrictions in place, you can further customize your device settings and take your mobile device capabilities to the next level. From the CubiLock dashboard, you can push 100+ device setting modifications on your specific mobile devices to prevent end-users from tampering with the security policies and default settings on the device on accident or on purpose.
Peripheral Control
It supports peripheral device restrictions (WiFi, Bluetooth, speakers, etc.) and disables hardware buttons (power button, volume adjustments, etc.) based on the needs and policies of the business.
Call Barring
Call barring is a feature of the CubiLock EMM solution that prevents users from making or receiving calls. From the cloud-based platform, you can automate the call-barring feature in all of your mobile devices. You can block incoming and outgoing calls altogether or selectively, making it easy to customize your Android device OS to fit your business needs.
Custom Branding
The custom Android launcher also supports custom branding where the enrolled devices can change the typical Android OS and make use of your company's logo and theme in the device interface. You can make brand wallpaper and display customized messages on the lock screen for an overall professional interface.
Custom Android launchers can not only help modify the layout of your devices but the very use of the devices. It can be powerful in helping businesses embrace the benefits of deploying mobile devices in their operations without risking device security or their work productivity. Custom launchers can combat multiple IT woes when it comes to deploying mobile devices and navigating digitalization. If you want more control and customization options over your company devices, the CubiLock custom Android launcher is the way to go.

Apart from being a true sushi enthusiast, Sadichha (Aka SSH) is a content writer and blogger at CubiLock. She is passionate to enchant everything boring and nitty gritty about technology through her writings for her readers to enjoy and learn from at the same time. When she is not at her desk crafting content, you can catch her occupied with her cat.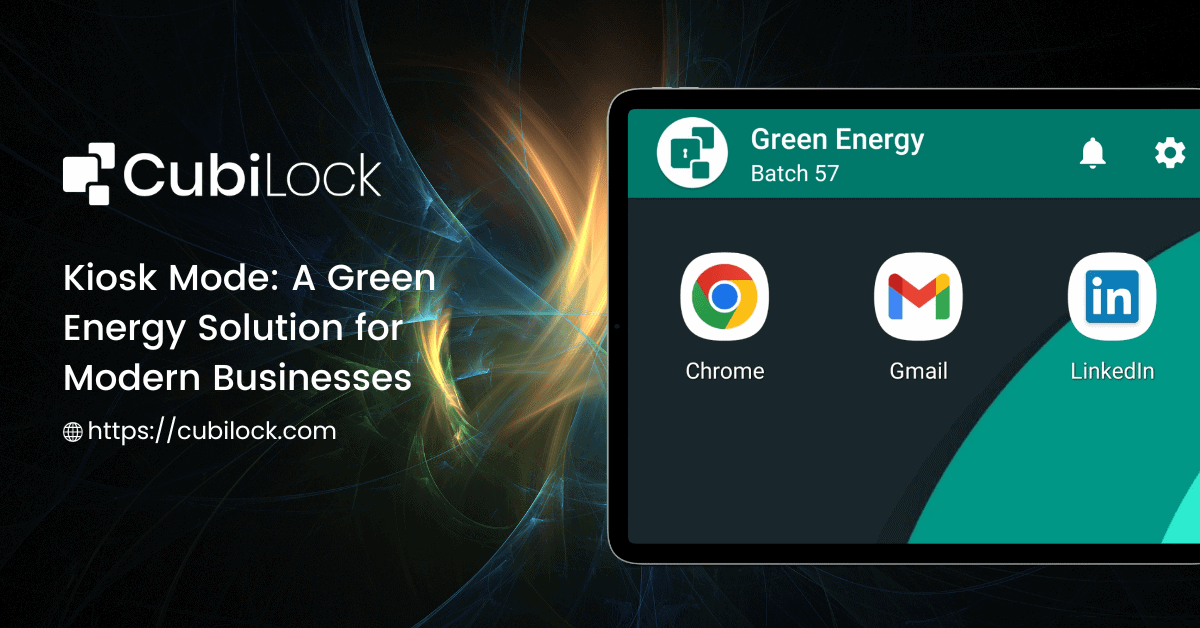 Kiosk mode brings several benefits for businesses, however, many businesses…